Campania
Le Fumarole: the steaming beach of Ischia, what a spectacle
In Ischia, the splendid island in the Gulf of Naples, you'll come across a beach that is literally steaming.
From the depths of the earth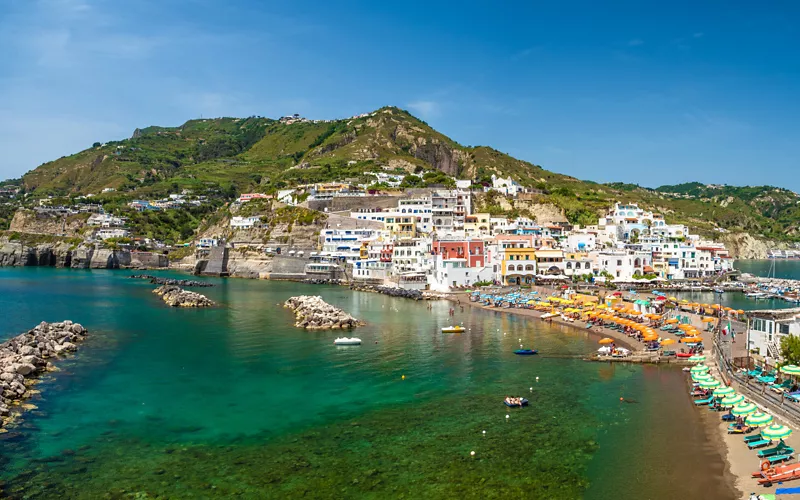 A long stretch of dark sand caressed by sea waters that change colour with each passing hour. From bright to intense blues, and a seabed that gently deepens out to sea: Le Fumarole beach, next to the village of Sant'Angelo, is an obligatory must see when staying in Ischia.

The magnificent Island of Campania is a volcanic region. Along this strip of coastline you can get up close and personal to see its particular geological attributes. Here the subterrain does not rest, on the contrary it gives off powerful thermal energy that produces puffs of water vapour, and gas bubbles in the sea, at a temperature of 100°. You are safe on the warm sand, but if you want a break from sunbathing and approach the white rocks, just take care of the clouds of steam, and don't go barefoot. Jump in: you just need a scuba mask to be able to watch the bubbles emerging from the sandy bottom.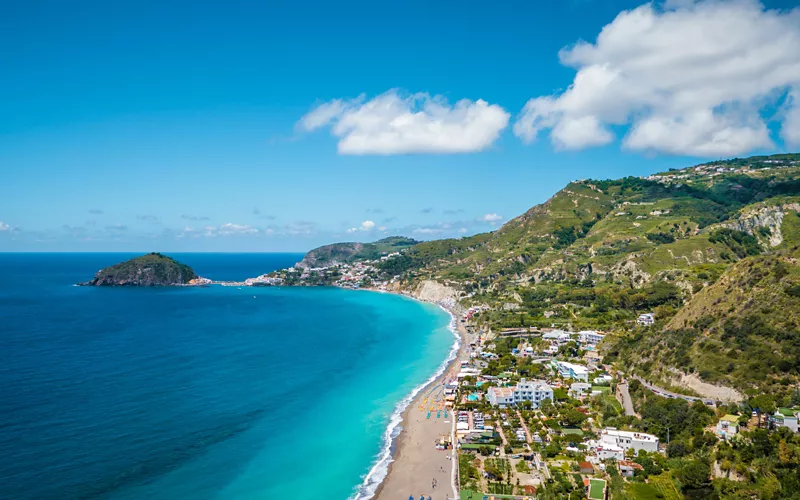 Le Fumarole beach offers both free stretches of beach and well equipped beach establishments, as well as bars and restaurants. Easy to access, walking along the pedestrian pathway that links up with Sant'Angelo village and Maronti beach, a pleasing walk of about 10 minutes.

Alternatively, you can avail of a small electric car service, or get a taxi boat departing from the Sant'Angelo port.
Seeing as it's so close, why not also spend a few hours on Maronti beach, 3 kilometres of protected bay, between the sea and the mountains, as hinted at in the name.  The area behind, hills rising up covered in lush vegetation, and dotted with yellow gorse.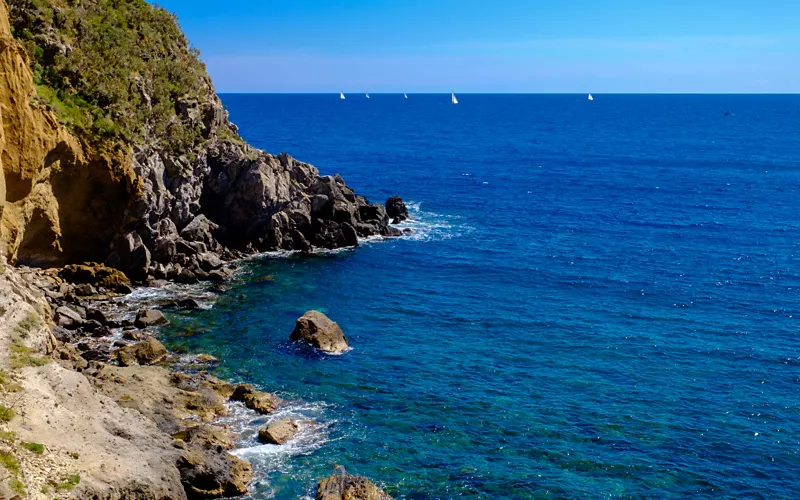 On Le Fumarole beach the Ancient Romans used to cover themselves in the warm sand for therapeutic purposes. Try it out, make yourself a little sand sleeping bag; the effect is quite pleasant, a sandy cure-all treatment for muscle aches and joint pain. Be careful of the temperature though, especially in summer. Choose a colder part of the day, and don't worry, the sand stays warm even at night.

There are also Thermal springs in the area, so don't miss out on an equally therapeutic experience, having a dip in the warm waters. Take advantage of the open springs, free for all. You'll find them in Sorgeto, not far from the Sant'Angelo bay and Le Fumarole beach. Whether with family or friends, let yourself be soothed by the waters at night, with the moon to keep you company.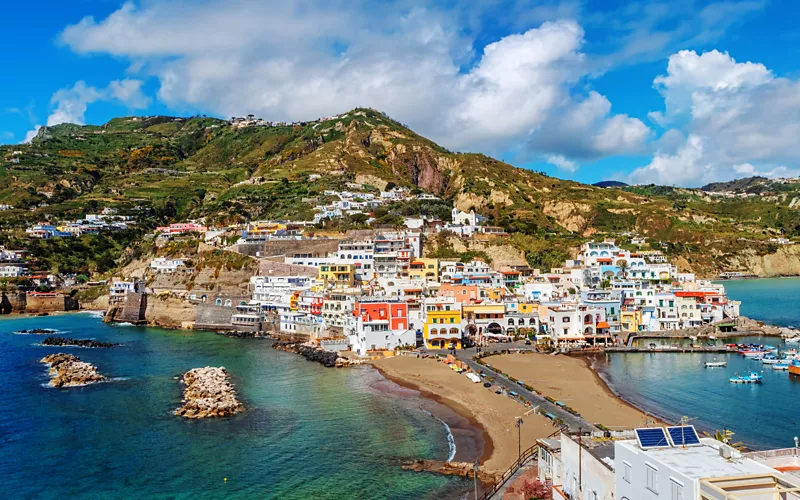 If you would like some actual spa treatments, there is an immense wellness park located in Sant'Angelo: Thermal Park Aphrodite Apollon, with paid entrance. 8 swimming pools of therapeutic waters split over two levels, surrounded by fragrant flowers and plants. The beauty farm offers a large menu of massages and mud treatments all made using the island's thermal water. 

After the swimming pool and pampering, the terrace restaurant awaits, with views of the Maronti Bay. Try the crudi di mare seafood and the linguine alle cozze if you like muscles: delicious.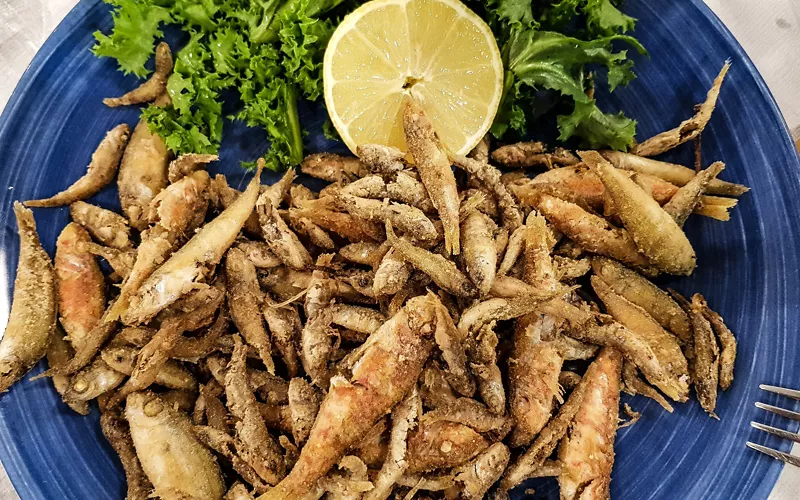 A truly unique experience to enjoy would be to indulge in a dish cooked directly on Le Fumarole beach. You can actually cook vegetables and meat under the sands heat! You can give it a go yourself, with chicken, potatoes or eggs, just wrap them in foil once seasoned with salt, herbs and spices.

Place the foil wrapped food in the sand about 10 centimetres down, add a good dose of patience and you'll have your nature made feast. Some local chefs have taken to adopting this natural cooking technique, as previously used by the ancient Greeks. If you ask around it won't be difficult finding them.
The whole bay area is dotted with renowned restaurants. Some with sea view terraces, for a fabulous panorama with your lunch or dinner.  On the menu, fried fish, spaghetti with clams, sorrentina gnocchi and to finish, a slice of pastiera, the typical dessert made with shortcrust pastry and ricotta.