Valle d'Aosta
The Valle d'Aosta region by way of Roberto Caporuscio's pizza
History of Fontina cheese and other gastronomic wonders of the Aosta Valley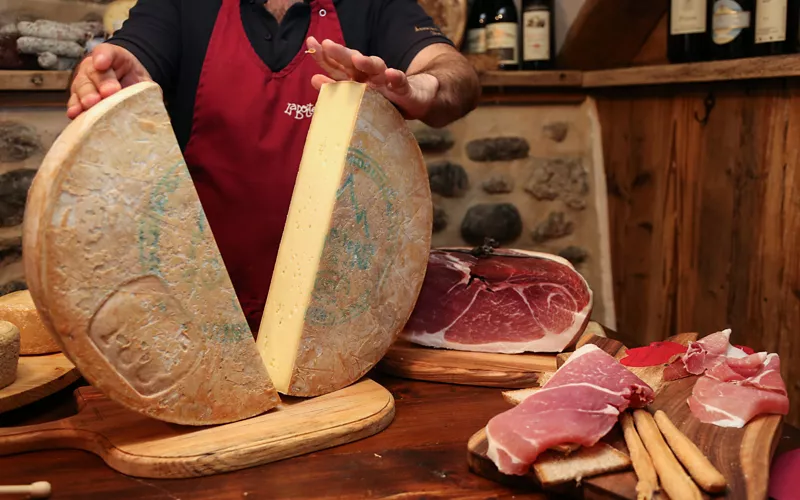 High-mountain pastures, fresh grass and pure air: these are the secrets behind Fontina PDO, the sweet, melt-in-your-mouth cheese that is the gastronomic icon of the Aosta Valley. It has been produced since time immemorial, with a recipe that is handed down generation after generation still today.

The first historical references date back to some 13th century documents, and two centuries later we can still admire depictions of Fontina cheese in the splendid frescoes that decorate the walls of Issogne Castle. Here, you can find a reproduction of an artisan shop with a counter brimming with the unmistakable Fontina cheese with its brown and orange rind, exactly as you can still buy it today.


Fontina is also good for the body: it is rich in vitamin A and minerals that are good for your bones, especially calcium, and it has very low cholesterol for a cheese. The top quality of the milk it is made from guarantees all these nutritional benefits. The milk comes from pasture-raised cows: the combination of fresh grass, flowers and pure water contributes to its delicate aroma. The milk is processed raw, a method that preserves the aromas of the raw material, which are then transferred to the cheese.

These fantastic characteristics are enhanced even more in Fontina d'alpeggio cheese, which is made using the milk of cattle reared high up in the mountains during summer, following ancient artisanal processing methods. Today in the Aosta Valley, cattle are still taken to graze at high altitudes for 120 days in summer, from the beginning of June to the end of September, where the cows can enjoy purer and more flower-rich grass, which adds to the aromatic and nutritious nature of the milk.
Fontina cheese made with milk from mountain pastures is also made by hand by local cheesemakers, according to Aosta Valley tradition. The curd is stored in traditional copper cauldrons before the whey is drained using cotton cloths and the moulds are left to mature in the fresh Alpine air.
Why is it called Fontina? The name may derive from the French "fondis" (to melt), which refers to the softness of this cheese and its ability to melt easily, which makes it the perfect ingredient in many local recipes.
Beyond Fontina PDO cheese from the Aosta Valley
Firstly, we have the famous Fonduta alla Valdostana, made by cutting Fontina into slices, soaking it in milk and then melting it together with butter and fresh egg yolks. This delicacy makes for a perfect hors d'oeuvre to accompany croutons or is delicious with meat or vegetables. Then there is Polenta Concia, covered with Fontina cheese and melted butter, and Seupa à la Vapelenentse soup, made with stale bread, meat broth, Savoy cabbage and, of course, Fontina cheese. 
Aosta Valley cuisine brings together history and nature, resulting in genuine flavours and rich dishes that provide all the energy needed after a hard day's work in the mountains. 
For example, we have Chnéffléne, small flour and egg dumplings typical of the Gressoney valley, traditionally seasoned with onions browned in butter, or Favò di Ozein soup, made with broad beans, Fontina cheese, sausage and bread toasted in butter. For an unmistakable taste that ranges from salty to spicy notes, try Carbonada, a beef stew slow cooked in wine, flavoured with cloves, nutmeg and cinnamon.

You can't leave the table in the Aosta Valley without a digestif, be it Genepy, the liqueur made from Alpine Artemisia, small plants that grow at an altitude of more than 2,000 metres, or the legendary caffè alla Valdostana coffee. This "sharing" coffee is enriched with grappa, sugar, lemon and orange peel and served in the Cup of Friendship, a wooden bowl with several spouts from which each person can take a sip in turn. This is the perfect way to conclude the meal on a traditional note that symbolises conviviality and unity between diners.