Veneto
Venice's Historic Cafes
These are not simply places for recreation and refreshment but genuine monuments that still echo the voices of the illustrious people visiting them for more than two centuries.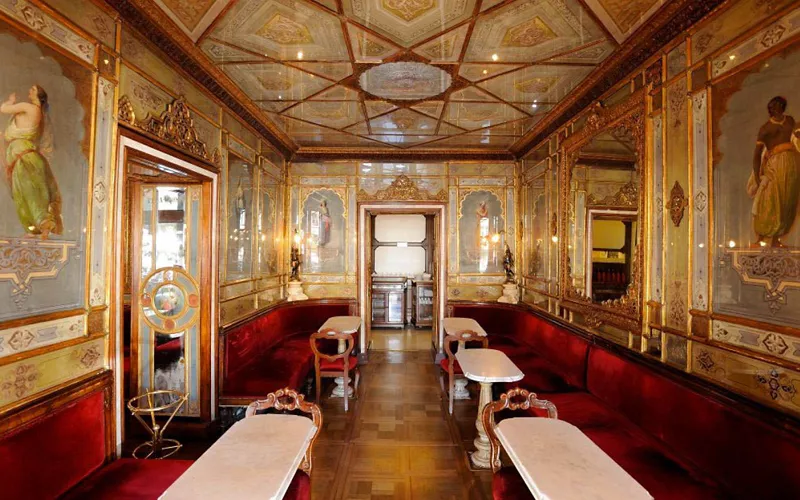 The Caffè Florian was founded in 1720 and opened under the name "Alla Venezia Trionfante - In Venice Triumphant." From then on, this elegant building has been characterized by its exclusive products and guests: here, noblemen, politicians, intellectuals and womanizers would meet, protagonists of their own time, such as Carlo Goldoni and Casanova or, more recently, Gabriele d'Annunzio.
Today, the Caffé Florian still retains the charm of the ages it has lived through. With its architecture, the result of renovations and reconstructions, the richly decorated rooms in different styles (the most famous being the Senate floor, the Chinese Room and the East Room, the Hall of Famous Men), and its 18th-19th century interiors, the café is an important cultural center where exhibitions are organized, meetings, and installations (here, at the end of 1800s, what would later become the famous Venice Biennale was created). But it remains, however, also an ideal place for tourists who simply want to enjoy an espresso sitting at a little table in the heart of Venice, a few steps from the Grand Canal.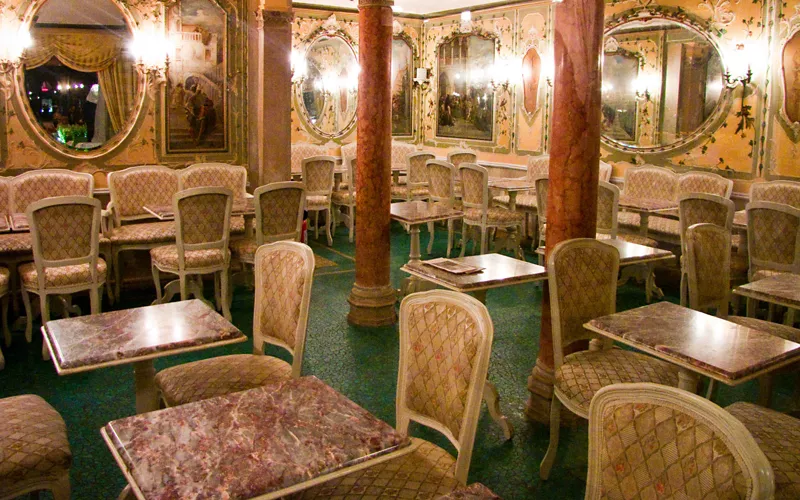 Also in St. Mark's Square, there is another historic cafe that since 1775 has earned a prominent place among the many. The Gran Caffè Quadri embodies the memory of centuries lived in the twilight of the Republic of Venice, and the birth of the modern age, and the secrets of the people who sat in its halls. After Stendhal, Lord Byron, Alexandre Dumas, Wagner, Marcel Proust, even today, the Gran Caffè Quadri is a favorite of actors and directors attending the Venice Film Festival, including Woody Allen.
Moving to the southern limit of the city, in the ancient neighborhood called Le Zattere, we find the Caffé La Calcina, another important spot that was a bohemian meeting place for artists and writers in the early 1900s such as Rainer Maria Rilke. The place is now a bar and restaurant called La Piscina, in memory of the bathhouse with a pool that used to be there.
Other Historic Spots
In the Lido area, finally, is Lion's Bar, designed in 1925 to offer to visitors and tourists a shining example of Art Deco friezes with its wrought iron, stained glass, and floral decorations typical of that era.