Veneto
Veneto: trekking and hiking on the Cammino delle Dolomiti
Anzù di Feltre: the Martyrs' Sanctuary and the archaeological area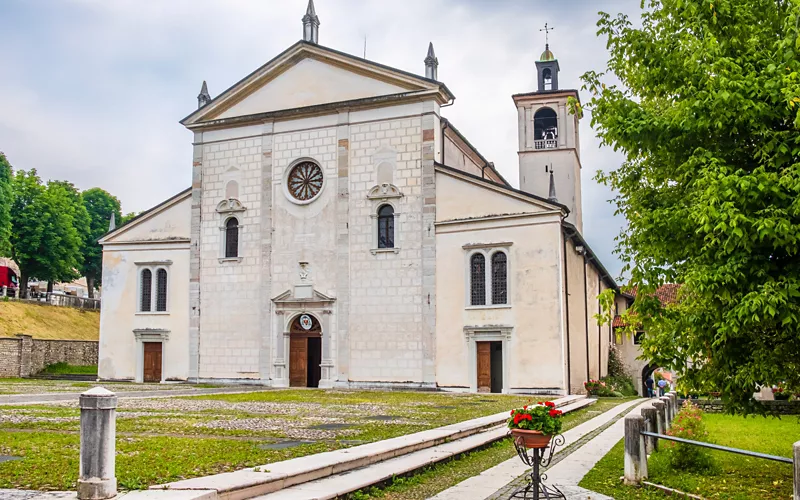 The first stage of the Cammino delle Dolomiti begins at the monumental Sanctuary of the Martyrs Vittore and Corona, the starting and finishing point of the circular route. Down the steps, take the ancient mule track of the Sentiero dei Capitelli: where you will reach Anzù di Feltre on a steep descent.
Visit Feltre Cathedral and the archaeological area under the churchyard.
Among the rural villages, Trovàgola, with its historic sanctuary, is worth a visit.
Valbelluna: the Belluno Dolomites National Park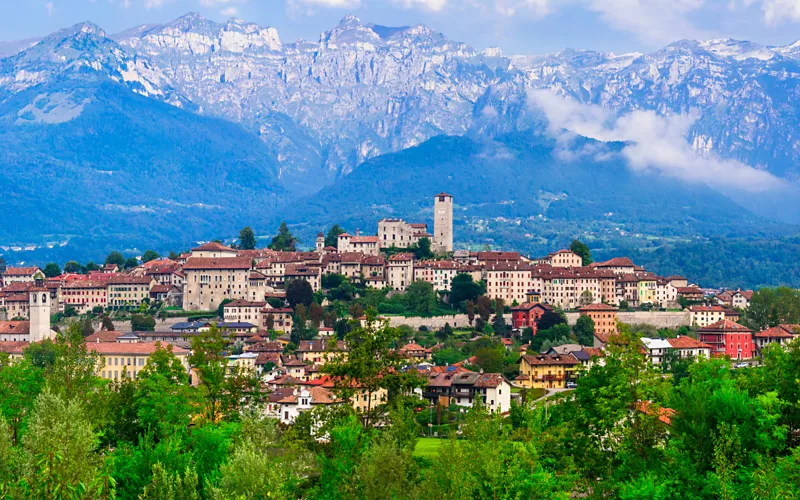 From Feltre, go up the traditional processional route to the small Sanctuary of Saints Tiburzio and Susanna. The site offers a stunning panorama over the Feltrina basin and the Valbelluna Valley, where the Belluno Dolomites National Park, declared a UNESCO World Heritage Site in 2009 with its broadleaf forests, coniferous forests, rock faces and water features, stretches out.
Vedana: the Charterhouse and the Calle Imperina mines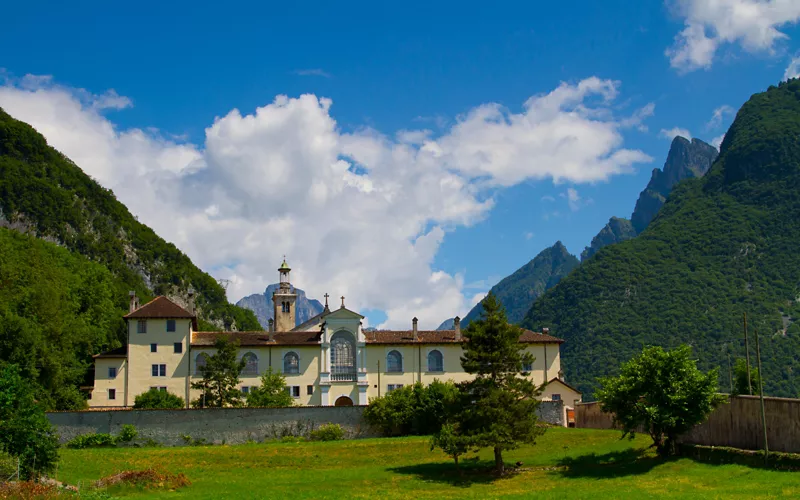 Another obligatory stop within the park is at the Vedana Charterhouse, a monastery complex with striking architecture, which stands isolated on the slopes of Piz di Vedana.
Recently completed is the route called La via degli Ospizi, which connects the Charterhouse with Valle Imperina. Here the most important Mining Centre in the Dolomites can be found, for centuries the main source of income for the inhabitants and the largest copper supply hub for the Serenissima.
Gares, Canale d'Agordo, Col di Lana: the Tabià, the Pope's house and the war memorials
A UNESCO Dolomite hermitage, here is the beautiful natural oasis of Val di Gares with its historic wooden barns called Tabià and the Alpine Gothic church of Madonna della Neve.
Then, Canale d'Agordo, Pope Luciani's birthplace, with the Casa delle Regole, rich in hagiographic-themed frescoes, and the Garden of Memory, a monumental path dedicated to the Fallen and Missing of the Russian Campaign during World War II.
The Cammino delle Dolomiti ends at Col di Lana, sadly remembered for being the location of the first bloody stages of the Great War. Many trenches along what has been called the Mountain of Blood, commemorated at the top of the Hill with the small church and the war memorial.