SOUTH TYROL
In Brunico, at the most beautiful Christmas market in the Puster Valley
If you decide to visit the Christmas market in Brunicoalso known as Bruneck, be prepared to be distracted by the beauty that surrounds the most eagerly awaited Christmas market in the Val Pusteria (Puster Valley).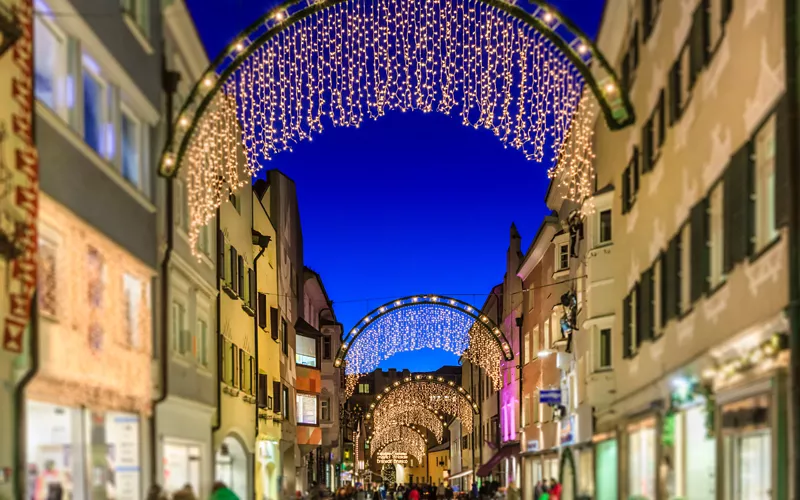 It is Christmas time in Brunico when the beautiful pastel-coloured building façades begin to glow with twinkling lights at dusk. The Via Centrale, between the mediaeval Ragen and Ursuline gates, one of the most beautiful shopping streets in South Tyrol, bustles with the sounds, colours and smells of a beautiful Christmas market in a town that has a strong commercial soul, in part due to its geographic position, located as it is in the heart of the Val Pusteria at the convergence of two other valleys, the Val Aurina and the Val Badia.
Today, local handicrafts can be found in Brunico together with home decorations, textiles, nativity figurines, trinkets, wooden toys, and culinary delicacies. A skating ring, and a marquee with a display of handmade handicrafts are set up near the Town Hall Square. During the market, the town organises free guided tours of the old town centre for its guests.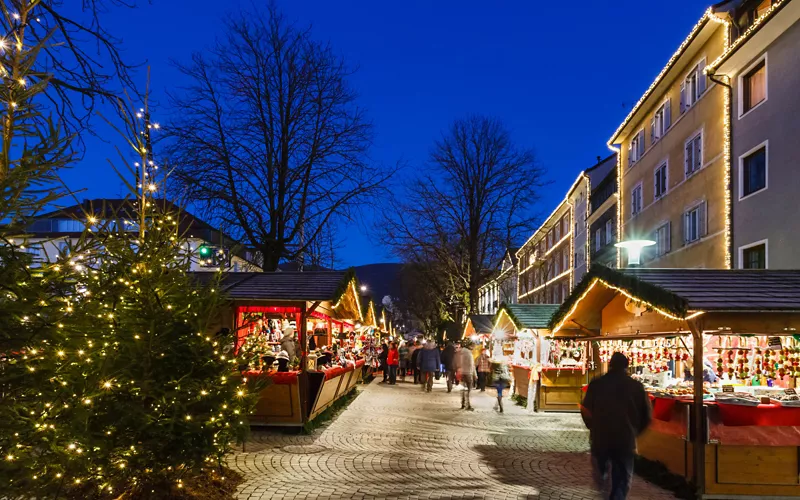 Between 5 and 7 December, among the stalls and displays of the Brunico Christmas market, the Krampus parade takes place. The Krampus are the unleashed demons from Germanic mythology who don frightening masks, tattered clothes, goat skins and cowbells and roam around the stalls or in the most unthinkable places, hunting down naughty children. It is a popular tradition that may have its origins in the mischief of young people who, in times of famine, went to pillage neighbouring villages.
Gulash and Zelten, the temptations of the local table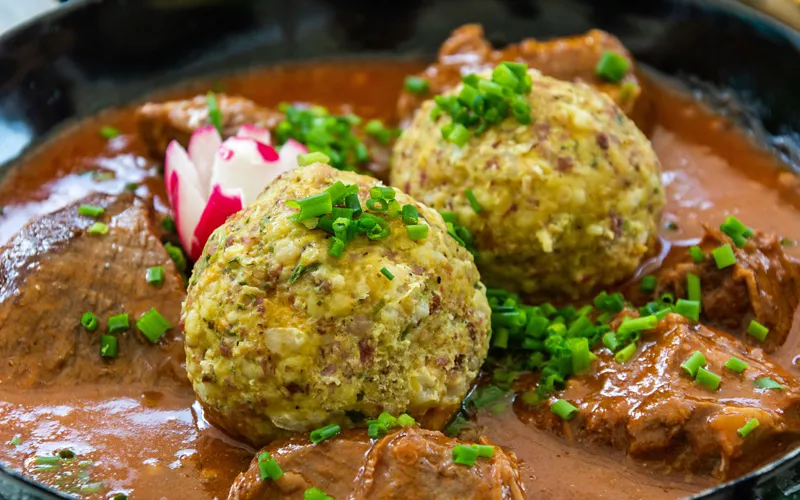 The aromas wafting from the stalls of the Brunico market will be sure to tempt you to try all the specialities of the tasty cuisine of the Val Pusteria. You will find goulash in a bread bowl or with polenta, burgers made with local meat, speck and potato stew, and the ubiquitous sausages with sauerkraut.
Then there are spatzle served with various sauces, barley soup, and, to end on a sweet note, pancakes with jam, sweet omelettes with lingonberries, and Zelten, a typical South Tyrolean Christmas cake with candied fruit, almonds and walnuts traditionally baked on 21 December: it was mainly prepared by young women who offered it as a gift to their sweethearts.