South Tyrol
Alto Adige, Curon: the sunken bell tower in Lake Resia
Curon and the hydroelectric power station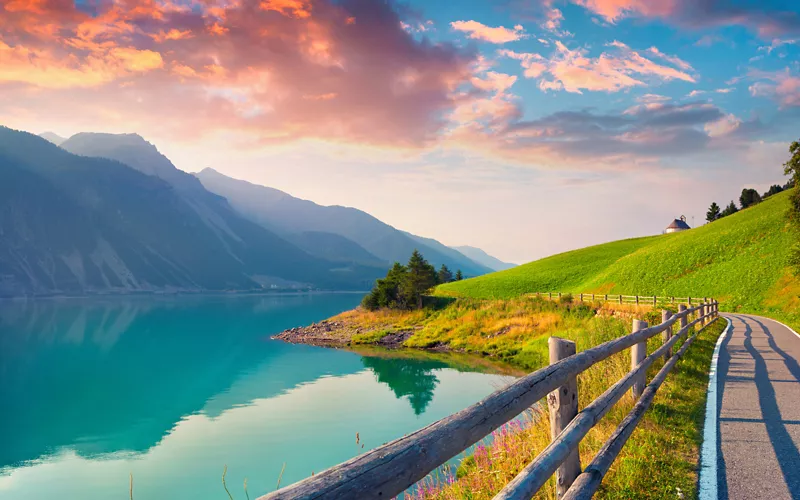 Although the tip of the sunken church is one of the most Instagrammable images, the story of Curon is rather sad.

Just five years after the end of World War II, work was completed on a large dam for the generation of hydroelectric power. The natural reservoirs of the Resia Pass, that is, the Resia and Curon lakes, were joined. The operation, however, forced the inhabitants of the small towns to abandon their homes, as the water completely engulfed the old villages.
Today Curon Venosta rests silently at a depth of 22 metres.
The lonely bell tower and the mystery of the bells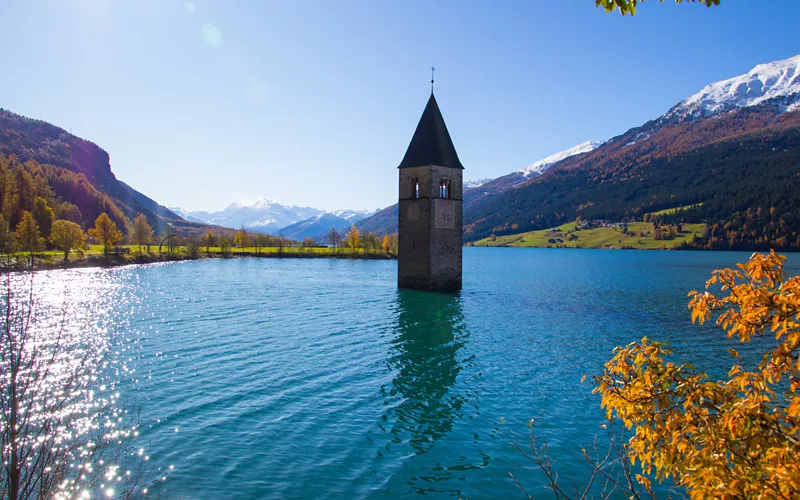 All that remains to remind us of the existence of what was once a pleasant village are the memories of the elders and the bell tower of the Romanesque church of St Catherine of Alexandria.

To see it towering from the waters of the lake is almost awe-inspiring or at least highly symbolic. Perhaps because it is the only survivor of an explosion that demolished some 160 buildings.
On winter nights you can even reach it on foot, when the lake freezes over due to the severe cold.
You need not worry, though. It is said that the tolling of its bells can still be heard, although they were removed before the creation of the reservoir
Hiking and sports in the village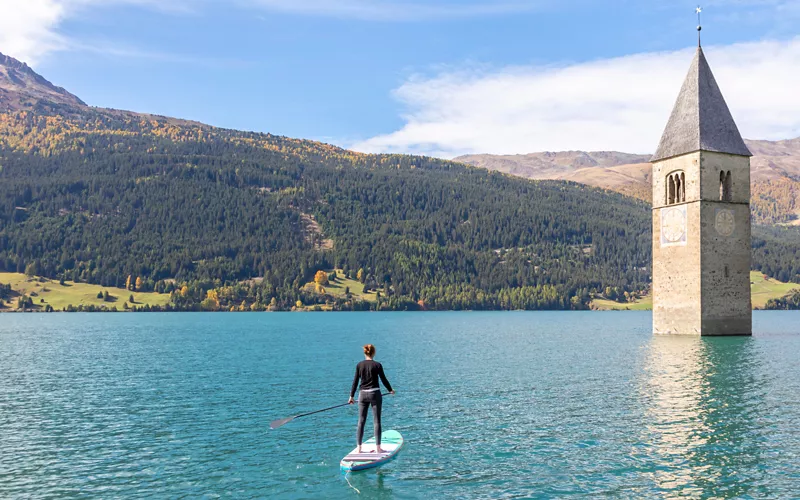 In the Upper Venosta Museum, you will find a wealth of photographic documentation of the ruin and reconstruction of the villages of Curon and Resia, as well as exhibitions of sacred objects of everyday life and the farming culture of the past.

The location also offers the possibility of numerous excursions and outdoor activities.
Along the Adige cycling route, you will reach the city of Merano from Lake Resia.
You will then visit the Benedictine Abbey of Monte Maria, the highest in Europe, and the medieval castle in the villages of Malles and Glorenza.
On foot, you can instead take the loop route, which leads from the church of Sant'Anna di Curon, climbs towards Salg, connects with the forest road leading to the Klopair farmstead, and finally descends to Arlund.
There is also space for water sports. Exposed to the wind as it is, Lake Resia lends itself perfectly to sailing and kitesurfing, as well as canoeing and kayaking.