SOUTH TYROL
Vipiteno and its fairytale Christmas market
Vipiteno, the silver town of the Fuggers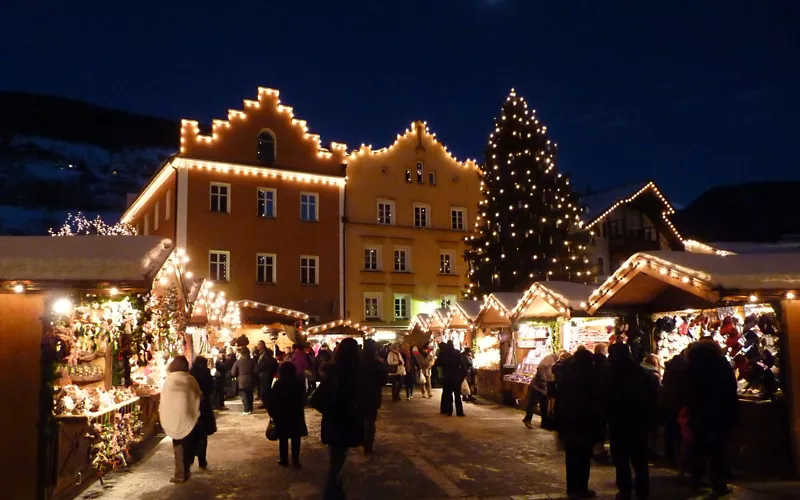 Some thirty stands, all set up in the Stadtplatz, are enough to find a complete basket of classic South Tyrolean products: candles, glass decorations, nativity scenes and wooden figurines, objects made of pine wood, mountain pine and spruce, felt slippers and woollen stockings, as well as food products such as alpine cheeses, grappa, herbal teas, hot drinks and sweets, all strictly local, as guaranteed by the Green Event label.
The Bergwerksgröstl is not to be missed in Vipiteno. It was the hearty dish eaten by the miners of the area, made with potatoes, meat and onions prepared in a frying pan, just what's needed after an intense day in the snow.
This dish tells us that the predominant activity in Vipiteno and its valley was for a long time silver mining, which made the fortune of the Fugger family, the most powerful banking family in 16th century Europe, so much so that they financed the election of Charles V as emperor of the Holy Roman Empire.
Vipiteno is still known as the "city of the Fuggers": some of the sumptuous palaces in the centre bear witness to the city's golden, or rather, silver age.
If it is the sound of the bells that has brought you up here (we are at 1,000 metres above sea level), why not go for a walk in the forest of sounds in Vipiteno's North Park, where you will find sound installations among the trees in an area that is also suitable for children, with a playground and a warm place to have refreshments.
The enchantment of the snow-covered mountains can also be experienced at night by joining the torchlight processions, with mulled wine, organised by the tourist office.
The San Niccolò devils parade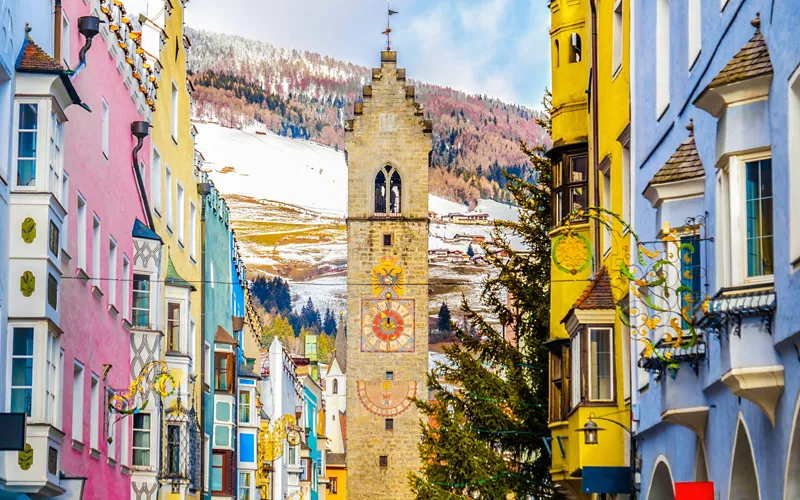 The busiest night in Vipiteno is 5 December, when the traditional St Nicholas' parade, one of the most spectacular in South Tyrol, takes place. The stars of the event are the devils, or as they say here, the Tuifl, the local version of the Krampus, who help the saint distribute presents for the good children, while whipping the naughty ones. This is a local folklore event with lots of participation.
For more information: www.mercatinodinatale-vipiteno.it