PIEDMONT
Piedmont: hiking between holiness and nature
A green hike through nature and the bouquet of wine by way of country churches, evocative abbeys and historic cathedrals: 5 places of excellence along the Via Francigena in Piedmont.
Lake Viverone and the Church of Gesiun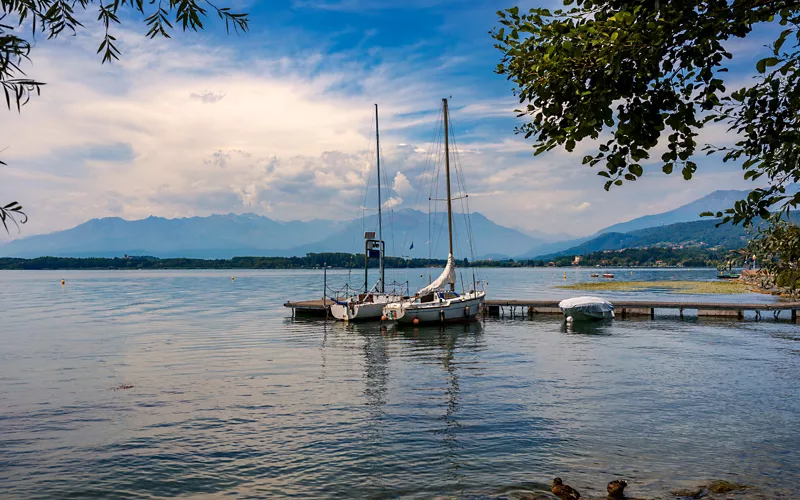 Standing between the Biella and Canevese areas at the feet of the Serra di Ivrea, this glacial lake is part of the morainic amphitheatre around Ivrea, an ancient geological formation with spectacular panoramic views. Although only the perimeter walls and remnants of a fresco can be seen today, the tiny Romanesque church of Gesiùn is well worth a visit. It stands out in isolation among fields and vineyards in the countryside around Piverone.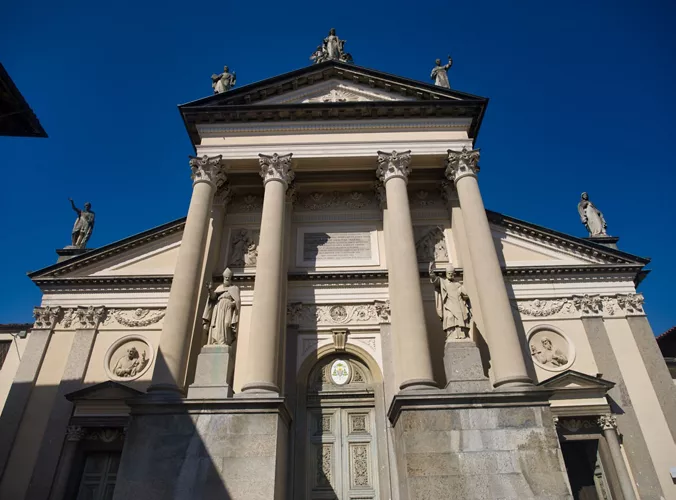 The Cathedral of Ivrea stands in the upper part of the delightful town by the river Dora Baltea, adjacent to the Castello dalle Torri Rosse and the Palazzo del Vescovado, together once the seat of ancient power. Its history going back several thousand years (it was originally a temple dedicated to Jupiter) is testified by artistic and architectural treasures: the frescoed crypt, the cloister with arches and capitals all different from each other, and the two perfectly preserved Romanesque bell towers.
The Sacra di San Michele in Val di Susa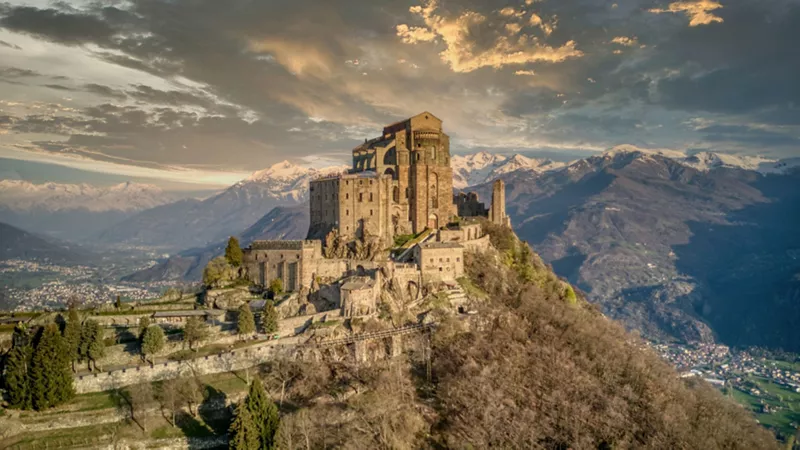 The Abbey of San Michele della Chiusa (also known as the Sacra di San Michele) is perched on Mount Pirchiriano at the entrance to Val di Susa, not far from Turin. This architectural complex - the inspiration for Umberto Eco's historical novel The Name of the Rose - can be reached on foot or along the trail equipped for mountaineers. The Sentiero dei Franchi hiking trail also starts here on its way to the Upper Val di Susa.
The Basilica of Sant'Andrea in Vercelli
A magnificent example of Gothic-Romanesque architecture (among the first Gothic works in Italy), the Abbey of Sant'Andrea in Vercelli is the authentic symbol of the city. Its wealth of remarkable architecture includes the two cuspidated bell towers flanking the gabled façade clad in green stone and the octagonal tower. The rooms of the adjacent ancient monastery, the marvellous Mediaeval Chapter Hall and the central cloister with Renaissance decorations are also impressive.
The terraced vineyards of Carema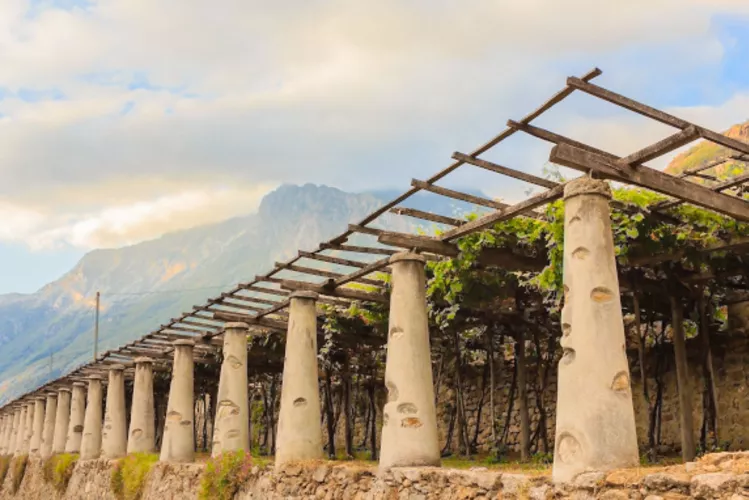 The rocky surroundings of the tiny village of Carema, on the border between Piedmont and the Aosta Valley, are home to vineyards on dry terraces supported by stone pergolas that create a characteristic local landscape where Carema DOC wine is made from Nebbiolo grapes. The Vineyard Way accompanies visitors on an enjoyable 4 km walk of discovery. The village itself is also well worth a visit, with its votive shrines, carved portals, fountains and Mediaeval strongholds.