Marche
The Marche region by way of Gabriele Bonci's pizza
History of offal and other marvels of the Marche region at the table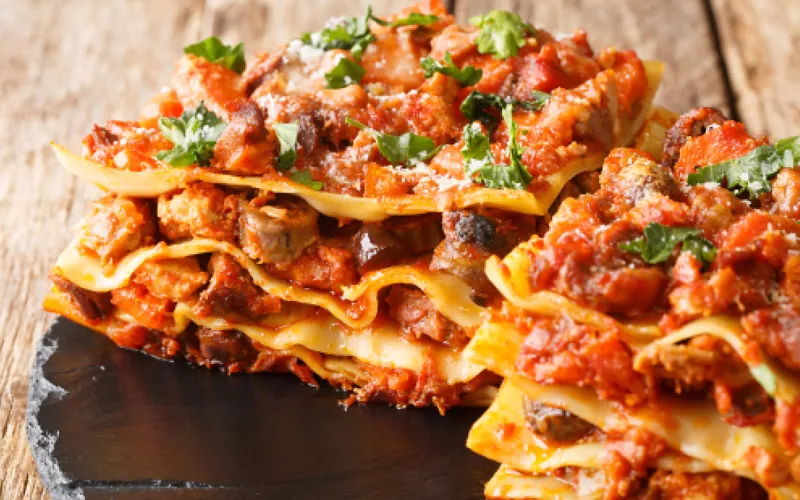 The cuisine of the Marche region has a peasant soul, where the flavours of tradition are strong. The offal is a poor ingredientcertainly not in taste, the star of the Marche's most famous dish: the vincisgrassi. This baked pasta, consisting of several layers and topped with béchamel sauce and meat sauce, also includes cockscombs and other offal to enrich the sauce in its oldest recipe. What differentiates vincisgrassi from lasagne, in fact, is the meat sauce: it must be made with different types of meat cut into pieces, not minced, and then be spiced with cloves and nutmeg.

A rich and compact dish that, according to tradition, was invented by an imaginative cook during the siege of Ancona in 1799, in honour of the Austrian general who defeated the Napoleonic troops that had blockaded the city, returning it to papal rule: his name was Alfred von Windisch-Graetz, and from the mispronunciation of his name, the term vincisgrassi is said to derive.

The ragu from the Marche region, which combines beef, pork and chicken giblets, is also perfect for seasoning the most famous fresh pasta of the Marche region: the maccheroncini di Campofilone IGP. It is in this village in the province of Fermo that an egg pasta with a very fine sheet of pasta that melts in the mouth and resembles long, thin spaghetti is made.
Finally, offal also returns in one of the classics of street food from the Marche region, no longer in use but still present in the province of Ancona: the trimmings. This is the intestine of the suckling calf, which is marinated with sage, rosemary, black pepper, garlic and white wine, then grilled and served in a sandwich.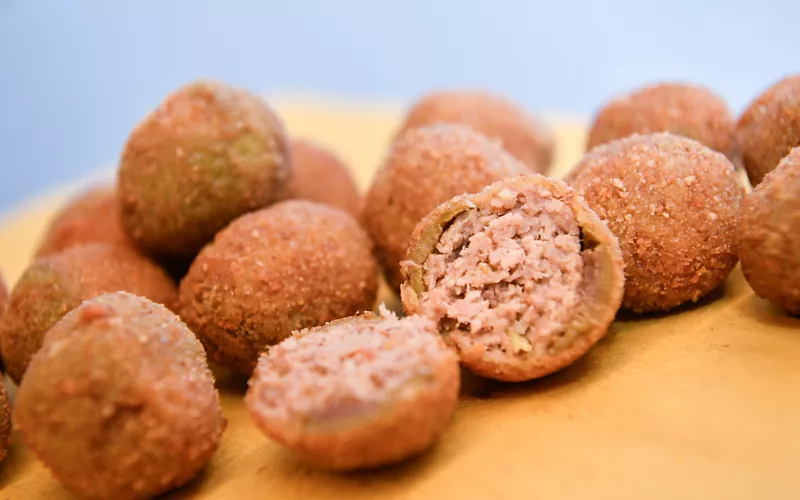 Strong and genuine flavours, such as that of Ciauscolo IGP, the famous pork sausage flavoured with wine, garlic and pepper, which is eaten like a spreadable cream, or the legendary Ascoli Olives of Piceno, large and juicy, which when stuffed with a beef and pork filling (and then fried) become Ascoli Olives.
In Ascoli Piceno, cream is also fried: cremini, delicious small pieces of aniseed-flavoured custard, are served with olives, courgettes, lamb and artichokes.
A gastronomic tour of the Marche region must include the crescia sfogliata di Urbino, similar to a piadina but enriched with eggs, pepper and a larger quantity of lard: it is so tasty that it can also be eaten on its own, but the ideal combination is with Casciotta di Urbino, a sweet cheese made from both sheep's and cow's milk, which according to tradition was Michelangelo's favourite.
In Urbania, on the other hand, it is possible to taste the crostolo, which has corn flour in the dough as well as eggs.
There is no shortage of seafood flavours on the Adriatic coast,  such as stoccafisso all'anconitana, whose original recipe calls for very slow cooking, two hours, together with onion, anchovies, capers, rosemary, potatoes, olives and white wine.
And of course the brodetto, the fish soup with shellfish of which every seaside resort in the Marche can boast its own unique variant.
The oldest is that of Ancona, where tradition dictates that there are thirteen different qualities of local fish, from cuttlefish to scampi, from cod to turbot, from redfish to squid. In Fano, the brodetto is characterised by the addition of vinegar and tomato and by canocchie, tracina, monkfish and San Pietro fish; while in Porto Recanati, the brodetto is plain, with the addition of saffron and fish such as gurnard and mullet. In San Benedetto del Tronto, fish soup is also prepared without red tomatoes, but by adding green tomatoes, peppers and vinegar when cooking.