Marche
The Sanctuary of Loreto
A symbolic place of Christianity and home to the Holy House of Nazareth where Mary was born. A destination for pilgrims and art lovers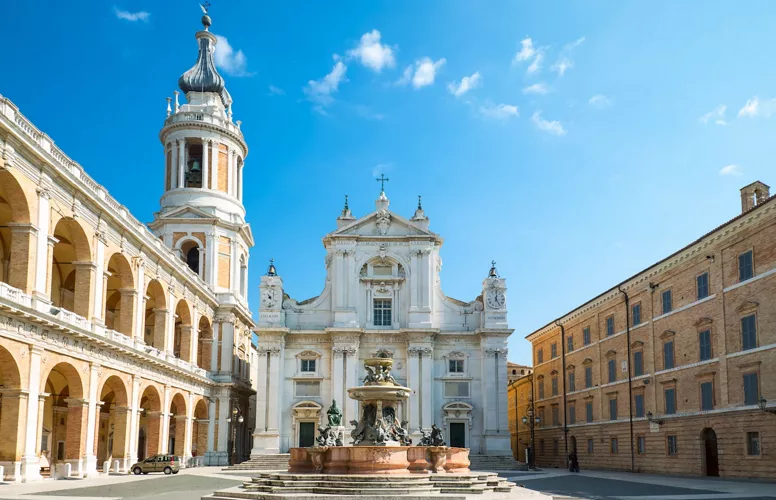 Indeed, one document dating back to 1294 (recently discovered), testifies that Niceforo Angeli, despot of Epirus, in offering his daughter Ithamar's hand in marriage to Philip of Taranto (son of the King of Naples, Charles II of Anjou), gave the Prince a dowry that included such treasures as the "holy stones taken from the Home of our Lady the Virgin Mother of God". In order to protect these humble stone walls, and to receive the ever-larger masses of pilgrims visiting the sacred relic, construction works on the magnificent Sanctuary of Loreto were begun in the mid-15th Century. Some of the most prized works here are the marble paneling of the Santa Casa's walls, commissioned by Julius II and realized on Bramante's design from 1507. It is considered one of the greatest sculptural masterpieces from the Renaissance. Since its beginnings, great artists have adorned the Sanctuary one after the other through the centuries: from Cristoforo Roncalli (so-called Pomarancio), painter of the Treasury Room and the cupola to Francesco Selva, who decorated the Sacristy Atrium and Tiburzio Vergelli, architect of the majestic Baptistry. As a result, the sanctuary's fame diffused rapidly throughout the world, and it became a privileged destination for millions of pilgrims.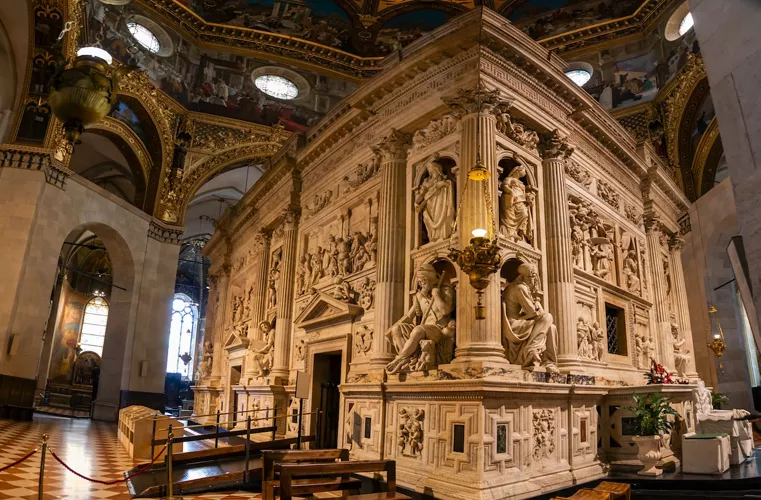 As the works drew to their conclusion, then, it was Carlo Maderno who created the fountain in the Piazza del Santuario (1600), while the feat of the bell tower on the Basilica's left side is attributed to Luigi Vanvitelli (1700). The entire City of Loreto, immersed in the tranquility of the Marches's quiet rolling hills, rose up around the Sanctuary della Santa Casa, constructed on a hill that offers a spectacular panorama touching both the sea near Monte Conero and the Umbro-Marches Apennine Mountain Chain. Today Loreto beckons to thousands of tourists – not just Catholics – for its grandiosity as a trove containing invaluable treasures. Besides the importance of the Santa Casa as object of pilgrim devotion, this site represents an authentic sacred art anthology that includes architectonic, sculptural, and painting master works by some of the most celebrated names in art history.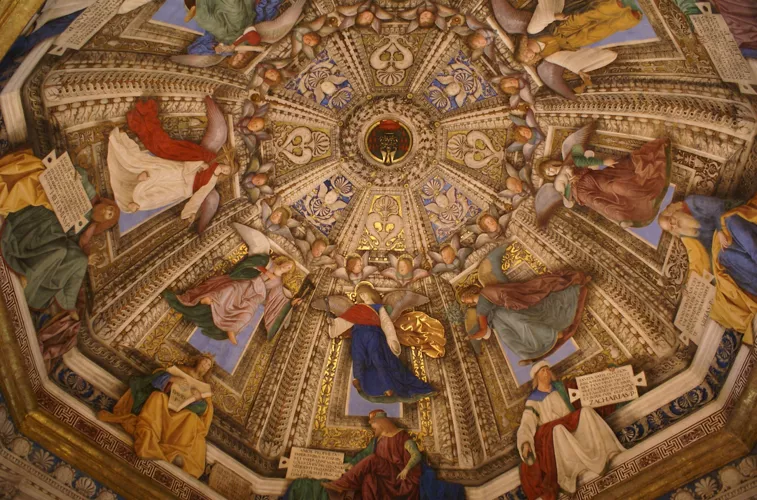 And the beautiful, charming borgo that developed around the Basilica offers remarkably-evocative vistas, externally and internally, e.g. the Museum-Painting Gallery in Piazza del Santuario featuring canvases by masterful Venetian painter Lorenzo Lotto. Thus, Loreto equals pilgrimage site, tourist locality and gracious city of art set amidst gorgeous scenery. Finally, worth noting is the Macerata-Loreto Pilgrimage, in existence since 1978 (when John Paul II became Pope): on this route thousands of pilgrims travel on foot every year, from Macerata to Loreto's Sanctuary. Approximately half of the pilgrims originate from the Region of The Marches itself – the rest arrive in Macerata from all over Italy and various parts of Europe (particularly Belgium, Spain, Portugal, the republics of the former Yugoslavia, as well as Albania, Switzerland, and Germany).