Marche
The best B&Bs in Le Marche, where you can rediscover the slow pace of Italian summertime
Green hills and picturesque coastlines, cities of art and medieval villages, parks and nature reserves, to be explored on foot or by bicycle.
Pesaro: Il Pignocco Country House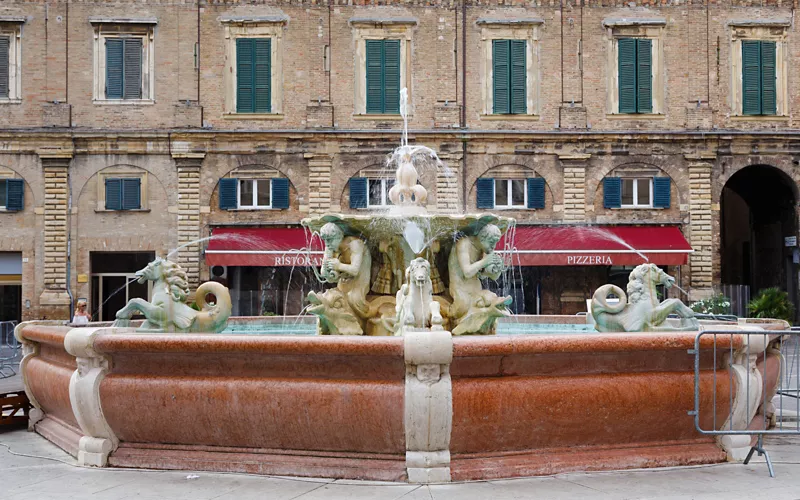 Perched on top of a hill near Pesaro, surrounded by meadows and ancient trees, Il Pignocco Country House is a B&B with a swimming pool in the Marche region, with a cosy, family farmhouse atmosphere, set in a recently restored and tastefully furnished 18th-century stone farmhouse.
Here you can alternate relaxing by the beautiful pool, surrounded by an olive grove, with walks in the countryside or excursions to nearby mediaeval villages and castles such as Gradara, Candelara and Mombaroccio.
The scenic Furlo Gorge canyon and the San Bartolo Natural Park are also not far away.
Find out more: ilpignocco.it
Urbino: Il Casale del Duca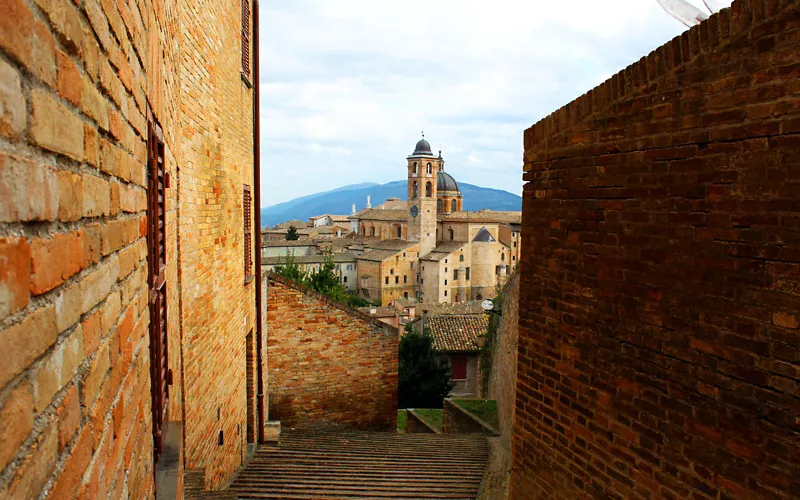 Just 5 kilometres from the Renaissance town of Urbino, Il Casale del Duca is an enchanting historic stone dwelling, nestled in the green hills of the Marche region, with 500 years of history behind it. Its bright rooms feature a sitting room and fireplace, and are furnished with shabby chic furniture and accessories, with an independent entrance and a relaxing rustic atmosphere.
Outside, a panorama of hills as far as the eye can see invites meditation and calm: well-deserved rest after a visit to nearby Urbino, the city of Raphael Sanzio, which is listed as a UNESCO heritage site on account of its history and monuments.
Find out more: ilcasaledelduca.it
Sirolo, Conero: La Fabula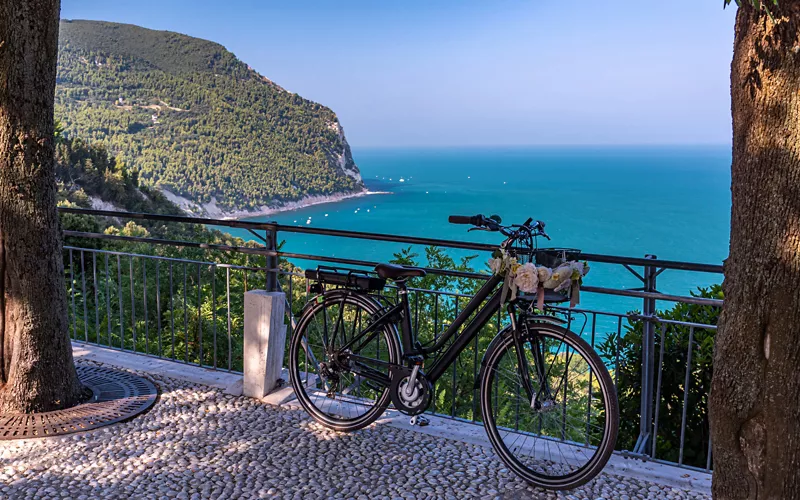 In the heart of the Conero Natural Park, at the top of Monte Colombo, dominating the seaside resorts of Numana and Sirolo, and the blue expanse of the Adriatic Sea, the Marche Bed and Breakfast La Fabula in Sirolo, in the province of Ancona, is the perfect departure point for excursions into the dense Mediterranean scrub of the park or towards the beautiful beaches of the coast.

In this historic farmhouse, renovated with great attention to detail, furnished with natural materials and surrounded by a scenic garden, it almost seems as though time has stood still: here even the familiar and gracious welcome of the owners has a comforting flavour of the past.
Find out more: lafabula.it
Frasassi: Djenga Rock'n Rooms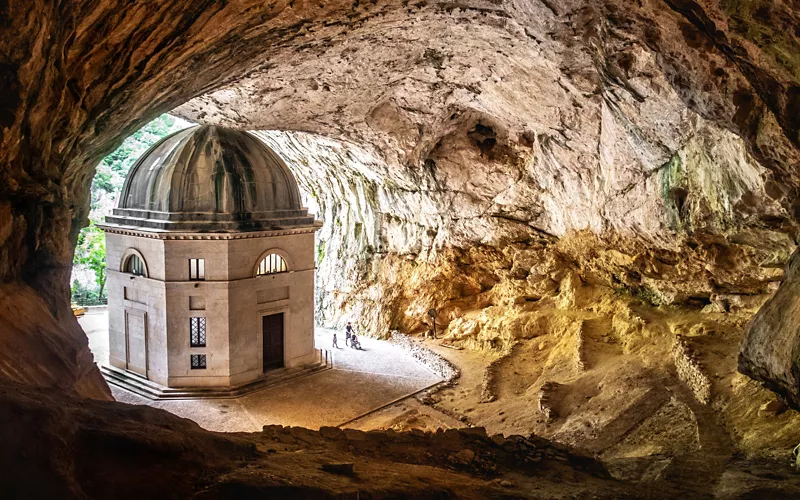 "This house is not a hotel": in the country farmhouse in Genga, Djenga rock'n rooms, a stone's throw from the Frasassi Caves, which the owners have converted into a refuge amidst nature, the old adage takes on a completely different value. Friendliness and conviviality are, indeed, an essential ingredient of the atmosphere that one breathes here, together with music.

Each room is dedicated to a musician-pioneer, and included in the price, along with the kitchen and barbecue, there is free use of musical instruments. For a fee, guests can also make use of a fully equipped rehearsal room.
Plans for the near future include a swimming pool, a workshop for artists and craftsmen, a camping area and a stage for live music. This is definitely an address to mark down if you are looking for a cheap B&B in Le Marche with great personality.
Find out more: djenga.it
Recanati: The poet's farmhouse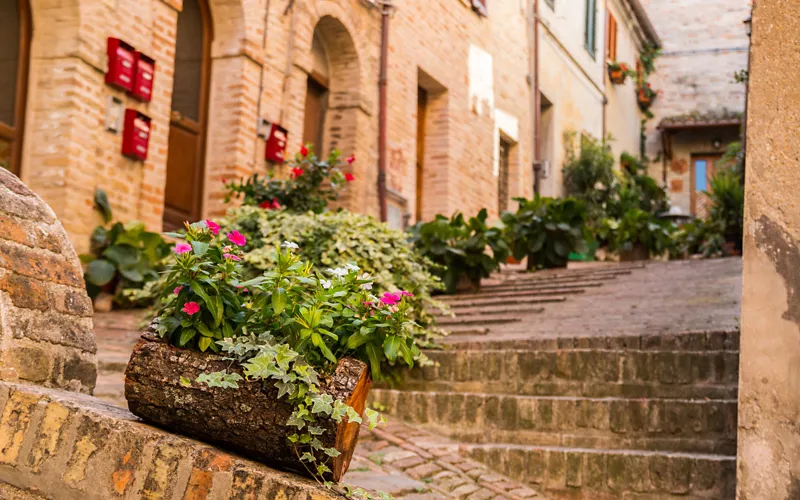 The Cascina del Poeta is located in the middle of the countryside, in the heart of the Marche region and just a few kilometres from the centre of Recanati, the birthplace of Giacomo Leopardi, to whom it is dedicated. Each apartment in the Cascina del Poeta is named after one of his famous poems: A Silvia, L'infinito, Il passero solitario, Il sabato del villaggio, etc.

La Cascina, also not far from Loreto, one of the main pilgrimage destinations in the world, is a place filled with charm and peace, an ideal base for reaching the main cities of art and for outdoor adventures in nature, such as horse riding and hiking.
Find out more: lacascinadelpoeta.it