Marche
The Marches, a land of superfine products all to be revealed
Keep a note of the dishes, from ciauscolo to vincisgrassi: the overture to a long series of specialities.
A taste heritage in the province of Pesaro Urbino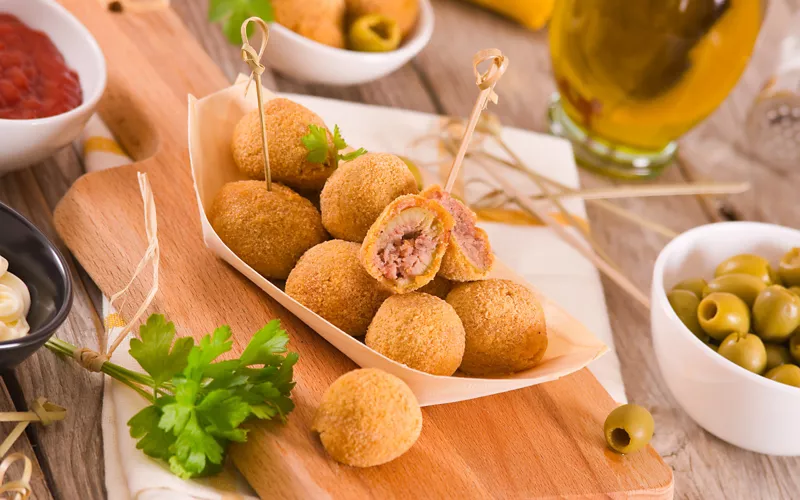 Wish Pesaro, Capital of Culture 2024, well by tasting some of its traditional dishes, such as cappelletti in brodo alla pesarese or cannelloni alla Rossini, honouring the famous musician who was born here. 
Just a stone's throw away is the sea, which offers seafood dishes such as mullet with ham, stuffed cuttlefish or garagoli (murex sautéed in oil with various spices). 
Among the desserts, choose bostrengo, boiled rice with dried figs, sultanas, honey, alchermes, cornmeal, cocoa, apples and pears.
In Urbino, take a bow to the crescia sfogliata, which was eaten on the tables of the ducal court; in the territory, do not miss a PDO excellence: the Casciotta d'Urbino (transcribed in the 16th century with an extra s) with its fresh dairy flavour and aromatic fragrance, but first and foremost the sovereign of the table, the truffle, white and black. 
The extremely prized product of the earth finds its ideal realm in Acqualagna, which has devoted three national fairs to it and which also makes up the economy of Sant'Angelo in Vado, while in Fossombrone you will find the "bianchetto" truffle, also known as Marzuolo, a variety of white truffle with a rather strong and spicy aroma. In Pergola, make a stop to taste some of the area's champions, such as the fruity-tasting "vernaccia di Pergola", "il tristo di Montesecco" and the "Visner" made from local sour cherries. 
A stopover is recommended also in Cartoceto, the cradle of high quality extra virgin olive oil, and of "pecorino di fossa" cheese, the wheels of which are stored for 90 days in tufa pits in August, and when they are "fished out" at the end of November, it is a big party. 
Lunano, a paradise of chestnuts, offers you the opportunity to taste sweets and delicacies made using chestnut flour. In Belforte, on the other hand, enjoy traditional products and sweets made with honey and in Carpegna the excellent prosciutto in the "Ghianda" and "San Leo" versions.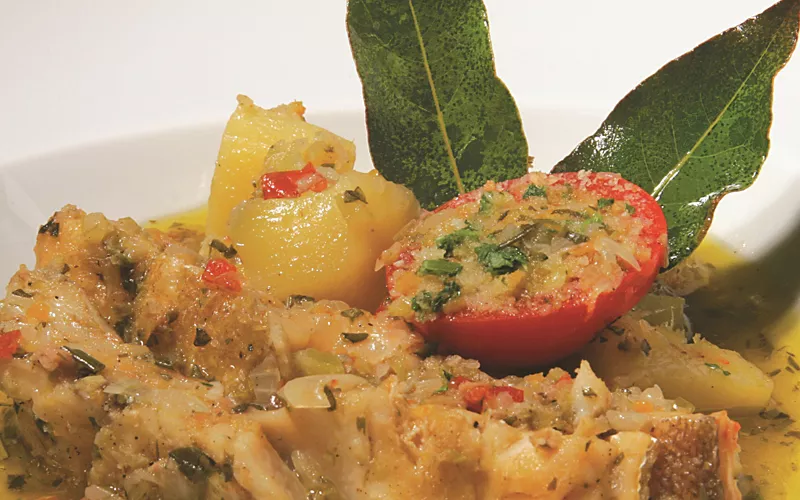 Frascarelli
Among the oldest recipes of the Marche peasant tradition, they are a simple and tasty first course, resembling polenta but based on rice and wheat flour. The name seems to stem from the 'frasche', three-pronged wooden sticks used in ancient times to mix the dough.
Stoccafisso all'Anconitana
One of the city's traditional dishes, which evokes an ancient history between the Adriatic Sea and the Norwegian Lofoten Islands, and to which a festival and culinary academy is dedicated. It is mostly eaten around Christmas time. It is notable for its very long cooking time.