Latium
Landscapes of Latium
Latium and its mountains: peaks with Apennine features, sometimes reminiscent of the wild ones in Abruzzo, and gentler heights that gradually descend to the Tyrrhenian Sea.
Powered by:

At the gates of the Eternal City, the surprise of the Castles and the Roman countryside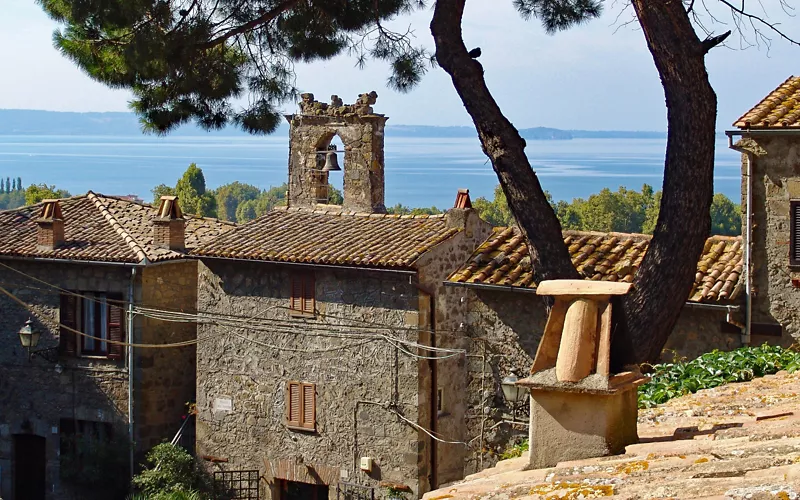 They are among the places most recounted by travellers and writers of all times who come to Rome for its civilisation, spirituality and beauty. Because Rome is not only its historic centre, its city fabric designed by the overlapping of different eras and urban forms: there are also the surprising places that crown the Urbe. Spaces where the signs of widespread antiquity and of a living and spectacular nature (left free or artfully tamed) create a 'picturesque' whole: the heights of the Roman castles, the countryside where the ruins of imperial splendours stand out, the aqueducts, the ancient villas and gardens, the historic city gates. The volcanic hills of the Castelli Romani, just as in ancient Rome, will also be a perfect destination for you to relax amidst the intensity of the views of lakes and forests, the wonder of the Renaissance villas, a World Heritage Site, and the joy of festivals, fairs and excellent cuisine, with its ancient origins but always lively and welcoming. 
The coast and the Pontine Islands: let yourself be seduced by the maritime soul of Lazio
Latium and the sea: along its coast, which is over 350 km long, you will recognise many famous resorts, with low, sandy beaches - although there are also rocky stretches - bathed by the Tyrrhenian Sea, which has been awarded high quality recognitions, and enriched by lush vegetation, protected by nature reserves that are among the most important in Italy. A few names are enough to remind us of the maritime soul of this region, made up of dozens of lidos and important ports: Circeo, Anzio, Sperlonga, Gaeta, Terracina, Sabaudia, Ostia, Nettuno, Formia, Civitavecchia, Fregene, Santa Marinella and so many others that to make a complete list would be too long! The most seductive pearl of the Lazio Sea is the Pontine archipelago: islands as places of the soul, symbols of the mind, as Folco Quilici defined them. Islands bearing witness to distant histories and ancient myths that still hover over these lands emerging from the splendid Tyrrhenian seabed with imposing, often wild landscapes. Ideal islands for an easy but suggestive holiday for the liveliness of Ventotene and Ponza, for the authentic sensations of the 'natural state', protected and privileged, of Palmarola, Santo Stefano, Zannone, Gavi, Scoglio Botte.
Immerse yourself in the magic of Lazio's water landscapes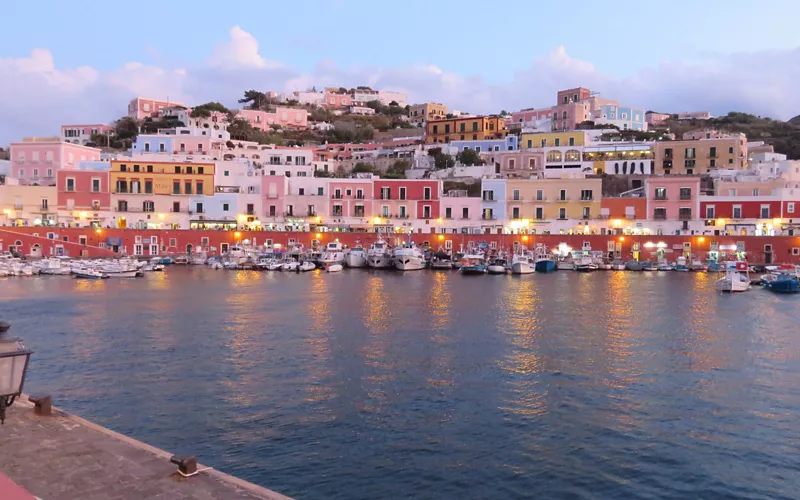 It is a special relationship between the Latium landscape and its waters: those of the Tiber, but also those of the Aniene, a more 'primitive' and spectacular river; those of Lake Albano and Lake Bolsena. Lake Albano reveals its volcanic origins in its shapes. So close to Rome, it is an oasis of coolness and nature: on its shores you will feel as if you are far from the metropolis, amidst splendid views of woods and mountains. Lake Bolsena is a peaceful inland sea on the border between Tuscany and Umbria, which will welcome you with bathing facilities, small islands, docks and a well-equipped harbour with the fishing village of Marta. And with the historical wealth of the villages of Bagnoregio, Bolsena, Capodimonte, Marta, Montefiascone and San Lorenzo Nuovo. Breathtaking water landscapes are also those of Tivoli, celebrated in the tales of many travellers and writers: here, the ingenuity and expressions of a true 'hydraulic art' have designed a 'liquid panorama' that leaves all those who enjoy this spectacle astonished. 
Tuscia, Lazio's Maremma, Sabina, Ciociaria: discover the deep roots of Lazio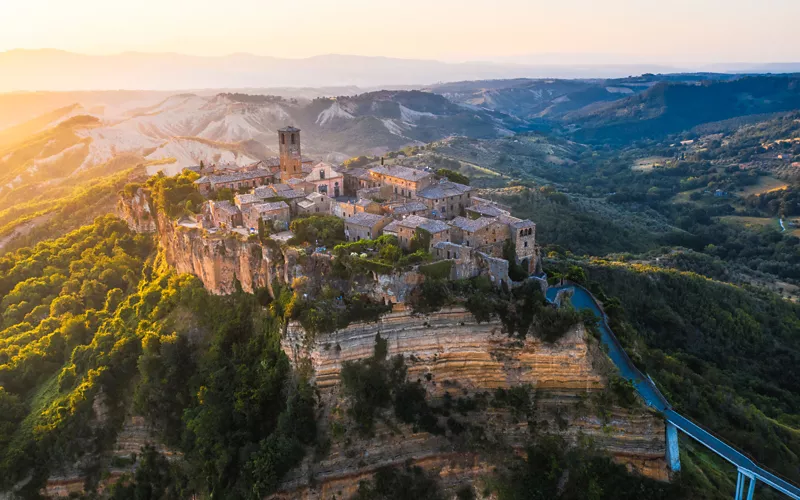 Names that taste of history, of a soul that comes from afar: a culture that has marked human civilisation took its first steps in these lands. Here are preserved the signs of millenary knowledge and arts that still speak to people's intelligence and hearts, in a context that has kept alive customs, ways of being, of welcoming guests according to a tradition that is not formal but deeply felt. You will find yourself discovering archaeological treasures, villages and towns with a long history: castles, walls, monasteries, churches, fortresses, picturesque hamlets remind us that here men have lived in small 'regions' distinct from one another, in local communities proud of their own originality, their own creations and their own horizons.