Lazio
Rome is the perfect destination for sustainable tourism
Suppose we told you that Rome is the most sustainable city in Italy, or at least strives to be? Respecting the planet we live on is no longer the concern of a careful few, but a need and an imperative for all of us.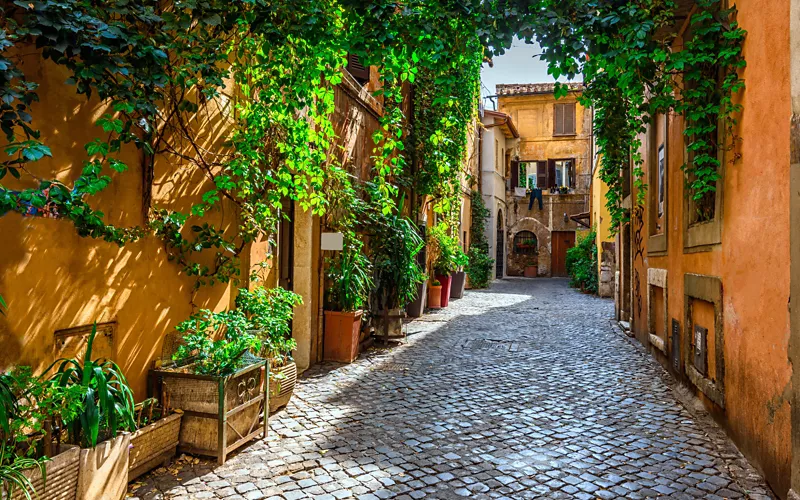 Eco-friendly accommodation facilities are increasingly plentiful in Rome.
From small B&Bs to the most famous historical hotels, passing through glamping options for all seasons and agritourisms immersed in nature, there is an abundance of choice in Rome, but with a single watchword: zero waste.
Careful handling of waste, an invitation to use bathroom linen more than once, seasonally aware cooking, choosing cleaning products that do not pollute: these are just some of the measures that make these places ideal for a truly responsible stay. 
Getting around Rome with the environment in mind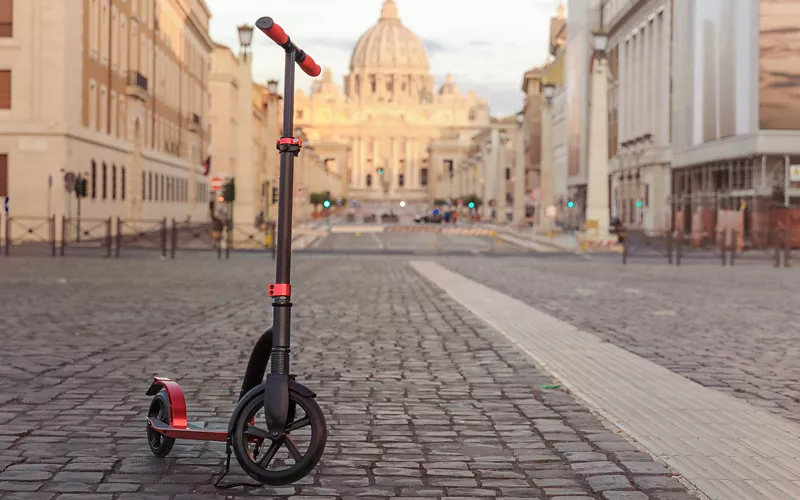 It is becoming increasingly easy to get around Rome on foot or by environmentally friendly means. The distances to be covered are very long and the must-see places are so many that they are not always within walking distance.
Public transport, however, offers the best way to enjoy each attraction without affecting the environment. There are numerous cycle lanes, and hiring a bike (including an electric one) is just a click away thanks to the many booking services via apps such as Uber Jump and Dott.
Those wishing to explore can opt for a scooter, through sharing services such as Dott, Voi, Lime and Bird, or opt for speed with one of the many electric scooters available through eCooltra Scooter Sharing Elettrico. Those who are more adventurous can experience the thrill of moving around the city in a Tuk Tuk by choosing from the many specially-organised tours.
Alternatives that avoid using the car are countless in the capital, and are fundamental in a city characterised by an archaeological and cultural heritage of incalculable value: smog, in fact, severely damages monuments, palaces and historical artefacts.  
Eating organically in Rome
The carbonara from Flavio al Velavevodetto or the cacio e pepe from Felice Testaccio are a source of veneration for virtually all Romans, but safeguarding the environment also requires good food. The flavours are typical, yes; but the cuisine is also attentive to seasonality, using zero-kilometre ingredients.
It is indeed possible to do a lot of organic shopping by visiting the numerous markets that liven up the Roman neighbourhoods. The one in Trastevere, for example, comes to life on the second Sunday of every month, and the market in the Testaccio area is open every day except Monday.
Italy's capital is ideal for satisfying every whim and dietary need that has an eye on nature: organic restaurants that use only locally-produced ingredients are increasingly popular, as well as vegetarian and vegan eateries that promise to win you over with surprising flavours that also respect the environment.
Try the Bio Osteria Dar Parucca in Pigneto, known for reinterpreting home-style Roman cuisine in an organic way, and based on zero-kilometre food from local farms. Or be tempted by Ma Va'? in the Vittoria area, a vegan tavern where you can savour typical dishes in a vegan version, all of which are mouth-watering.
Slow tourism in Rome, even for those with little time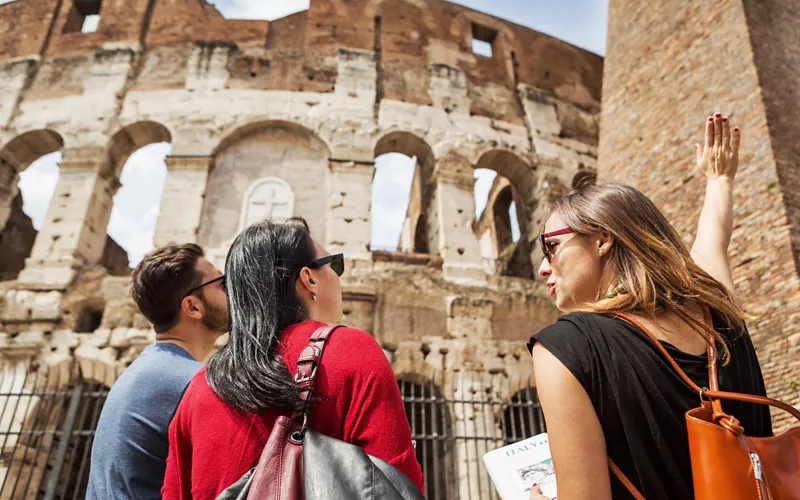 If you are short of time to organise your trip, but wish to appreciate all the incomparable majesty of Rome, the solution is at hand: you can choose to rely on the many tour operators who organise slow and eco-friendly itineraries to discover the Eternal City.
Visiting Rome while respecting the environment and appreciating its culture and monuments is entirely possible: from mobility to food, from the choice of hotel to the tour that suits you best.
The Capital encompasses everything you need, acting as a rudder in the Bel Paese for responsible tourism.