Traditional Easter sweets in northern Italy
Discovering the traditional Easter sweets in northern Italy
Easter and traditional sweets come hand in hand throughout Italy. Here is a guide to traditional Easter sweets in northern Italy.
In Lombardy celebrations are held with Resta and Bussolano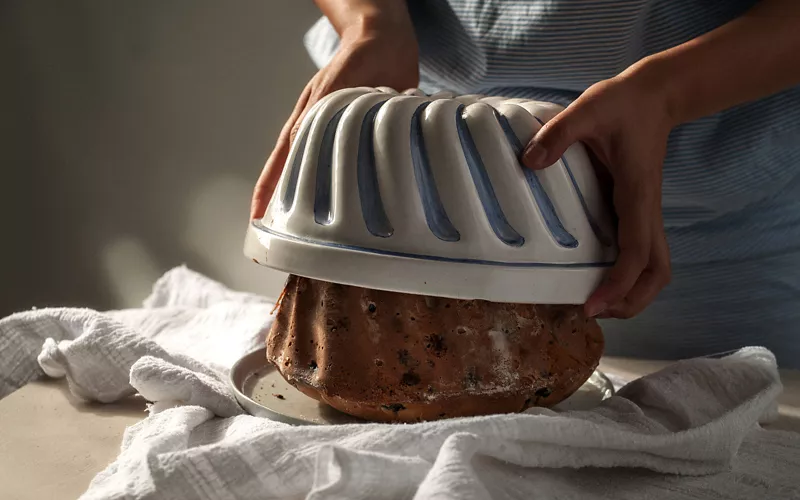 We begin our tour with Resta, a sweet focaccia that is typical of Lombardy. Originating in the 19th century in one of Como's taverns, it was born as the result of a mistake.
This is because the innkeeper who invented it added too much yeast to the dough for a simple pandolce with candied fruit and sultanas, causing it to rise excessively. He stretched it out and flattened it with the knife, leaving cross marks with the blade. Resta is similar to panettone in its preparation and ingredients because it is made with natural yeast, flour, sugar, eggs, sultanas, butter, candied orange and citron.
Another Easter sweet from Lombardy is the Bussolano, a simple doughnut flavoured with a little Marsala wine and eaten by adults dipped in wine, by children in milk.
Easter doughnuts and salame del papa are sweets of Piedmont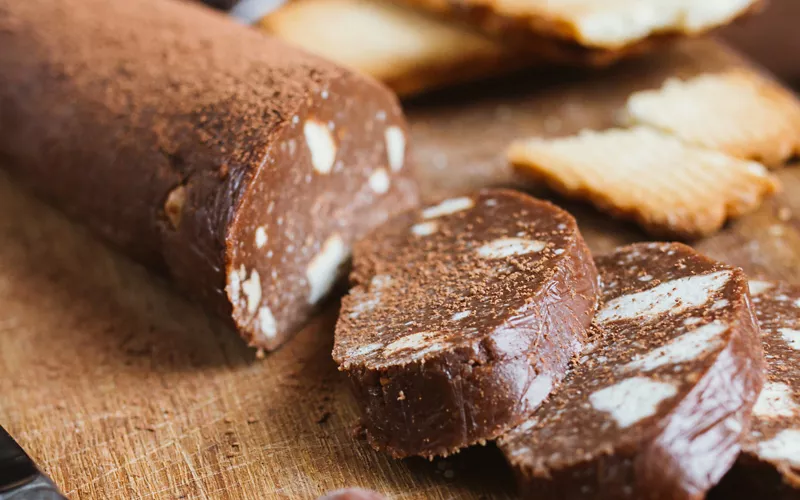 Continuing with Piedmont's Easter sweets, first and foremost the Salame del Papa, a chocolate cake originating in Alessandria. In appearance it resembles the sausage of the same name, but is made with hazelnuts and a shot of rum. According to tradition, it was traditionally the typical cake to be eaten during Lent to circumvent the fasting obligations of the Catholic religion, as it had the Pope's blessing.
Another typical Piedmontese tradition are the Easter doughnuts, which differ from their counterparts prepared in other regions of Italy due to the presence of sour cherries in syrup. They are served warm and accompanied by a glass of spumante.
Fugassa is the Queen of Easter sweets from Veneto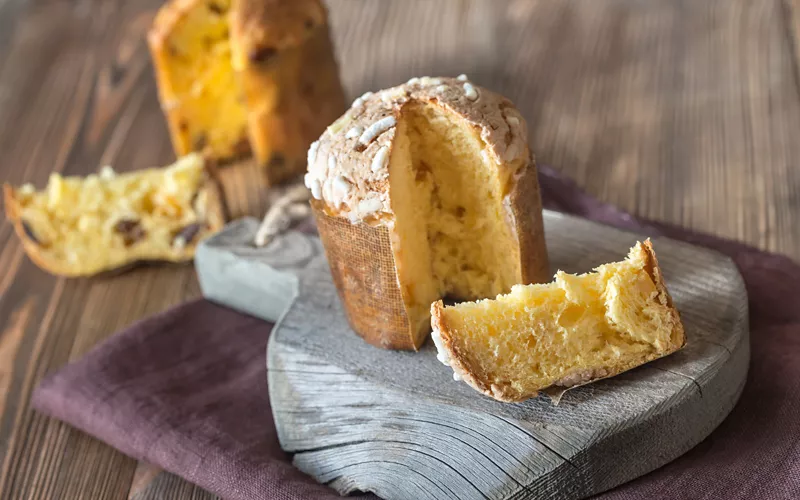 Fugassa pasquale originates from bread dough as a poor festive cake, enriched with butter, eggs and sugar. Typical of the provinces of Padua and Venice, it is soft and light due to its natural leavening.
Of its origin, some say it was invented by a Treviso baker who kneaded bread dough with unusual ingredients such as butter, eggs, honey and almonds to create a soft dough that he gave to his most loyal customers at Easter. Others, however, claim that its creation is later and strongly linked to the Venetian focaccia recipe.
From the Brazadela to the Torta tagliolina: here are Emilia Romagna's Easter sweets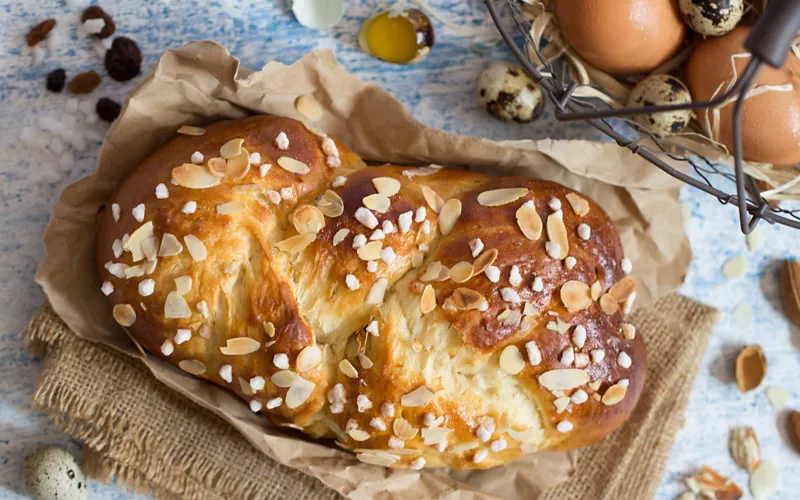 Moving on to Emilia to relish the Brazadela or ciambella ferrarese: with its long, narrow shape, it bears little resemblance to the classic doughnut, starting with the missing hole: a few simple ingredients, the irresistible lemon scent and the soft biscuit-like consistency.
Next, the legendary Torta tagliolina - also called ricciolina, tagliatelle or tajadina - a glorious blend of sweet and savoury, formed by the union of egg noodles and a filling of almonds and candied fruit. According to legend, the cake was inspired by the long, blonde hair of Lucrezia Borgia, a noblewoman and lady of the city of Ferrara.
Tuscan Easter sweets have daring combinations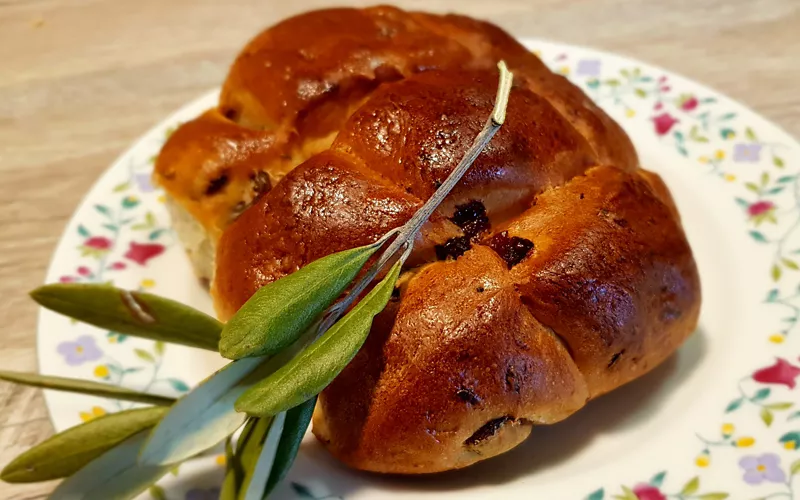 Tuscan desserts are also abundant. Pasimata or Crescenza, is a form of sweet bread from Lucca, eaten during Lent, made with sultanas, grated lemon and orange peel and a teaspoon of Vermouth. It is traditionally blessed on Easter Sunday.
Another typical Tuscan sweet is the Pan di ramerino, a soft bun made with the bold pairing of zibibibbo and rosemary. Originally medieval, it used to be sold in Florentine bakeries only on Maundy Thursday, the last day of fasting. The street sellers offered it to the women who went to church for Mass to have it blessed. 
In Liguria between Marzapani and Cavagnetti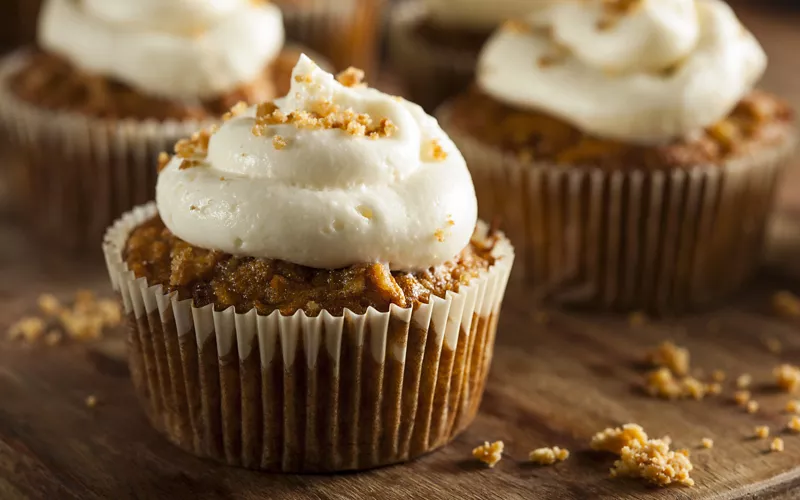 Lenten Marzapani, based on the Genoese almond dough cake, prepared by apothecaries since Medieval times and then transformed into small pastries, garnished with chocolate, vanilla or lemon icing, and embellished with coloured sugared almonds, are popular on Ligurian Easter tables.
Other Ligurian Easter sweets - more specifically from Genoa - are Cavagnetti, baskets of sweet leavened dough, which enclose a hard-boiled egg as an Easter symbol of rebirth. A little known fact about these Ligurian delicacies is that many Genoese families, when setting the table for Easter lunch, use them as placeholders or place them on top of napkins as an ornament.
Pinza triestina, Presnitz and Putizza: the Easter triad in Friuli Venezia Giulia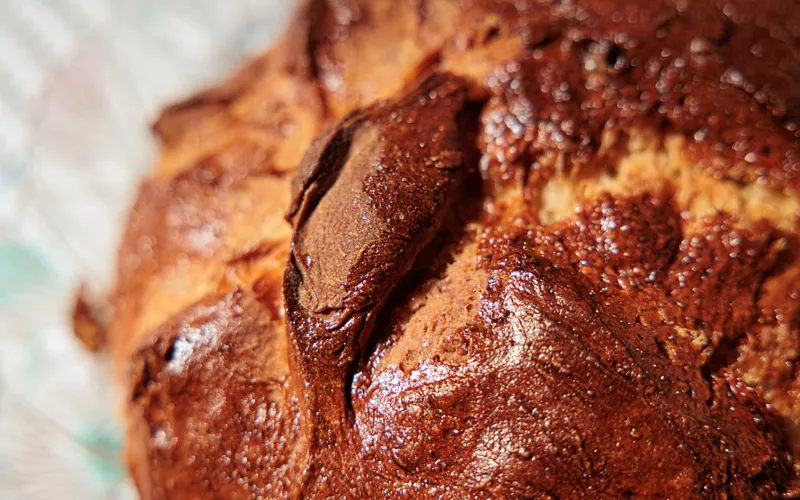 An aromatic explosion for Friuli's Easter sweets.
The Queen of Easter in Friuli Venezia Giulia is the Pinza triestina, a simple leavened sweet bread with a citrus flavour, a recipe of housewives from Trieste and Gorizia. The Presnitz is a sweet filled with sultanas, walnuts, toasted hazelnuts, almonds, pine nuts and rum, wrapped in thin pastry.
The region also offers Putizza, the name of which conceals the preparation - from the Slovenian poviti, meaning to wrap - whereby the dough is rolled onto itself before being baked. 
Trentino Alto Adige's traditional sweets are Brazadel and Corona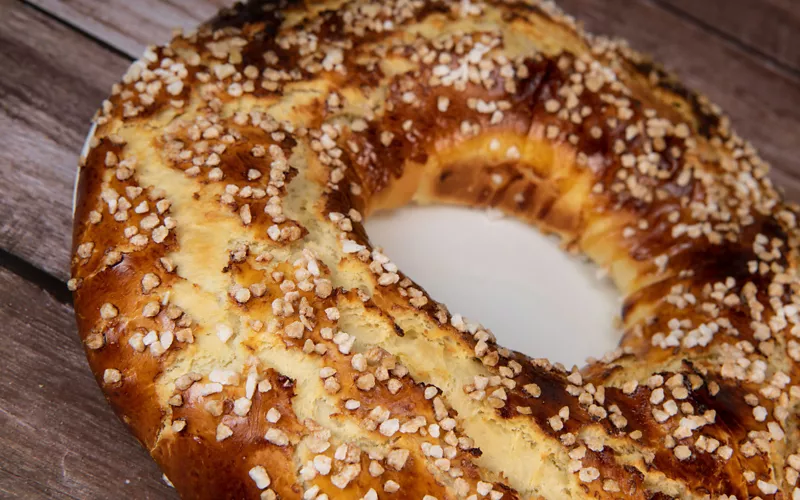 In Trentino, rebirth is celebrated with the Brazadel, a soft, sweet Easter doughnut sprinkled with granulated sugar. The cake originated in the village of Brez and was once a typical wedding cake.
The Corona is a similar, twisted doughnut with a delicate flavour and lemon scent, decorated with sugar and chocolate eggs and multi-coloured sprinkles.
The Aosta Valley has its own panettone: the Mecoulin of Cogne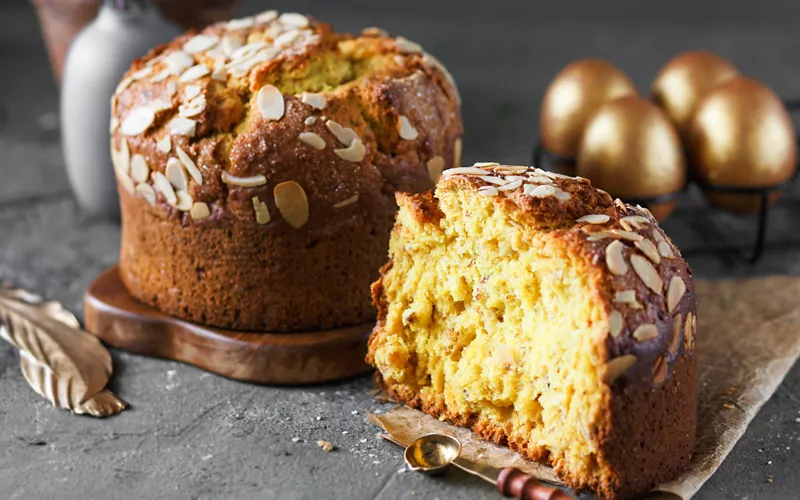 We finish our tour of discovery of northern Easter sweets with the Mecoulin di Cogne, considered the Valle d'Aosta version of panettone, but enhanced with cream, milk, sultanas and rum.
The history of this cake goes back a long way. They were prepared once a year in communal ovens spread throughout the villages. But it is still a fond tradition today that families keep their own recipe for mecoulin.