Easter treats from Southern Italy
The unique taste of Southern Italian Easter desserts
Let's go on a journey through southern Italy, in the discovery of Easter desserts.
Easter treats from Abruzzo and Molise rustic and tasty
Let's start our journey with an Easter dessert from Abruzzo and Molise: the fiadone or fiaùni, in the shape of a ravioli. The pastry is made with eggs, oil, white wine and flour, the filling is with a base of hard cheese - Rigatino or Pecorino - or cow's or sheep's milk ricotta, enriched with nutmeg, pepper and saffron from L'Aquila.
The Molise version of the fiadone is called casciatello, it has a round or crescent shape and adds raisins and candied fruit to the filling. Another Easter treat from Abruzzo, with ancient origins, is the pupe di Pasqua (Easter dolls) or pupe e cavalli (dolls and horses): its history dates back to the 1800s, when prepared for engagement parties. Today, grandmothers give a doll or horse to their grandchildren. Both figures carry a hard-boiled egg, wrapped in two crossed strips of shortcrust pastry, as a symbol of rebirth and union.
Calabrian Easter desserts: various shapes, unique flavors
The itinerary continues following the Calabrian Easter desserts, which change their name according to the areas of the region. The sguta or cuzzupa, a small donut with an egg in the center, is a symbol of nature, fertility and the return to life, it's a soft brioche prepared with mother yeast.
Typical of Cosenza are the cuddrurieddri, delicious potato-based donuts. And also to note are pittapie, shortcrust pastry disks in the most varied shapes, from crescents to stars, filled with dried figs, candied fruit, cinnamon, Marsala and mulled wine. Finally, Calabrian Easter bread, a sort of pan brioche brushed with hot milk and sugar or covered with a light icing of icing sugar.
Campania's Easter desserts of ancient tradition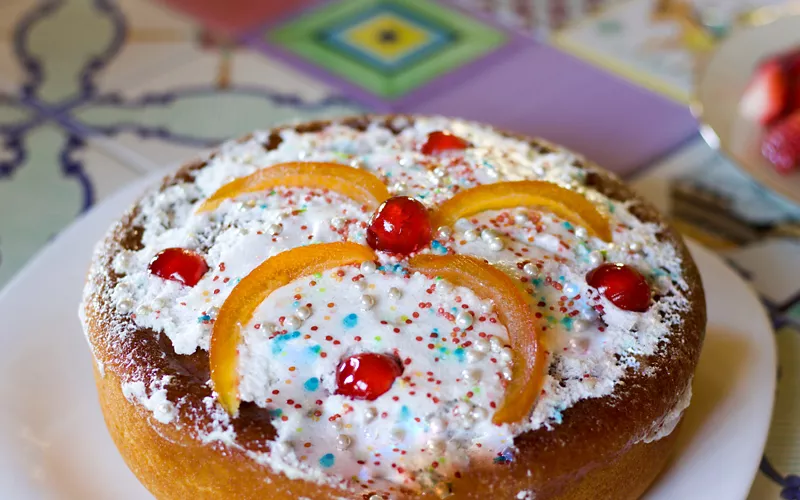 Moving on to the Campania and Neapolitan Easter desserts, starting with the pastiera, a traditional Neapolitan cake, made with shortcrust pastry, wheat, ricotta and eggs, with an intense orange blossom scent. Legend has it that the mermaid Partenope created this delicacy. Spreading her song in the Gulf of Naples, to celebrate it the population gave her 7 gifts - flour, eggs, ricotta, wheat cooked in milk, orange blossom, spices, sugar. Myth links the dish to the cult of Ceres, and the priestesses carrying an egg in procession as a symbol of rebirth. Over time this evolved into gifting the dessert. The invention of the pastiera as a sort of pizza halfway between rustic and sweet dates back to the 16th century, which has since become today's version.
The Neapolitan casatiello is no less, a dessert halfway between the pastiera and the colomba cake, garnished with a sugar glaze and made with a mix of yeasts, strega liqueur, lemon, vanilla and orange blossom for flavor.
In the Marche region, donuts are a real tradition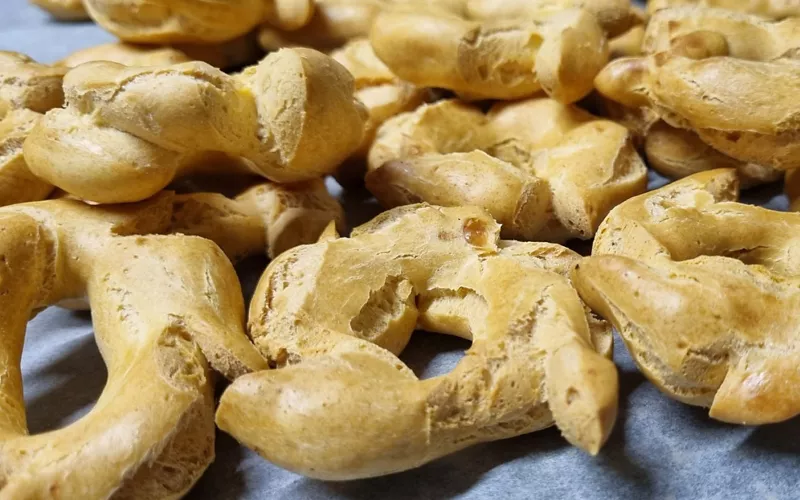 It's the turn of the Easter donuts from the Marches ciambelle pasquali marchigiane or ciambelle strozzose, light and fragrant, typical Easter treats from the Marche region, especially from the Fermo area.
With an hourglass shape, given by the central cut made before cooking and immediately after boiling, they are decorated with colored sprinkles or royal icing, sugar icing made from egg whites and icing sugar. These donut are rather dry as suggested by their name, which is why they are best accompanied with a good Moscato or fortified wine.
The Particular shapes of Apulian Easter desserts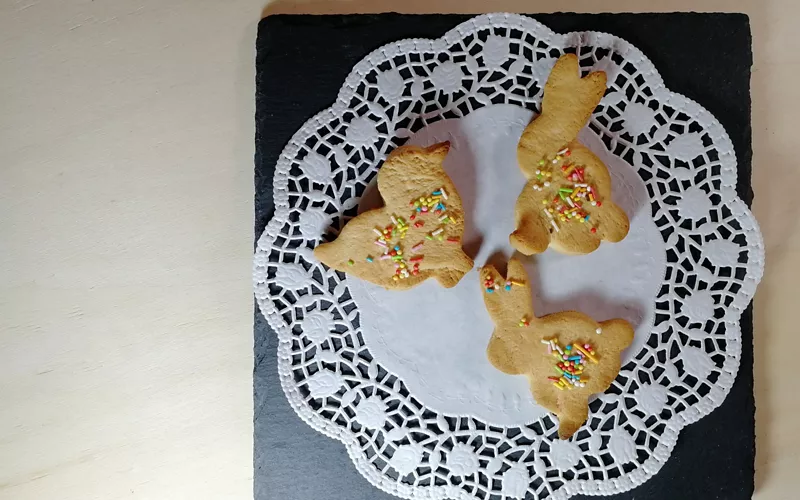 Heading now down to Apulia and taste the dita degli apostoli (apostles' fingers), an Apulian Easter dessert, also typical of Carnival. These are egg white fried and filled with fresh ricotta cream, sugar and cocoa, and flavored with a dash of rum.
Try the scarcelle, typical of the Foggia area and with Campanian origins, with a circular shape - the scarcella is, in fact a ciambella, donut - covered with white icing and decorated with chocolate eggs or silver and multicolored pearls. Finally, the agnello di pasta di mandorle (almond paste lamb), is a must on the Apulian Easter tables.
Sardinian Easter treats smell of citrus fruits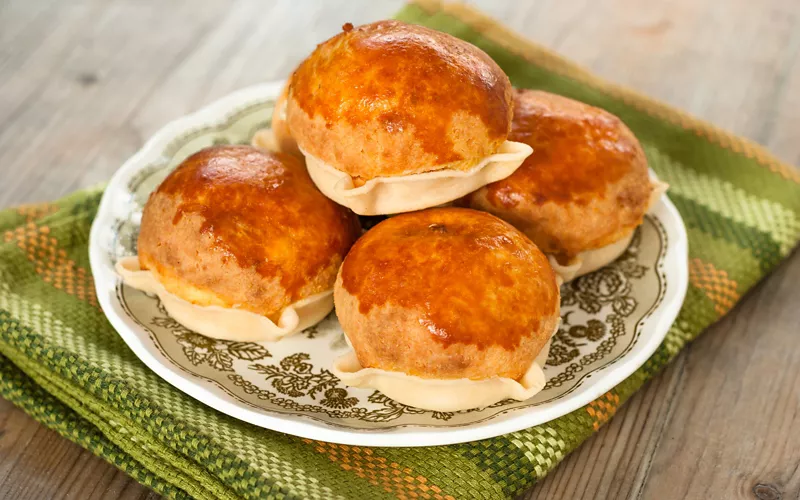 Pardulas and casadinas are the main of Sardinian Easter desserts, but they can also be enjoyed at other times of the year. The small desserts have identical preparation and different fillings - more delicate in the former, based on ricotta, more intense in the latter, with fresh cheese - they are flavored with orange or lemon and enriched with raisins.
Don't miss the coccoi cun s'ou, sweet semolina and sourdough bread with splendid decorations, made with scissors, wheels, small knives and tweezers.
Easter desserts from Sicily have rich and tasty fillings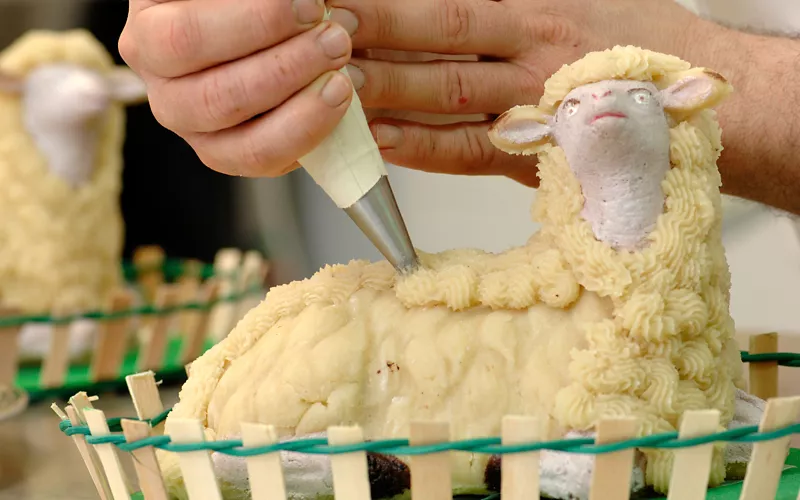 Our journey ends with Sicilian Easter desserts. Try the cassatelle ragusane, shortcrust pastry tarts with a crunchy shell and ricotta filling, the Sicilian pasticciotti, fragrant biscuits filled with pumpkin, and zucchini jam. The pupu cu l'ova, a dove-shaped biscuit in which a hard-boiled egg is inserted, and the pecorella di martorana or agnello pasquale (sheep or lamb) made of almond paste.