South Tyrol
Trentino-South Tyrol is home to Europe's longest zip line
San Vigilio di Marebbe is a little piece of paradise in Trentino-South Tyrol, nestled in the heart of the Dolomites.
The history of the zip line
If you love extreme sports or are simply an adventurer, you are sure to know all about zip lines, but have you heard of the one in Trentino-South Tyrol?
However, before we go into what makes Adrenaline X-Treme Adventures truly legendary, let's quickly dive into the history of this exciting attraction that has been around for about a century and a half.
Back when it first came to be, it was actually invented to carry people or objects from one place to the other, over large distances that would otherwise be impossible to cross.
Then, some thirty years ago, the zip line as we know it today was developed in Australia, to transport food from one mountain peak to another. Some researchers then started to use it to travel into the forests and study the flora and fauna.
Finally, we arrive in the present day, with the zip line being used for pure fun and thrills.
Adrenaline X-Treme Adventures: Europe's largest zip line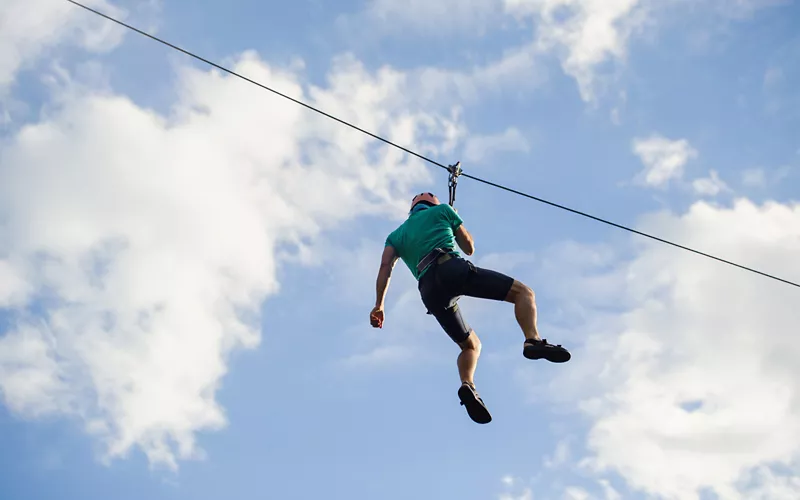 Everything this zip line has to offer is all in the name: adrenaline and extreme adventures.
This comes as no surprise, since, at 3.2 kilometres, Adrenaline X-Treme Adventures is the largest zip line in Europe. And that's not all!
After launching from a 1,600-metre-high platform, you will enjoy a long flight through the beautiful scenery of the South Tyrolean Dolomites, at a maximum speed of 80 kilometres per hour.
Starting from the peak station of the Piz de Plaies cable car, you will descend towards San Vigilio di Marebbe, a small mountain village, dropping 400 metres in altitude. At the highest point, you will find yourself a good 100 metres above the ground.
You will then zig-zag through the valley down to the Cianross cable car station, hooked to a super high-tech pulley system.
This adventure is available for solo flights and is open to children weighing over 40 kilos.
The experience is sure to be unforgettable, but if you want to take home a souvenir, you can rent a GoPro with a selfie stick inside the adventure park.