Sardinia
Sardinia, a Mediterranean paradise of emotions and flavours
A captivating island full of fragrances to 'savour' at least once in a lifetime.
In Barbagia, the heart of Sardinia, land of shepherds and flavours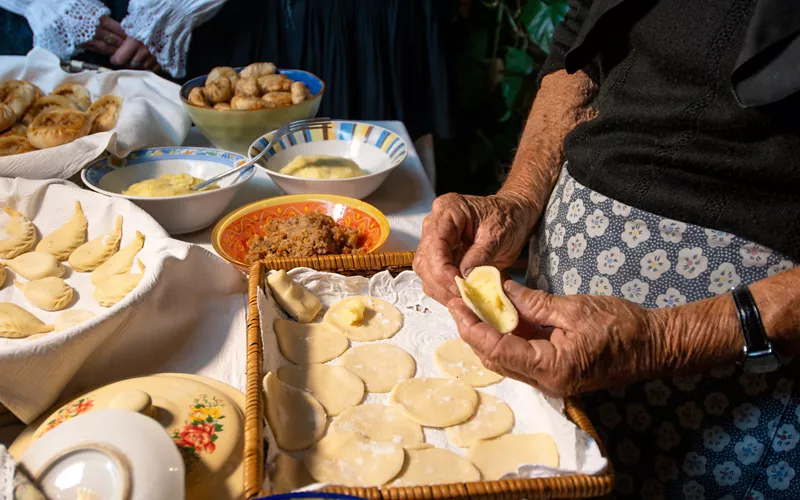 Barbagia is a huge territory that occupies the slopes of the Gennargentu, a mountain massif in the centre of the island, and the minor reliefs around it.

We take you to the Barbagia di Ollolai, in the province of Nuoro, between the municipalities of Gavoi, Lodine, Olzai, Mamoiada, Ovodda, Fonni, Tiana, Teti and Austis, with the same gastronomic heritage of pastoral traditions.
The main ingredient of the Barbagia cuisine is always bread, which is often turned into a first course soaked in sheep's broth and served with meat sauce and grated pecorino cheese.
Gavoi is the home of Fiore sardo, prepared with raw milk from pasture-raised Sardinian sheep, and smoked with myrtle and lentisk wood. An absolute delicacy, which you should not miss, as well as the most peculiar of the Barbagia cheeses, su casu marzu or giampagau, not very nice-looking, but much appreciated.
Mamoiada, on the other hand, is the centre of production of Cannonau (with Oliena and Dorgali), the indigenous Sardinian vine from which the wine, prized throughout the world and that you will certainly have tasted, takes its name. Its deep ruby red colour, unique aroma and good concentration of sugars make it special, perfectly suited to accompany meat dishes based on sheep and lamb, which is roasted, seasoned with drops of melted lard (istiddiau), or otherwise served as a stew with potatoes or artichokes.
In Ovodda, try pizzudu, or su pitzudu, a very tasty fried pasta with potatoes and casu (cheese in Sardinian) served either as a first course, dressed with a classic tomato and basil sauce, or as a main dish paired with a fresh salad.
When you reach Austis, enjoy its typical dish, sa fregula stufada, made of baked semolina pasta, while in Teti it is time for sweets, such as su buffulitu, a kind of panforte (a kind of strong bread) garnished with walnuts, hazelnuts, sultanas and coloured sugared almonds, which is prepared, in particular, for the feast of Sant'Antonio Abate.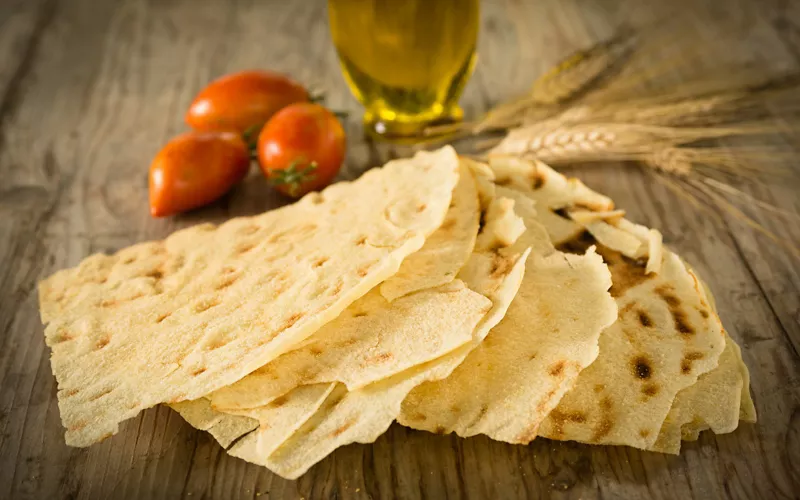 Culurgionis stuffed with meat

They are a kind of ravioli made with flour and durum wheat semolina, stuffed with a filling of potatoes, Sardinian pecorino cheese and mint; then sealed with 'sa spighitta', which recalls a spike of wheat. At last, they are cooked in boiling water and seasoned to taste.
Piscadura
If you are a pork lover, this dish is just for you. After cooking the pork, comes the addition of potatoes, onions, cabbage and wild fennel. It can be enjoyed with a couple of sheets of carasau bread soaked in broth.