Sardinia
Archaeological Sardinia
Tombs of giants, sacred wells, nuraghi, dolmens, menhirs, fairy houses. Discover Sardinia's mysterious and ancestral side.
Giants' tombs and sacred wells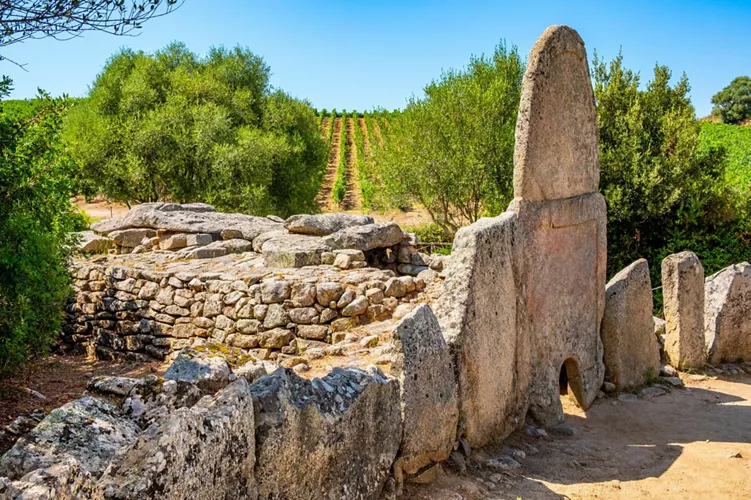 The tombs of the giants are funerary monuments belonging to the Nuragic age and consisting of a long burial chamber with an apse end and covered with stone slabs. Among the tombs not to be missed we find: the monumental tomb of Li Lolghi in Arzachena and that of S'Ena 'e Thomes in Dorgali, dating back to the Bronze Age and in excellent condition; the tomb of Coddu Vecchiu in Arzachena, one of the oldest, dating back to around 2500BC.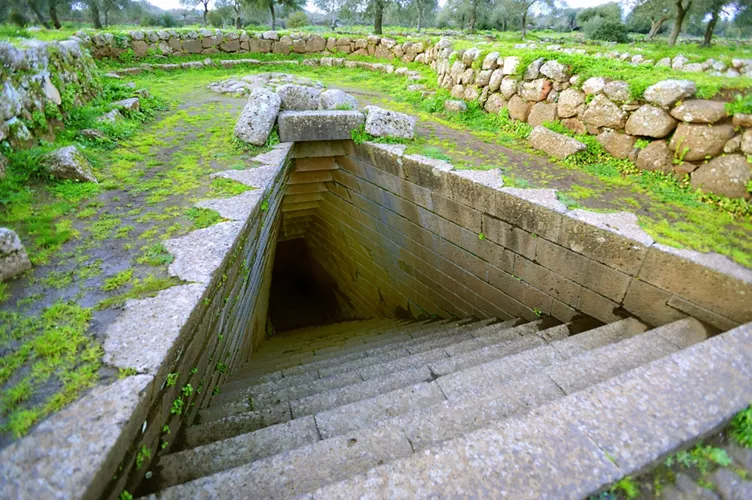 The wells, which are present in the whole of Sardinia, were underground sanctuaries dedicated to the worship of water, an essential element of the Nuragic religion. The most common shaft is circular in shape, built with blocks of stone, surrounded by circular stone enclosures, or surmounted by a small building. Among the sacred wells there are the ones of Santa Cristina in Paulilatino, Su Tempiesu in Orune and that of Sa Testa in Olbia.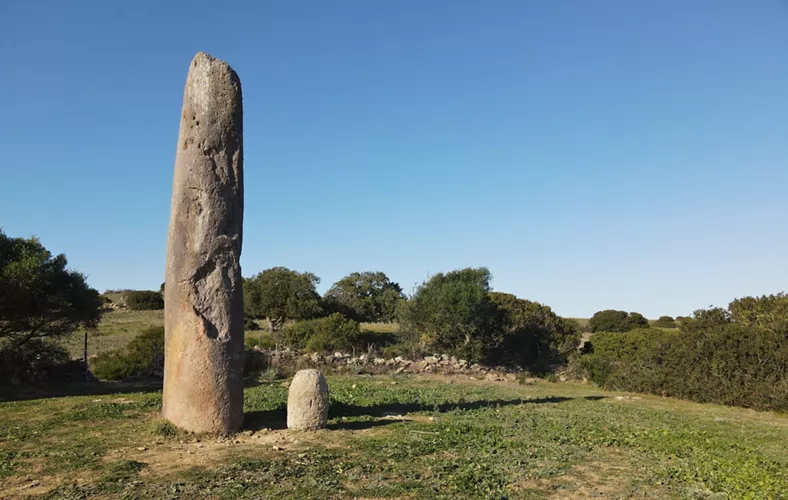 Menhirs are large upright stones belonging to the religious and funerary world of the Neolithic Age, reaching up to 5 m. and planted in the ground. The archaeological area of Pranu Muttedu in Goni has the highest concentration of menhirs with about 60 monoliths. Dolmens were tombs consisting of stone slabs planted vertically in the ground and covered by a horizontal slab. Sa Coveccada, located in Mores, in the province of Sassar, is one of the most important dolmen constructions.
Domus de Janas, or "fairy houses"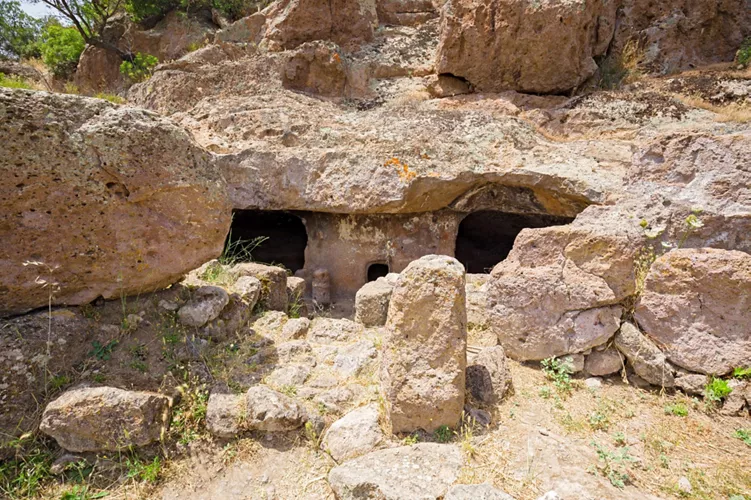 These are rock-hewn tombs dating back to the Neolithic period. More than 2,400 have been found in the area. The tombs are often linked together to form underground necropolis and at times are very elaborate and decorated constructions. Do not miss the great domus of Sedini, the domus de Janas Genna Salixi in Ruinas, and the necropolis of Is Loccis- Santu in San Giovanni Suergiu.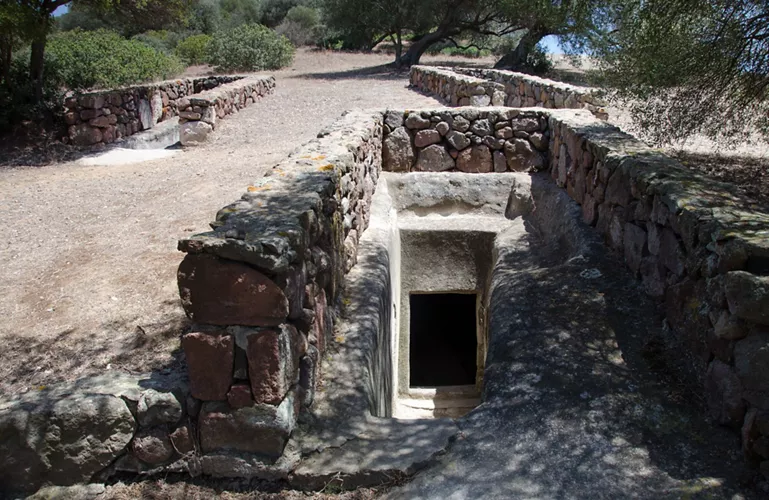 Some areas in Sardinia disclose remains of the towns founded during the Phoenician colonization in the eighth and seventh centuries BC. These were important centres subsequently conquered by Carthage, where a new Sardinian-Punic culture was created. Among the places worth a visit we find the Phoenician-Punic settlement of Monte Sirai in Carbonia, the Phoenician city of Sulci in S. Antioco, the Nuragic-Punic fortifications of Monte Sant'Antine in Genoni and the Punic fortress of Mularza Noa o Pabude in Bolotana.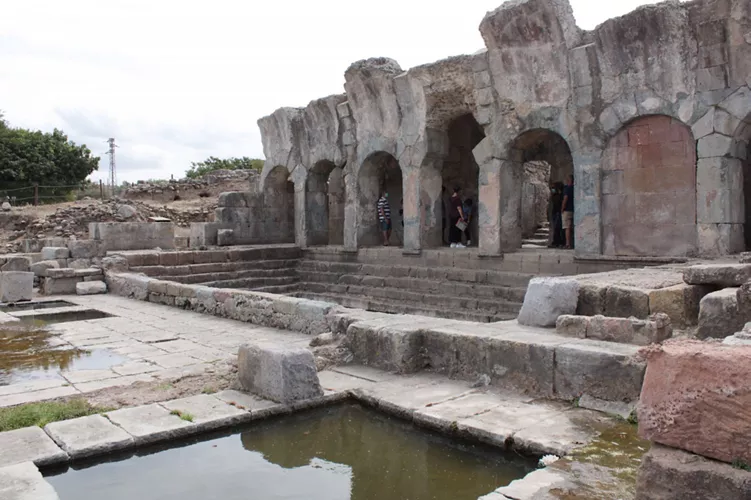 There are numerous testimonies of Roman rule in Sardinia, which are also evident in many of the centres already conquered by Phoenicians and Carthaginians. The amphitheatre of Tigellio's villa in Cagliari, the Roman Empire site and Late Antiquity of San Cromazio in Villaspeciosa, the villa of Porto Conte and the bridge of Fertilia in Alghero, the rural villa from the Republican era of Olbia, and the cities of Forum Traiani in Fordongianus and Turris Lybissonis in Porto Torres are among the locations well worth a visit.