Liguria
Via Orefici and Via Luccoli in Genoa: antiques and crafts among the alleyways
Via Orefici, between past and present
As soon as you turn onto Via Orefici, you immediately notice the changed atmosphere. The past is still alive among the many workshops to explore. The street got its name from its past home to goldsmith workshops (indeed, orefici in Italian), with some still located here.
You can see artistic traces of the past between one shop window and another, such as the 15th-century Adoration of the Magi decorating the door at number 47 or the votive shrine of the Madonna degli Orefici at the corner with Via Campetto, commissioned in 1640 by the goldsmiths' guild. The neighbouring alleys, such as Vico Scudai and Vico degli Indoratori, also reveal the street's origins.
It is one of the busiest streets in the city, ideal for enjoying a stroll, visiting the shops and having a snack in a fry shop with focaccia or farinata. Going all the way from Piazza Banchi to Piazza Soziglia, you pass the alleyways of the historic centre: lose yourself among stalls selling second-hand books and records, small shops, small bistros, fry shops and craft workshops.
Via Luccoli, once a forest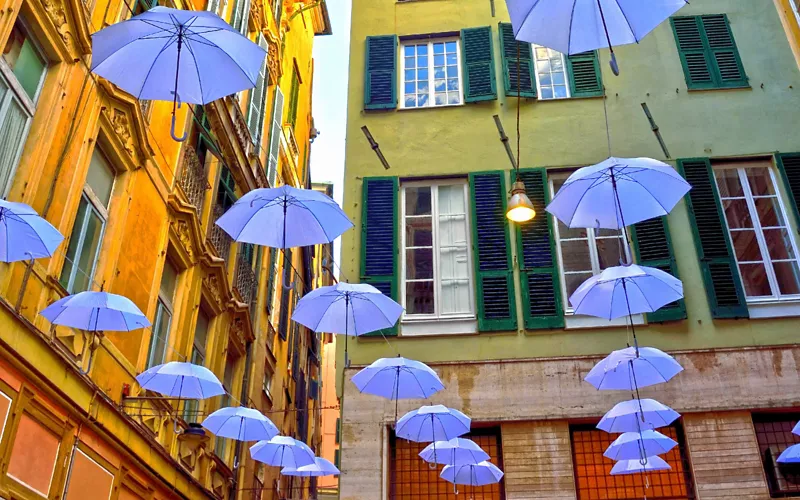 The name Via Luccoli is very old. It comes from the Latin luculus, meaning grove. In fact, there was once only countryside here and Via Luccoli was a lane leading up a wooded hill. The first houses of the Spinola family were built here in the 13th century. Some of those buildings still stand.
Today it is one of the most elegant streets in the city, in the heart of the historical centre and a short distance from Piazza De Ferrari. Don't miss the Palazzo Franzone Spinola at number 23, with its stucco-decorated façade. If you happen to find the door open at number 30, make sure to peek into the courtyard.
While shopping and strolling around, make sure to keep your head up so as not to miss a single detail of the historic buildings, and stop at the historic Cremeria Buonafede to taste pànera, Genoese semifreddo made with coffee and cream. For lunch, stop at any of the bistros along the street to enjoy a charcuterie board accompanied by warm focaccia and a glass of wine.
After lunch and just before entering an antique shop to barter over the price of an antique lamp, take note of the reminder at number 26: the motto engraved on the marble reads "sumptus censum non superete". Translated: expenditure should not exceed income. Genoese thriftiness is not merely a legend.