Emilia Romagna
Landscapes of Emilia Romagna
Powered by:

The breath of the Po, in one of the most mysterious and original places in Italy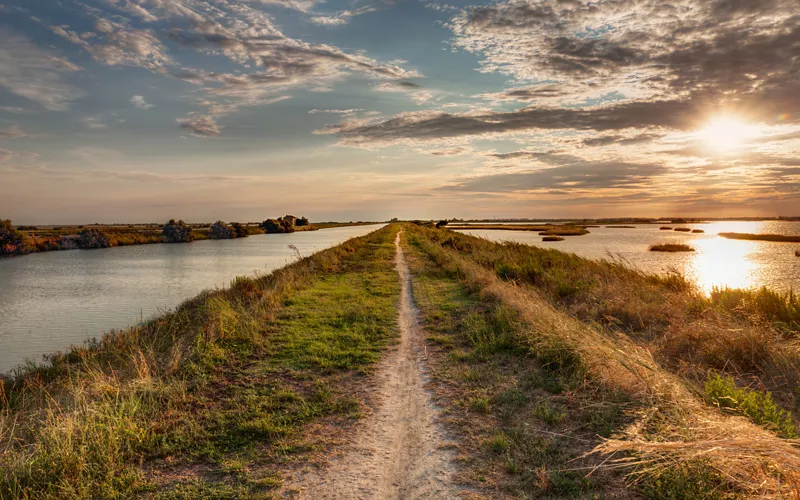 Lying between Emilia-Romagna and Veneto, the Po Delta area boasts a unique territory, designed by water and moulded by the human hand. Beside or even within the cities and towns of the Po Valley, when it reaches Emilia, Italy's largest river turns truly enigmatic in the shapes, images and feelings it arouses.

The many thousands of people who almost every day brush past it, cross it, see it speeding along the major roads, can hardly imagine what would be waiting for them just a little beyond. As soon as they leave the city tracks, an unknown world opens up, populated by rare animals and plants, by river people with their own dense histories that flow unfailingly at the elusive boundary between land and water.
Geographically speaking, the Po becomes Emilian in Piacenza, but it can be said that its Emilian soul grows stronger as it touches the lands of Parma and Reggio Emilia, creating a natural and human scenery that has earned a very special sentimental role in the imagination, well summed up in the words of Giovannino Guareschi when he said that "the Bassa is not made for tourist trips by coach. It is made for those who are not afraid to be alone with their thoughts". When the great river touches Ferrara, then reaches Comacchio, the unique atmosphere of the Delta envelops and amazes everyone.
The dolce vita of the Romagna Riviera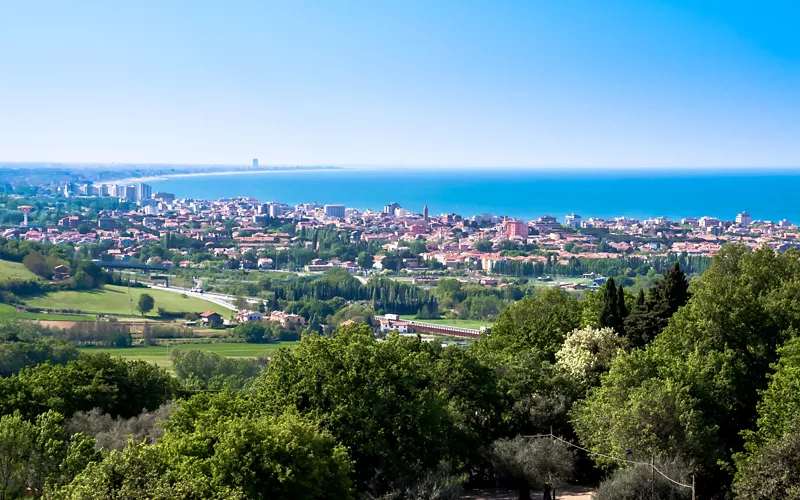 In Romagna, the sea can be seen and, somehow, felt even from afar, namely the gentle sea with its flat and gentle shore, which inevitably pleases those who love a beach of soft sand and equally soft cheerfulness and security. A true and well-established joyful vocation of the Romagna coast that is not only the heritage of its inhabitants, but has made its way into the minds and hearts of summer guests from near and far. Yes, in their heart too, because along with the joyful lightness of the beaches and worldly life in the most renowned seaside towns - Cattolica, Riccione, Rimini, Cesenatico, Cervia, Milano Marittima - and incomparable hospitality and friendliness, Romagna is home to more veiled, more complex feelings of the sea, not rarely poised between romantic complacency, poetic sense, sweet nostalgia. Tonino Guerra said that: "Romagna is not a single thing; there is Romagna bathed by the sea and there is Romagna in May in bloom, and then the hills. And it has big mountains that from afar become transparent and from up there you can see the sea, which is a long, blue line".
Romagna of soil, rural well-being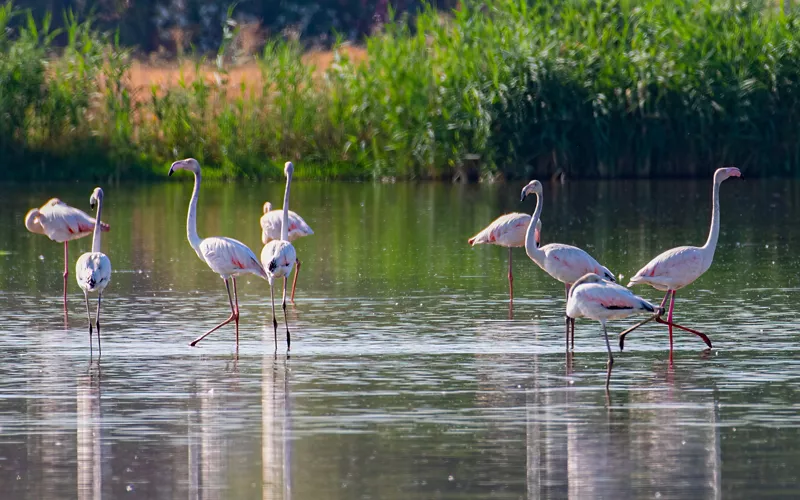 What you will find as you leave the coast and head inland, is a gracious Romagna, capable of intensely engaging those who live it or merely those who get to know it as visitors. Because Romagna, with its different souls, is just like this: a territory full of passionate lightheartedness that comes from a way of being, but also brimming with solid concreteness, of an energetic spirit that expresses itself in a sense of hospitality that is both modern and ancient, of a particular "power of doing" that dwells in the cities as well as in the countryside. Genuine and at the same time legendary countryside, with aromas of wines and hearty dishes, where villages and many castles have played a leading role in the spectacular aspirations of ancient local lords. Countryside that represents a lifestyle of beautiful places and good things, conveying relaxing atmospheres, in isolated places surrounded by beauty and harmony.
A great Italian road: the world of the Via Emilia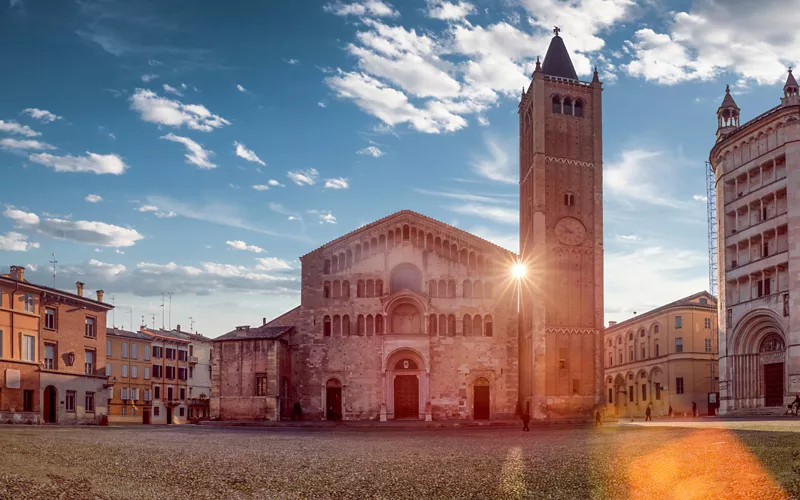 The Via Emilia, "one of the most beautiful and fascinating journeys in Italy", as Riccardo Bacchelli wrote, is at the same time one of the most unique and rewarding. A great Italian road, so well known and yet so surprising in its succession of human, historical and cultural legacies, for a dense and peculiar ensemble of genius, energy and industriousness. A necklace of cities linked to each other by the art of good living, music, cuisine, sporting passions, memorable colours and flavours. It starts in Piacenza and arrives in Rimini, passing through the small and large "capitals" of Parma, Reggio Emilia, Modena, to then touch upon the Emilian heart of Bologna, where the most discerning can already feel a bit of that Romagna air coming from Imola, from Faenza, with its direct roads leading straight to Ravenna, from Forlì, from Cesena, to end the journey on the Adriatic coast. Great antiquity and extraordinary modernity, beauty and goodness, sophisticated sentiments and solid passions, run hand in hand on the Via Emilia.