Bologna's Mortadella
Sliced, diced or used as a filling. The unique taste and scent of mortadella tell an ancient story of authenticity and tradition.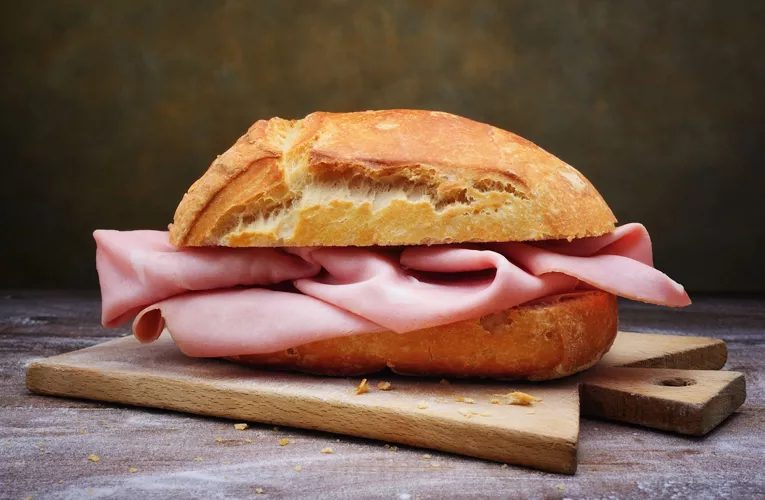 Mortadella of Bologna as it is prepared today is perhaps slightly different from that created by Messisbugo, but it does follow the precept as set by him to use only pigs' meat. Not only, but it is prepared with meats that are very carefully-selected and worked according to a European disciplinary code. The meat is triturated and formed into a sort of paste that becomes very fine with the aid of special machines. After being passed through these machines three times, the meat is enriched with small fat cubes, taken exclusively from the throat of the pig, which is the most valuable and the hardest of the fat tissues. This mixture is then packed into a tube (of natural or synthetic materials) and cooked in large, hot, dry-air ovens, and successively cooled at high speed. The mortadella is cut into varying sizes, from household or family size to that big enough to be displayed in the butcher shop window, or even much larger.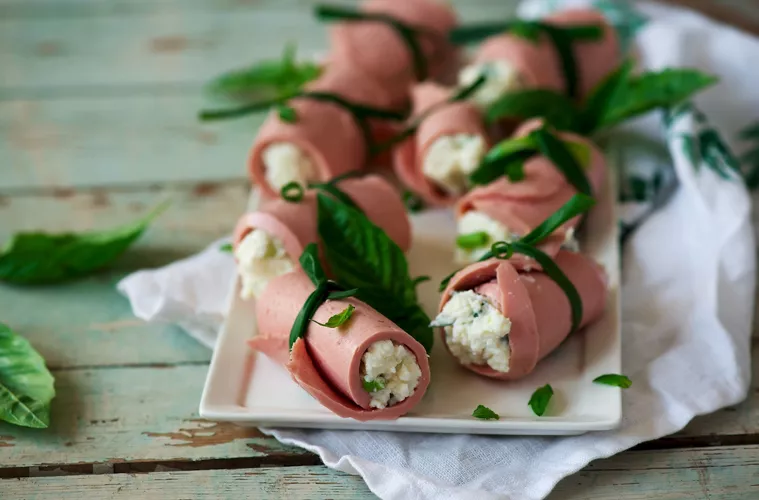 Mortadella comes in a cylindrical form, and its consistency is compact and inelastic. Once cut, its surface must be a uniform, pink color interspersed with pearl-white squares of fat. The fat should make up between 15 and 28 per cent of the product. Typically aromatic, its taste is delicate and without any traces of having been smoked. Its typical zone of production goes beyond the region of Emilia-Romagna, also being produced in Piedmont, in Lombardy, Veneto, the Province of Trent, Tuscany, the Marches and Lazio. In Italy, about 18 million quintals (one quintal is equal to 220 pounds) of Mortadella is produced every year known and exported all over the world, it is usually referred to as "Bologna." Dressed up versions also appear on shelves – containing grains of salt, pepper or pistachios, or even flavored with garlic or truffle.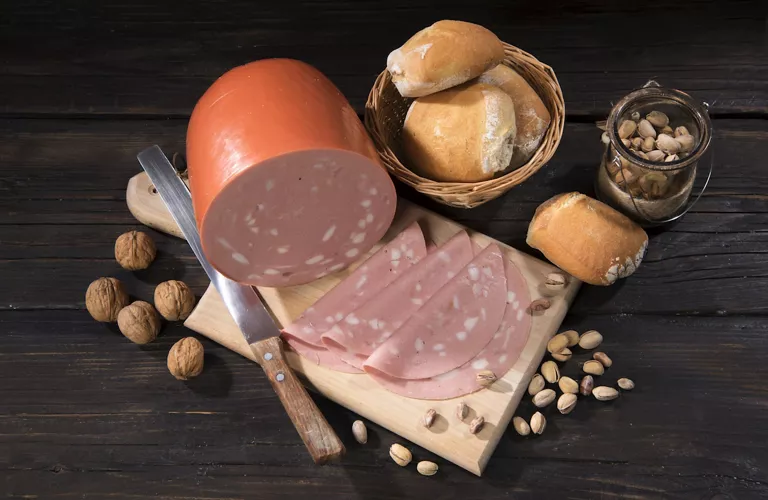 Mortadella is ideal with a slice of bread, or as finger food, alternating with cubes of cheese, for example it is also a fundamental inredient as filling in tortellini alla bolognese. The Bologna Consortium for Mortadella, established in 2001, has as its objective to protect and valorize Mortadella Bologna IGB. In partnership with the Italian Ministry of Agricultural, Food and Forestry Policies, the Consortium promotes the official Mortadella Bologna IGP and enforces controls against imitations and forged meats. The Consortium's singular goal - on which it operates constantly - is to guarantee consumers a product that maintains its special characteristics, taste and quality, and that is of high nutritional value: made of complete proteins, minerals and unsaturated fats, and completely in line with the leanings of modern nutritional science.