Winter holidays in South Tyrol
Skiing areas, hospitality and great food.
Alta Badia: skiing, nature and good food
If you love winter sports and have decided to spend your holidays in the snow, the Dolomite area around Alta Badia is an ideal destination. Whether you are a beginner or an expert looking for adventure, this magnificent skiing region will exceed all your expectations. With 130 km of ski slopes - including Sellaronda, Vallon and Gran Risa - 53 ski lifts, 1S.now Park, 30 km of slopes for cross-country skiing and tobogganing, Alta Badia is a truly surprising destination. People who love good food shouldn't miss the "Sciare con gusto" ("A Taste for skiing") event - an occasion involving a number of selected mountain huts and refuges where creative chefs serve innovative recipes based on typical produce and traditional cuisine.
Kronplatz: Mountain holidays for every preference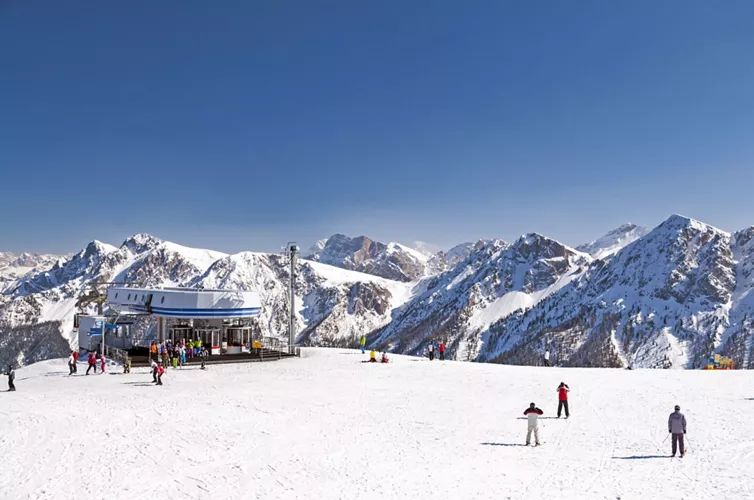 When in doubt, choose Kronplatz! Snowboarders, freestylers, beginners and families all find their paradise in the snow here. This skiing area near Bruneck offers a great deal as regards sport and hospitality services, even for families. With more than 100km of snow-covered slopes, 1 Snow Park and 3 amusement parks for children, Plan de Corones is the winter holiday resort that will never disappoint you. Accommodation facilities with 4 and 5-star Resorts and Family Hotels are also excellent and well-organized , complete with dream-like wellness experiences, gourmet restaurants with recipes based on local culinary traditions and facilities to children. The Mirabell Luxury Resort, the Bellavista Emma and the Alpen Tesitin Wellness Resort are just some suggestions for people looking for a good hotel.
Seiser Alm | Val Gardena. The largest ski resort in South Tyrol
Another fine destination for winter holidays on the snow is Val Gardena. It is the largest ski resort in the South Tyrol region and part of the Dolomiti Superski circuit. It offers 175 km of slopes, from the most adrenaline-pumping and daring ones such as the Saslong and Longia slopes, to medium-level ones like the Sellaronda ski circuit. A paradise in the snow ideal for sport lovers looking for an active holiday, as well as families and people looking for well-being and relaxation. There are many and well-organized accommodation facilities, among which we suggest ICARO Hotel (3 stars) and Alpina Dolomites (5 stars). Lovers of fine food must not miss the excellent local cuisine served in mountain huts and refuges.
3 Zinnen Dolomites: for holidays on skis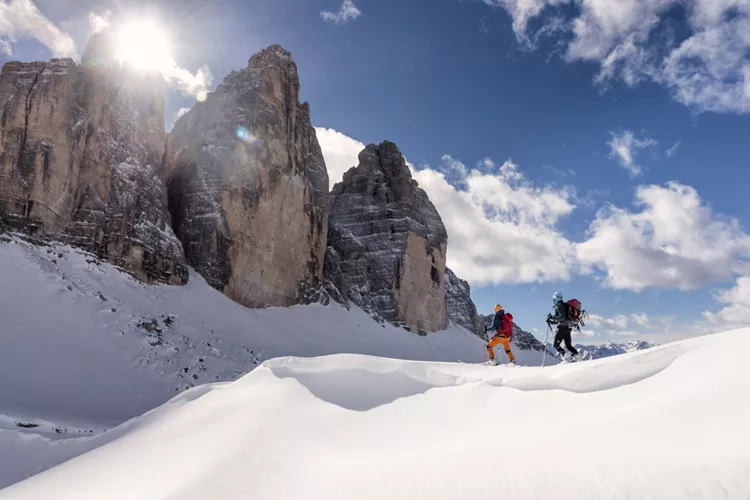 The fabulous scenery and unspoiled nature of the Tre Cime di Lavaredo are a not to be missed UNESCO World Heritage Site. This area offers everything needed for people keen to enjoy a typical mountain holiday: clean air, beauty, sport, walks, good food and wonderful scenery. In this imposing and evocative place, skiing is in the forefront with 115 km of downhill slopes and even as many as 200 km of cross-country skiing trails. The more daring can tackle the steepest descent in Italy - the "Holzrise" with a 72% gradient. Five ski areas well worth discovering: Monte Elmo, Croda Rossa, Passo Monte Croce, Val Comelico and Mount Baranci.They all offer excellent and appropriate services and accommodation facilities.