Sicily
Catania, a baroque city with a gritty energy
At the foot of Mount Etna, Europe's highest active volcano and overlooking the eastern coast of Sicily, is the city of Catania, the undisputed capital of Sicilian Baroque.
A short walk through the streets of the old town is enough to appreciate why UNESCO decided to protect its architecture by declaring it a World Heritage Site: Catania is an impressive open-air setting.
We don't wish to give away any spoilers, but be prepared to shop in popular markets you thought no longer existed, to dive into crystal-clear waters lapping at beaches of sand and black volcanic stone, and savour dishes of a culinary tradition that will make you abandon any intention of dieting.
History and interesting facts about Catania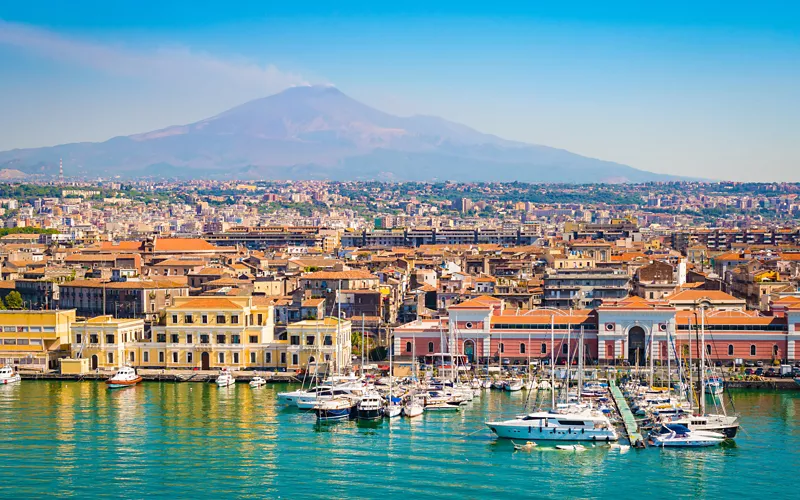 The history of Catania begins in 729-728 BC, when Greek settlers from Naxos founded Kατάvη, Katane. After a period of Syracusan domination in 263 B.C., the city's history continued under the Romans. Over the centuries, the city experienced the same fate as the rest of Sicily, with domination, destruction and resurgence. It was in 1402, under Aragonese King Martin I of Sicily, that Catania became the capital of the Kingdom of Sicily.
Two very serious natural disasters, the eruption of Mount Etna in 1669 and the Val di Noto earthquake in 1693, propelled Catania into the modern era: its Sicilian Baroque style is the result of the diligent reconstruction efforts of illustrious architects. In 1816, a year after the Congress of Vienna and after the Treaty of Casalanza, the Kingdom of Sicily and the Kingdom of Naples were united, creating the Kingdom of the Two Sicilies, and shortly afterwards acquired the status of municipality. Thanks to the Bourbon administrative reform, it became one of the 7 Sicilian provinces.
Having become part of the Kingdom of Italy in 1860, Catania was the eighth of 27 cities to be honoured with a gold medal as 'benemerite del Risorgimento nazionale' (meritorious of the national Risorgimento) for the city's highly patriotic deeds during the Risorgimento.
What to see in Catania: places not to be missed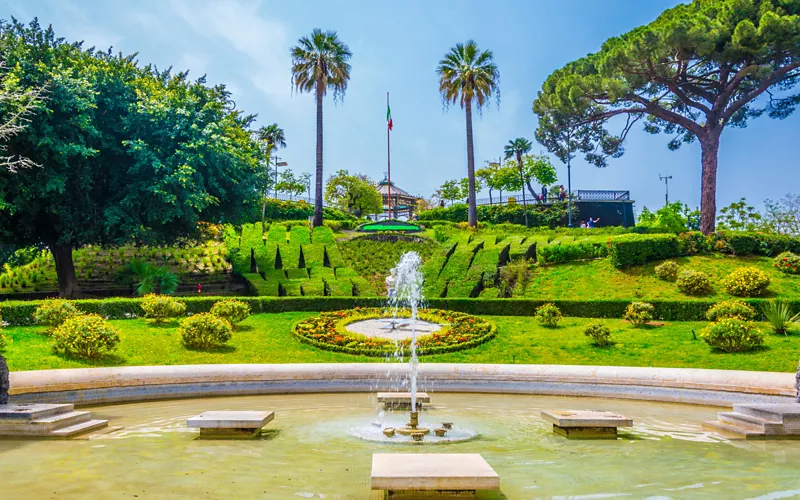 With a historical and cultural heritage such as that of Catania, it is essential to do some planning so as not to risk missing out on the masterpieces dotted around the historic centre, losing oneself in the squares and alleyways. In other words, if you're wondering what to see in Catania, take a look at our mini-guide and start organising your next trip here.
We start with Etna and its 59,000 hectares of parkland, pine forests, black lava areas and smoking craters. Make sure you pack something warm, even in August, and don't skip a visit to the top of the volcano.
Once you arrive in the city, your first stop will be the Ursino Castle, founded by Frederick II of Swabia in the 13th century and now home to a splendid civic museum. As you stroll through the streets of the centre, keep an eye out for black-and-white buildings overlooking large squares. First and foremost, Palazzo Biscari, the most important private palace in Catania and a precious example of Sicilian Baroque.
Now take a moment at Villa Bellini to see one of the two oldest gardens and one of the four main parks in Catania.
Finally, head to Catania Cathedral, where the city's beautiful square is dominated by 'O Liotru', the elephant symbol of the city, and take a stroll along Via Etnea, the main street that spans 3 km.
Do you have some more time left? It will be well spent if you manage to pay a visit to the Pescheria di Catania, the noisy old morning fish market that can be reached by climbing a flight of volcanic steps.
4 ideas about what to do in Catania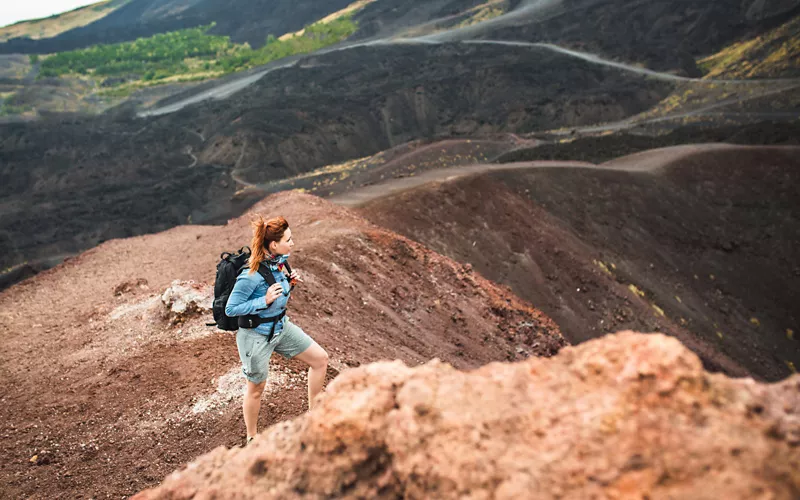 Take your pick, but an excursion to Mount Etna is essential, because "a Muntagna", as they call it here, should not only be admired but also experienced. Like deciding to go on a trek, an off-road tour or an Etna Mountain Bike Tour.
Treat yourself to another tour of Catania, perhaps looking up at the sometimes bizarre baroque balconies of the famous noble palaces.
And, if you can, take in a concert or an exhibition selected from the extensive Bellini Festival programme, held every year from 23 September to 3 November. 

What to eat in Catania 7 specialities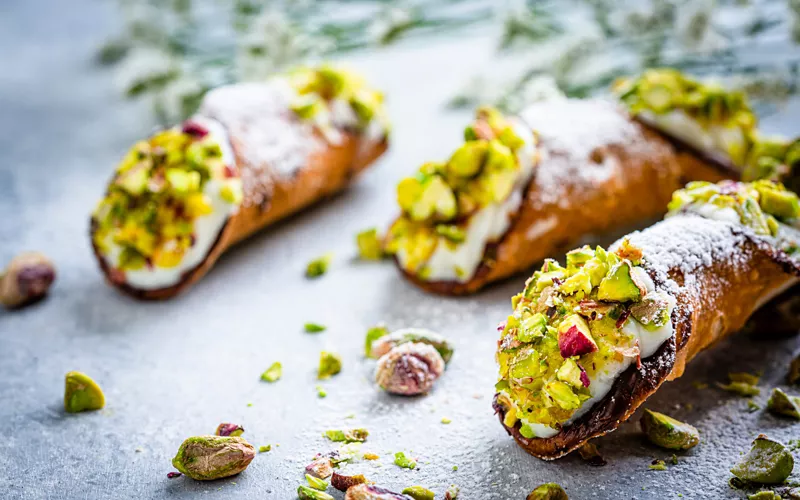 If you're wondering what to eat in Catania, the only difficulty you'll have is that you'll be spoilt for choice.
Start with pasta alla Norma, a typical dish from the city, with tomato, salted ricotta, a little basil, and fried aubergines.
If you want a lighter alternative, but not too light, choose spaghetti alla Carrettiera, a dish seasoned with oil, raw garlic, pepper and grated pecorino cheese.
Always keep a little room for a Sicilian cannolo, a crispy rolled wafer with a creamy ricotta filling, of which there are many variations today.
And above all, eat in the street. Street food here is a matter of moral obligation, whether it is an iris, a typical fried dessert filled with cream or ricotta, or an arancino: but be warned, here in Catania you have to ask for it in the masculine form!
Unusual places to see in Catania
Even in the presence of such universally recognised beauty, one can find unusual places that are well worth spending time on: San Berillo, a multi-faceted historical quarter with its unfinished buildings and those destroyed by bombing; the Museum of the Landing, a concentration of local history experienced during the Second World War, enriched by multi-media exhibitions; the Fera 'O Luni market di Catania, a fair open from Monday to Friday.