Sicily
Pistachio from Bronte
Colourful, delicious, highly-prized and ideal for desserts, savoury dishes or even enjoyed alone.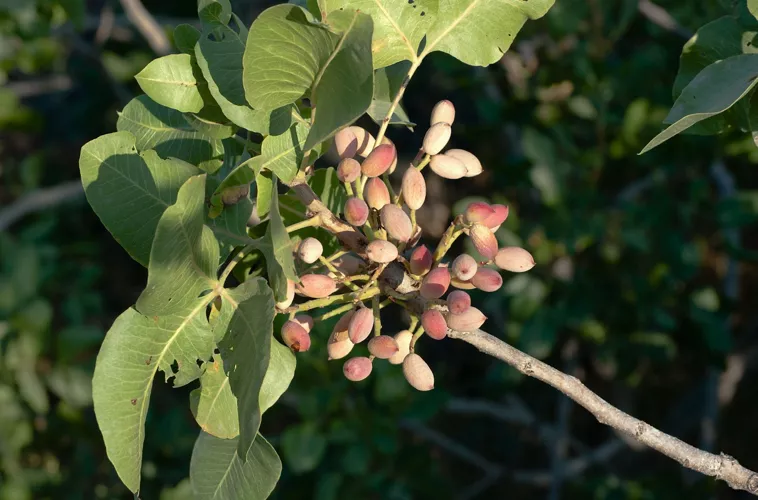 The pistachio actually has several names in Sicilian dialect, including scornabecco, spaccasassi and fastuca. The pistachio plant can live between 200 and 300 years, and thrives above all in Bronte. While the nut's most ancient origins lie in ancient Persia, that grown in Bronte is distinguished by very unique characteristics – even in comparison to other Sicilian pistachios – and is thus known as pistacia vera. Such may very well be attributed the fact that pistachios in Bronte are cultivated in volcanic soil, on the scorching terrain of Mount Etna and the Nebrodes. Here, the terroir seems to favor the resinous plant, from its thick foliage that necessitates little water, down to its ability to cling to the steepest and craggiest mountain slopes (thanks to its knotty branches and deep roots). The pistachio harvest takes place every two years between late August and early September it is a truly magical event that involves the entire population of Bronte: women, men, the old and the young ascend the heights to pick and shell this splendid fruit, one by one. An almost-sacred rite, the harvest reaps a triumph of brilliant color, from intense green to violet-red, that conquers both aesthetic and palate with its particular brand of Sicilian magic.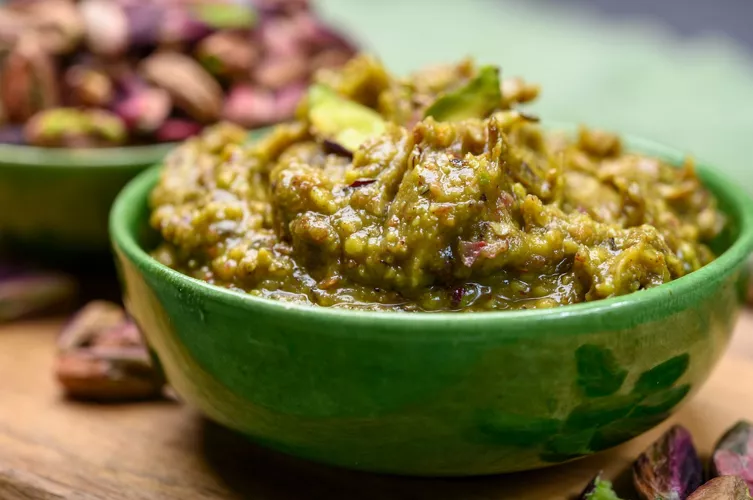 Given its singular traits, its nutritional and organolectic properties, as well as its gorgeous taste and smell, the Bronte Pistachio obtained European Union P.D.O. certification in 2009. EU tutelage establishes the rules and regulations regarding the exact area of cultivation (i.e. the Sicilian Comuni of Bronte, Adrano and Biancavilla), and production, harvesting and labeling practices - thus protecting not only product but consumer. A trip through Sicily's far east, running from the Messina Strait and along the flourishing sceneries of Etna (UNESCO World Heritage Site) and Catania, should not bypass a traipse through the green-gilded landscape of Bronte, where this huge component of Sicilian enogastronomy is revealed in all its facets. Many Italophiles already know and love cannoli, the Sicilians' pride and joy – and also prepared with pistachio and ricotta, of course. Still, a seemingly-limitless range of sweets and pastries has been created on this one magnificent isle: pistachio gelato, torroni, the bucellato – using chocolate and Sicilian almonds – and marzapan. As for savory dishes, travelers in Sicily should taste pistachio pesto (yes!) and other pistachio-infused sauces that often top charcuterie and red meats. Finally, the grandest celebration of them all is the Sagra del Pistacchio, held every September in Bronte and drawing thousands of tourists from around the world.