Marche
Extreme sports and outdoor activities in Le Marche: the best place to work in September
Do you love adventure, extreme sports and outdoor activities?
Extreme sports in Le Marche: rivers, waterfalls and the sea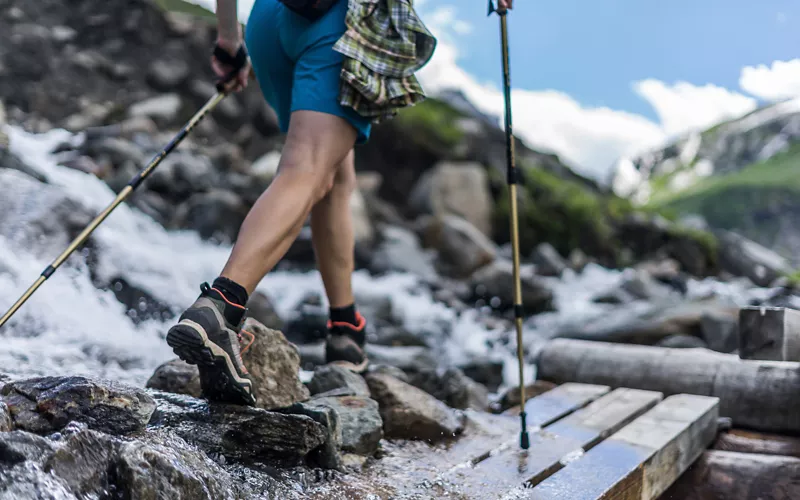 If your ideal outdoor activities involve water, whether fresh or salt, in the Le Marche region you can test your canyoning skills in the province of Pesaro Urbino. Between Monte Nerone and Monte Cucco, you will make your way along streams, natural slides and waterways. Depending on your level of experience, you can even climb waterfalls! You will start at Piobbico, where expert instructors will provide you with all the equipment you need and will accompany you along the easier and more challenging routes throughout your fun-filled day. These same places are also perfect for river trekking, suitable for all ages.
Or how about following the river current directly in the water, equipped with only a wetsuit, a bob and a pair of fins? Introducing the unique thrill of Hydrospeed, in the Nera River in the Monti Sibillini National Park.
No experience is needed, equipment is provided on site, and you can choose the timeslot for your 40-minute descent down the Nera River from Visso according to your needs.
At Lake Fiastra, you can rent canoes, pedal boats and kayaks to admire the beauty of the colours of the water from a privileged vantage point, between excursions to the Sibillini Mountains and hours of relaxation on the beach. We also recommend kayaking along the wonderful waters of the Sentino River, specifically in the stretch between the Frasassi Gorge and the Gola della Rossa, just outside Genga.
Is kitesurfing or windsurfing more your thing? All along the Le Marche coast you are sure to be spoilt for choice. We recommend the Centro Kitesurf Senigallia with over 15 years of experience, the Conerokiteboarding association in Numana or the MKS Kiteschool nestled in the pine tree forest in Porto Recanati.
Outdoor activities among the trees and mountains of Le Marche
The inland area of Le Marche promises to enchant all visitors who love outdoor activities. If you want to try your hand at tree climbing, we recommend visiting the "La Selva dei Frati" Quercus Park in Ripatransone, an adventure park set in an oak forest that offers aerial routes of various degrees of difficulty.
If you prefer rock climbing, the Pioraco crag, in the province of Macerata, provides a broad selection of sectors arranged at short distances, ranging from 15 to 30 metres in height. Bear in mind you will benefit from already having a little experience to embark on this outdoor adventure.
While you are in the province of Macerata, why not test your balance by trying out a spot of slacklining? Reckon you would be able to walk on a semi-elastic rope tied between two trees? Now you can find out! Thanks to Slackline Marche, between Recanati and Porto Recanati. Take advantage of free basic- and beginner-level courses and enjoy slacklining on the beach or in the park, as well as more adrenaline-fuelled experiences over a river or canyon.
And if you want to really get your feet off the ground, you can paraglide in the heart of the Umbria-Marche Apennines. Sarnano is home to the Aeroclub dei Sibillini, the first flying school in Le Marche and among the first in Italy. The right air currents and breath-taking scenery make Sarnano the perfect place for your first flight. You can choose between hang gliding and paragliding, in tandem with an instructor or on your own if you already have some experience in this extreme sport.
What could be better than an adrenalin rush after a day at work or, why not, even before sitting down at your computer? Choose the place in Le Marche best suited to your needs and get ready for endless outdoor thrills.