Liguria
How to make pesto: 4 cooking classes in Liguria
It is the Ligurian condiment par excellence, just a few ingredients for an exceptional taste. But how do you prepare Genoese-style basil pesto?
Pesto lessons in the Cinque Terre: a cooking class at Nessun Dorma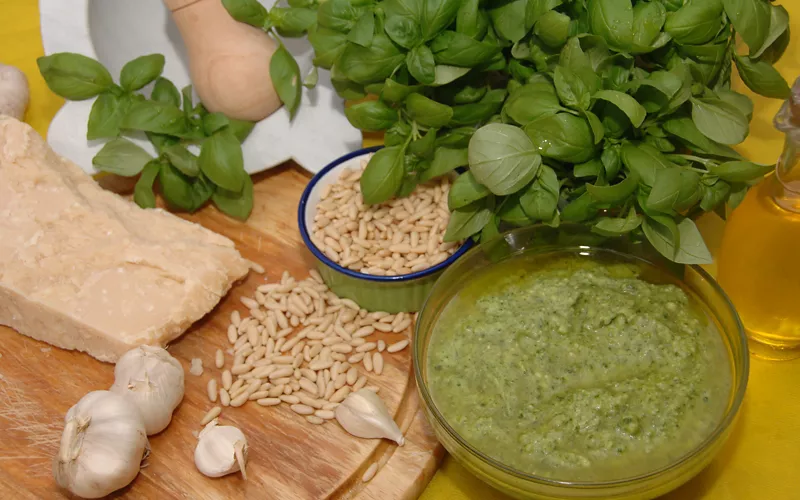 Not just a restaurant, but a veritable haven of flavours.
At Nessun Dorma in Manarola you will sample fresh seasonal produce and the simple, genuine dishes of the local cuisine.
In the setting of one of the most romantic villages of the Cinque Terre, you will find the perfect inspiration to improvise as a cook. That's right, because, amidst a bruschetta and a platter of cured meats and cheeses, you will be able to take part in cooking classes while enjoying a breathtaking view of colourful houses overlooking the sea.
In the restaurant's cooking class, you will have everything you need to prepare the perfect pesto: basil from Prà, pine nuts from Pisa, pecorino cheese, 40-month aged Parmesan cheese, fresh garlic, coarse salt, extra virgin olive oil (preferably Ligurian), ice, a Carrara marble mortar and a beech wood pestle.
You will just have to arm yourself with perseverance and not give up when you feel some discomfort in your carpal tunnel. It will be worth it, when you start to savour the heady scent of basil, which, as one of the many tips will suggest, should not be washed or rubbed, but massaged with ice and then drained.
The cooking class at Nessun Dorma lasts about 1 hour and 30 minutes.
You will taste the quintessential Ligurian pesto, perhaps accompanied by a cool glass of white wine.
Pesto together: cooking lessons at the Antica Locanda Luigina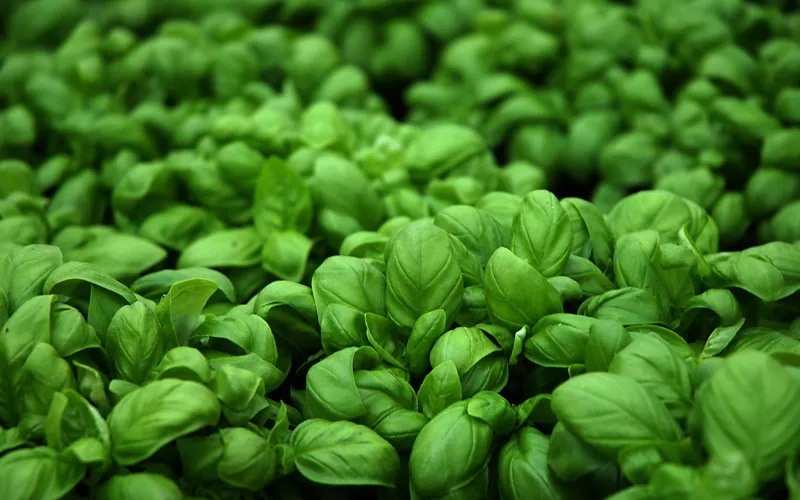 If, on the other hand, you prefer the La Spezia hinterland, to escape the heat and chaos of the coast, you will find in Mattarana, in the heart of the Val di Vara, the ideal place to relax and recharge your batteries with excellent local cuisine.
Near the Gulf of Tigullio is the Antica Locanda Luigina, which specialises in typical Ligurian dishes, prepared with zero km products.
After the welcome aperitif, you can choose to take part in the 'Pesto Insieme' cooking class: under the guidance of a Slow Food expert, you will learn how to prepare a dish of egg tagliatelle dressed with superfine pesto, and then enjoy it with great satisfaction at the end of your course.
Pesto & Wine: preparing pesto at the Glam Resort Villa Maria Luigia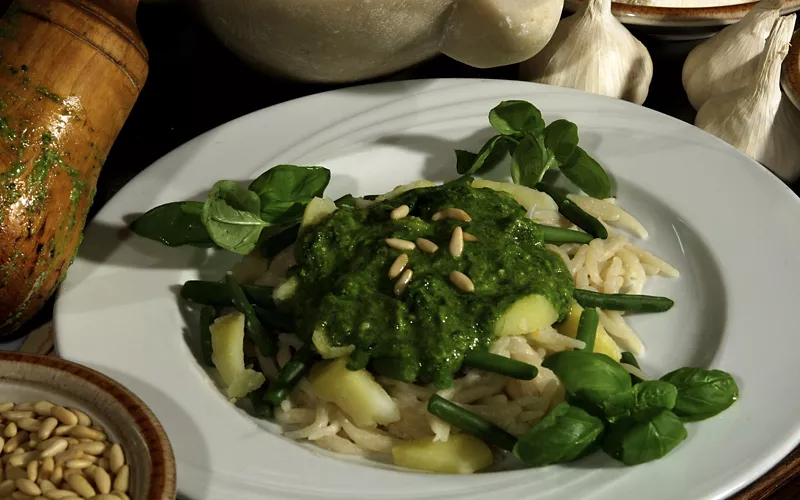 For those who love excursions, we recommend the Glam Resort Villa Maria Luigia, in the historic centre of La Spezia. It is an ideal choice due to its central location, allowing you to discover the beauty of the area and reach the Cinque Terre, Portovenere and Portofino in just a few minutes.
In this convivial establishment you will also have the opportunity to take part in a cooking class, starting with a small and interesting introduction to the origins of pesto and ending with the preparation of the famous Ligurian sauce.
You will, of course, be the chef, with the help of highly trained experts, and you will taste your pesto by combining it with various Ligurian dishes.
You will accompany your creation with a glass of fragrant Cinque Terre DOC wine and, finally, as a souvenir of the 3-hour experience, you will receive a certificate of participation with a photo!
Pesto Cooking: La Nicchia PESTifera
A touchstone for gourmets, in the small culinary workshop of La Nicchia PESTifera, just a few steps from Levanto train station, you will make a fabulous Pesto alla Genovese.
Guiding you in the execution of the authentic local recipe will be a charismatic local chef, who will carefully select only top-quality ingredients (first and foremost, Prà basil and the very best pine nuts) and share Ligurian food and culture with you.
The practical cooking lesson, lasting about an hour, will begin with a glass of sparkling wine and a tasty bruschetta - dressed, of course, with the local olive oil.
Afterwards, roll up your sleeves and, traditional tools in hand such as a mortar and wooden pestle, start preparing the classic Genoese sauce. You will pound fresh basil leaves together with salt, pine nuts and garlic, add parmesan cheese and, at the end, extra virgin olive oil.
Finally, you can enjoy your pesto with an array of local products, from taggiasche olives to bruschetta with anchovies, and finish it all off with a typical limoncino dessert and a glass of wine from the surrounding hills. The Cinque Terre Sciacchetrà is perfect.
Italy is a cooking class paradise for holidaymakers.
Combining food and tourism, you will have an unforgettable experience in Liguria: you will cook and eat your very own creation and, to the sound of pounding, learn about the local culinary art.