7 destinations for winter weddings in northern Italy
Marrying in a forest, in the heart of nature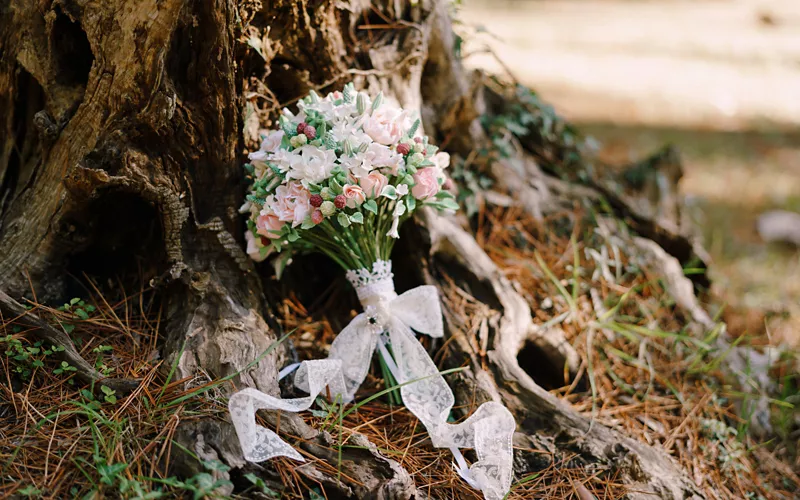 Do you wish to have an eco-friendly wedding in a natural setting? Nothing beats the magic of colours for a forest wedding in Lombardy, which provides perfect locations for your romantic wedding surrounded by nature.
The golden leaves on the ground will serve as the perfect carpet on which to walk. Above your head will be a natural aisle of intertwining tree branches. On sunny days, the forest lights up with a thousand warm colours, making it the ideal setting for a wedding in the full embrace of nature. The most beautiful woods can be found in Valtellina and Oltrepo Pavese or in the areas around Bergamo, Brescia and Varese, all of which can be easily reached by train from Milan.
Alpine weddings in Valtellina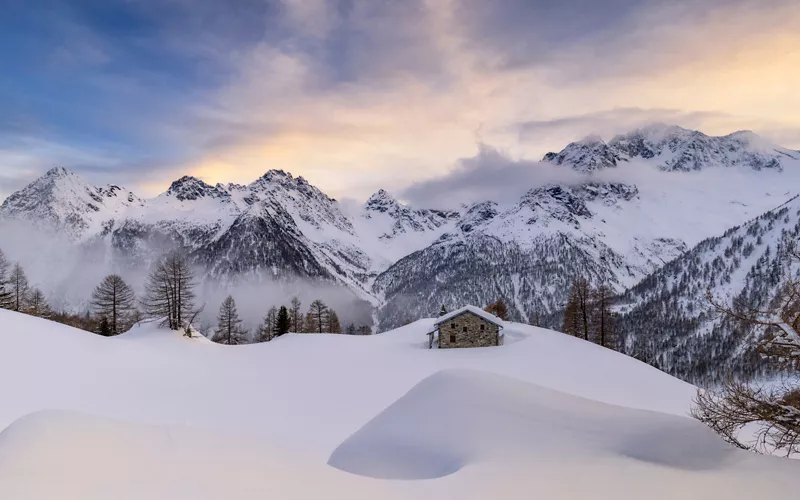 The mountain region of the province of Sondrio is ideal for a wedding, framed by snow-capped peaks, picture-postcard views, clear skies and scenery that resembles something straight out of a fairy-tale. And the most wonderful one, your own fairy-tale, will come true when you say 'I do' in Valtellina.
You can opt for a small mountain church such as San Rocco in Livigno or San Vitale in Bormio, or organise a ceremony in a mountain hut, and arrive by sleigh. Valtellina is easily accessible from Milan and Bergamo.
A wedding in the Dolomites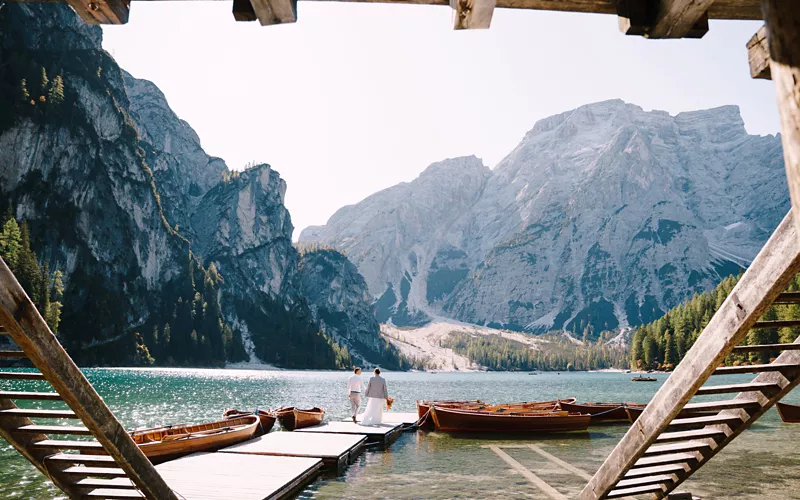 Val Pusteria, with its intimate atmosphere and breathtaking landscapes, is the most romantic setting for a winter wedding in Italy. The natural landscape is matched by the typical local architecture, which makes everything more enchanting. The Dolomites soar on one side, and the Plan de Corones, with its glittering snowy expanses, dominates on the other. The most romantic villages are Brunico, San Vigilio and Valdaora.
If you feel bold enough to have a winter wedding outdoors, head for Lake Braies, the most striking stretch of water in the Dolomites with its blue waters and an awe-inspiring setting. You don't even need to stage a wedding; nature has already taken care of that.
It can be reached by train from Venice and Milan in 4-5 hours. 
Saying 'I do' amidst the vineyards of Piedmont
The mild climate of the Piedmont hills allows for a romantic winter wedding among the vineyards, holding your banquet among the rows of vines and offering guests a special wine tasting experience. You can choose between Monferrato, Langhe or Roero for your vineyard wedding, with a hilltop castle towering in the distance amidst verdant hills and fragrant woods.
As an alternative to an open-air wedding, you could choose an equally romantic location, such as one of the villages in the area, such as Cocconato or Monforte d'Alba, or a historic residence such as the castle of Grinzane Cavour or that of Barolo.
A winter wedding on Lake Como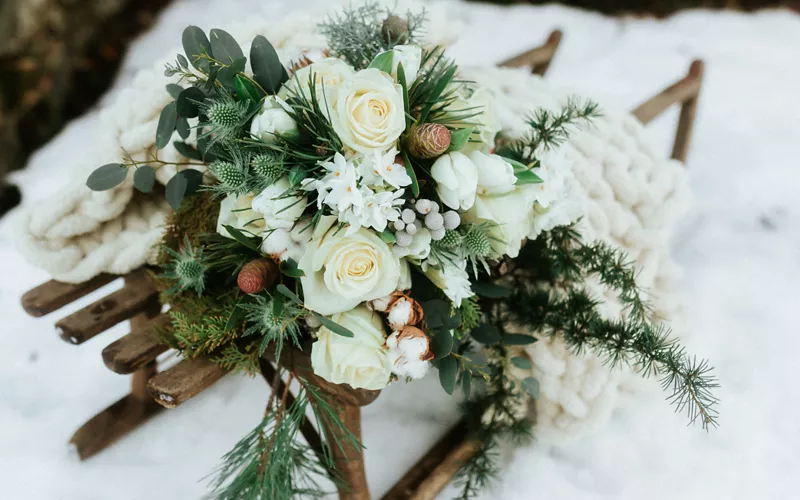 The lakes offer a wonderful setting for pledging eternal love in front of the people closest to you. Lake Como, with its magnificent villas surrounded by fountains and Italian gardens, is the perfect choice for a winter wedding.
The most romantic villages are Bellagio, Cernobbio, Varenna and Tremezzina.
Credits: InLombardia
A fairy-tale setting in Veneto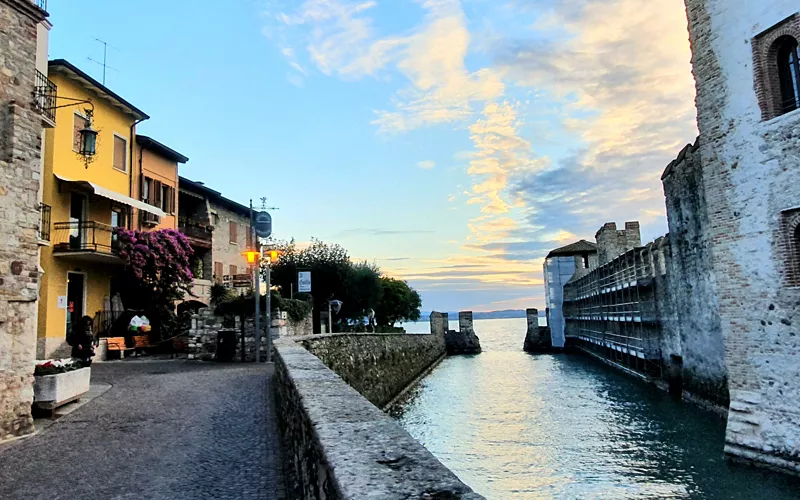 Are you looking for a fairy-tale wedding? If so, choose Veneto, with its romantic landscapes, scenic views and Venice within easy reach for your honeymoon.
The mountains of Belluno, a 3-hour train journey from Venice, offer the splendour of a snowy landscape. Lake Garda is an hour and a half from Venice and is perfect for those who prefer a winter wedding in a historic villa or in a picturesque village such as Sirmione.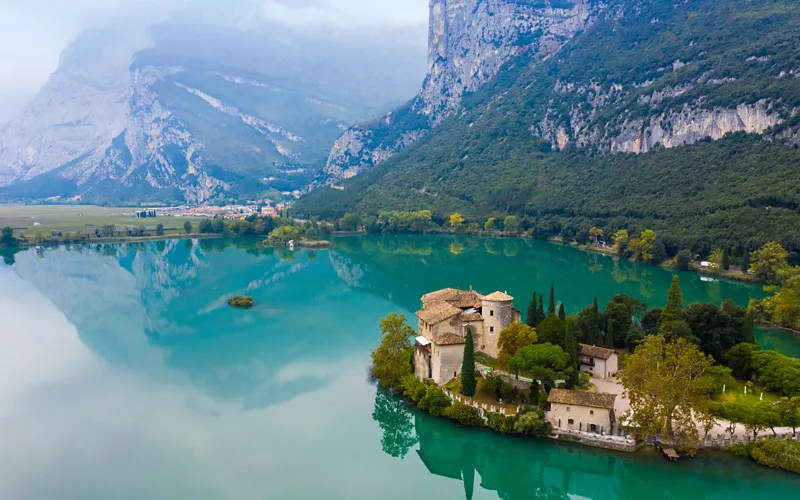 Can you imagine anything more romantic than to be married in an ancient castle? Trentino is dotted with fortresses, so you're sure to find the perfect one for your special day.
Among the most photographed is Castel Toblino, a 16th-century stronghold with Renaissance features, almost completely surrounded by the waters of Lake Toblino. It is half an hour by train from Trento, just over two hours from Verona and four hours from Milan.
Whichever Italian destination you choose, one thing is certain: pledging eternal love in the Belpaese guarantees you and your guests an experience - and a wedding - that will be unforgettable.