italy
Islands and Sandboarding: gliding on sand in Sardinia and Sicily
Sandboarding in Sardinia at Porto Pino: the white dunes UNESCO heritage site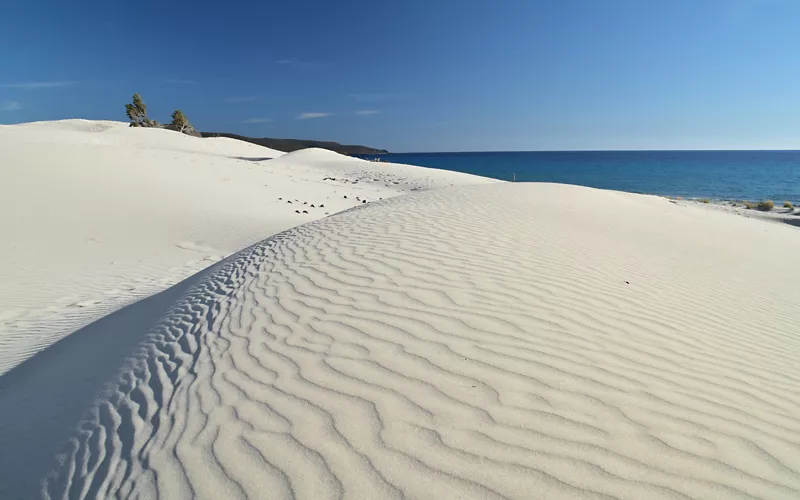 Stand up, if experienced. Lie on your stomach if you are a beginner. Body aligned with the board, arms outstretched and off, full speed, from the top of the mighty dunes of Porto Pino to Sant'Anna Arresi.
We are in the south-western part of Sardinia, in an ecosystem that has been recognised as a UNESCO heritage site for its naturalistic uniqueness.
The white dunes of soft, fine sand, shaped by the mistral wind, reach a height of 30 metres and are the ideal spot to try your hand at Sandboarding.
From the top of the dazzling expanse of clear, soft sand hills, you launch yourself into jumps and stunts at breathtaking speed. The surrounding scenery is spectacular and the panorama dreamlike: the Mediterranean scrub interrupts the whiteness of the dunes with touches of fresh vegetation and the rosemary bushes release their fragrant essence.
An enchanted oasis of incomparable beauty, interspersed with pine forests and lagoons, and washed by a sparkling, crystal-clear sea.
Sandboarding in Sicily on the slopes of Stromboli: the volcano boarding variant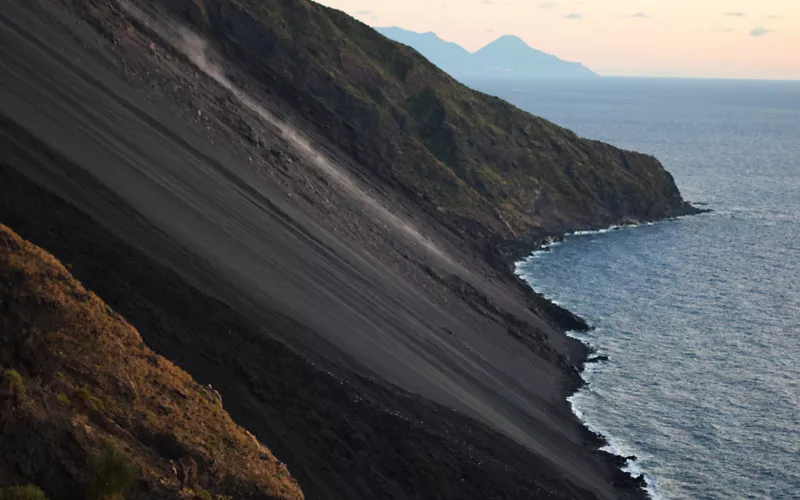 If, on the other hand, you want to discover the taste of adrenaline in a lunar-looking place, then you absolutely must transport yourself to the slopes of the Stromboli volcano in the Aeolian Islands.
The landscape here is completely different from that of the Sardinian dunes: here the sand is, in fact, pumice, very fine and somewhat abrasive. But the fun is exactly the same.
With the volcano boarding variant, you glide down the slopes of the volcano to the valley at high speed.
All you need to do this is a strong board and a good dose of courage. A piece of plywood, smooth on one side, rough on the other, preferably plastic laminate or metal, is more than fine. The paraffin on the base of the board is useful for gliding more easily. Very little equipment is needed: helmet, elbow pads, gloves, overalls and goggles.
If the ascent is a little tiring (we recommend zigzagging), what makes the descent even more daring is the volcano's activity.