Active, slow well-being on six beaches from paradise
Open spaces, unique scenarios and all the shades of nature reflected in blue: here are six dream beaches to revitalize yourself!
One beach, a thousand titles: Isola dei Conigli, Lampedusa (Agrigento)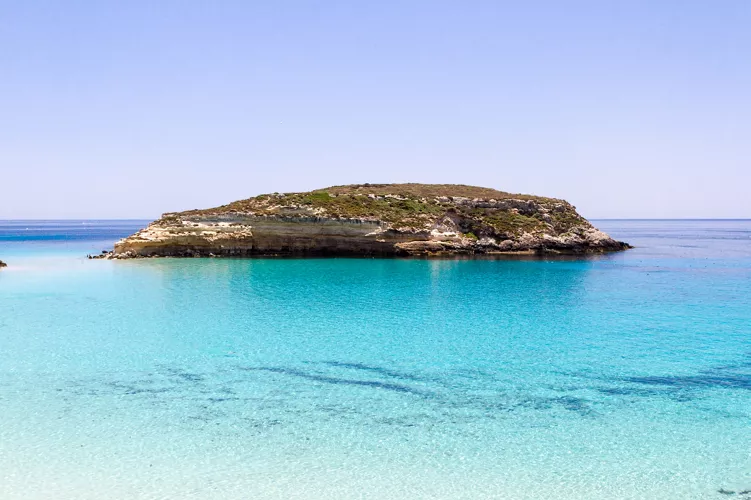 Titles such as Most Beautiful Beach in the World, in Europe and in Italy won between 2013 and 2019 - thanks to the TripAdvisor "Traveller's Choice" contest - would suffice to see Isola dei Conigli take first place among seaside places to visit in Italy. The beauty of this small inlet of Lampedusa welcomes visitors after a twenty minute walk through the Guided Nature Reserve. It is an extreme destination (more in Africa than in Europe) ideal for people who enjoy meeting nature face to face.
A tiny pink charm: Isola di Budelli (Sassari) SARDINIA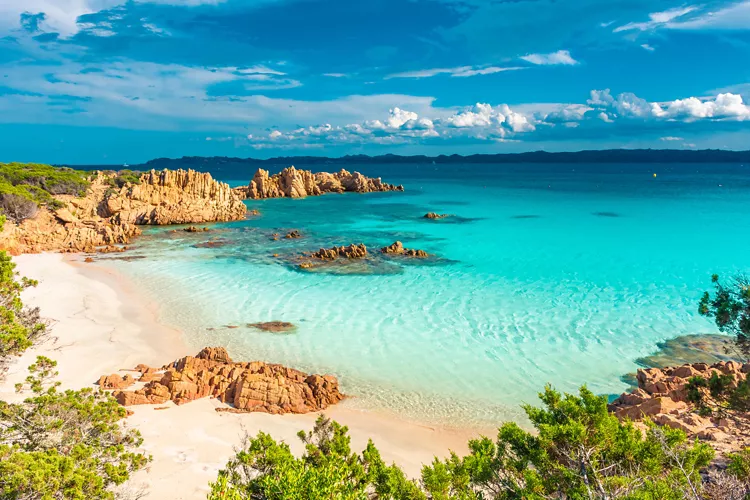 Among the beautiful islands in the Maddalena National Park, tiny Budelli stands out above all thanks to its unique and precarious equilibrium: an ecosystem that gives its beach a characteristic, magnificent and delicate pink shade. This is why, for years by now, this beauty spot can only be enjoyed from a distance to help nature return to its own space and time. The overall setting is an archipelago of islets, coves, inlets, sunbathing beaches and sea beds to discover, with colonies of gorgonian corals and their red reflections in the crystalline waters. 
His Highness the Olive, King of the Tonnara di Palmi (Reggio Calabria)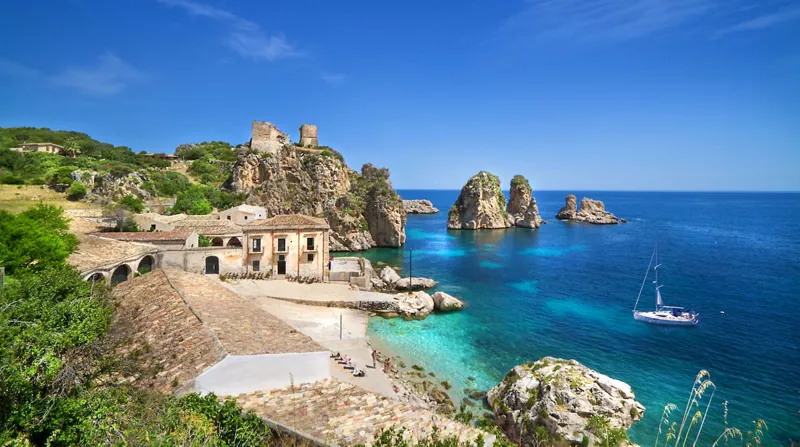 This centuries-old olive tree stands on one of the rocks in front of the beach, the symbol of this stretch of Costa Viola: we are here in Palmi, a place inhabited since the times of ancient Greece. As well as sand or small pebbles: the tides define the consistency of this beach overlooking the Aeolian Islands and Sicily. At the feet of Mount Sant'Elia, visitors can enjoy walks along paths or circuits by bicycle, or else climb higher up to change the air and perspective. Boat tours reveal inlets, coves and sea caves, such as the Grotta delle Sirene or dell'Arcudace.
Amidst almond, citrus and olive trees: Baia delle Zagare, Mattinata (Vieste)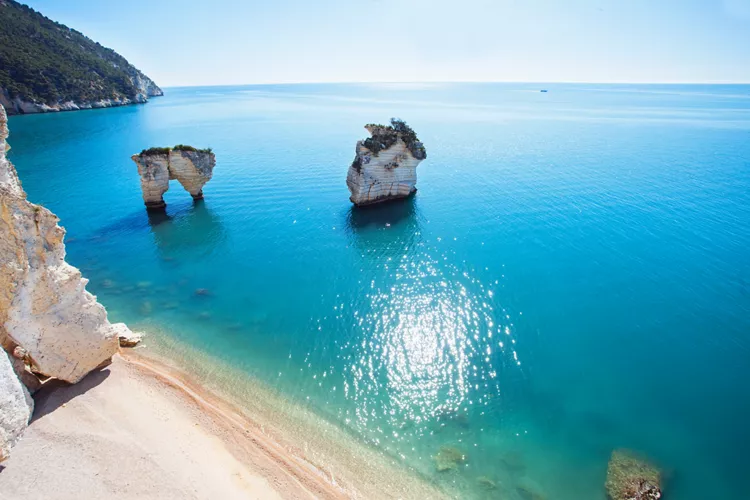 Crystal clear sea, pale sand mixed with white pebbles, split in two by a high limestone cliff: this is the identikit of the beach at Mattinata, in the heart of the Gargano area. A perfect destination for everyone seeking direct contact with the environment reached along the Mergoli-Vignanotica path, dotted with almond, pine and olive trees. The initial section of this route in the Monte Barone Nature Reserve unveils a panoramic view of the entire bay, with its characteristic white limestone stacks. A perfect outing for people who love sports, nature and eco-sustainable holidays.
A musical beach: Cala Violina, Follonica (Grosseto) TUSCANY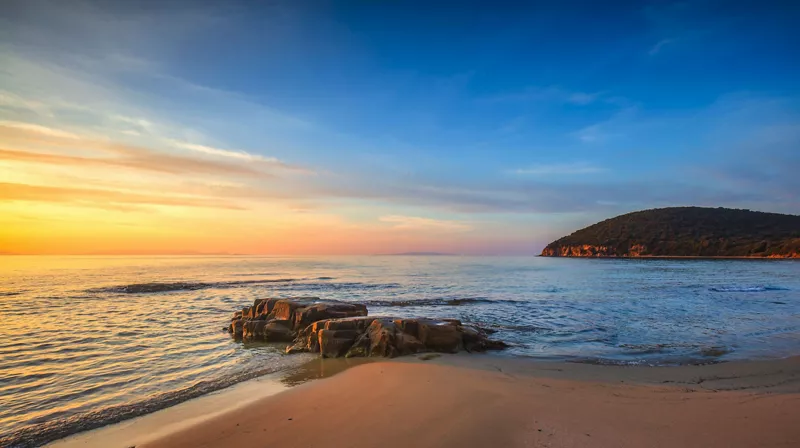 The tiny quartz crystals making up the beach at Cala Violina crackle under your footsteps and with the motion of waves to create the sound that inspired its name. It can be reached on foot or mountain bike along two routes (one 2 km and the other 4 km), immersing visitors in the Bandite di Scarlino Nature Reserve with its dense pine forest and the many beaches that can only be reached on foot. There is a broad offering of accommodation, refreshments and bike rental, as well as booking guides for horseback trips.
Seaview of the Alps, sports and spas: Spiaggia di Grado (Gorizia)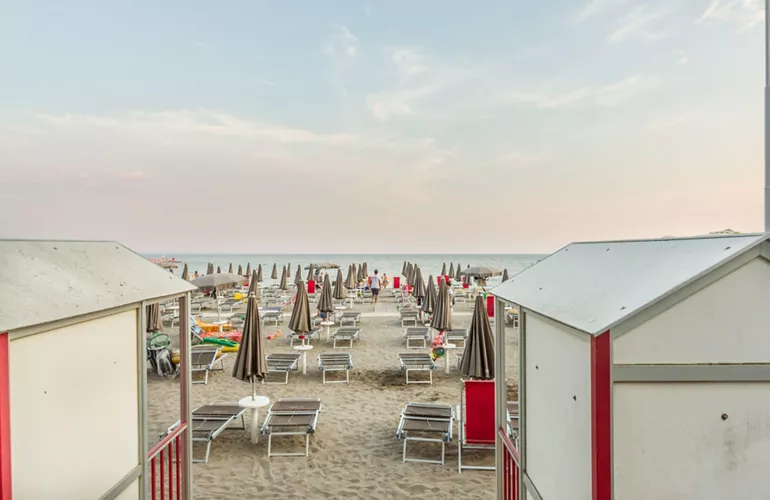 The air here is rich in iodine (loved by people who practice thalassotherapy), many spas, three km of beach always in the sun and a sea certified by the Blue Flag for many years. Delightful sea beds are also perfect for children to play in, there's a cycle path linking the beach with the town centre, as well as water sports such as surfing and kite surfing: this is the Island of the Sun, as Grado is commonly called. The kiosks and restaurants along the promenade make it an ideal destination for people who also enjoy night life. Pets are also welcome, thanks to Lido di Fido.