At the seaside with kids: 15 beaches for families in Italy
Equipped beaches, fine sand and shallow waters to enjoy the sea with your children in total safety.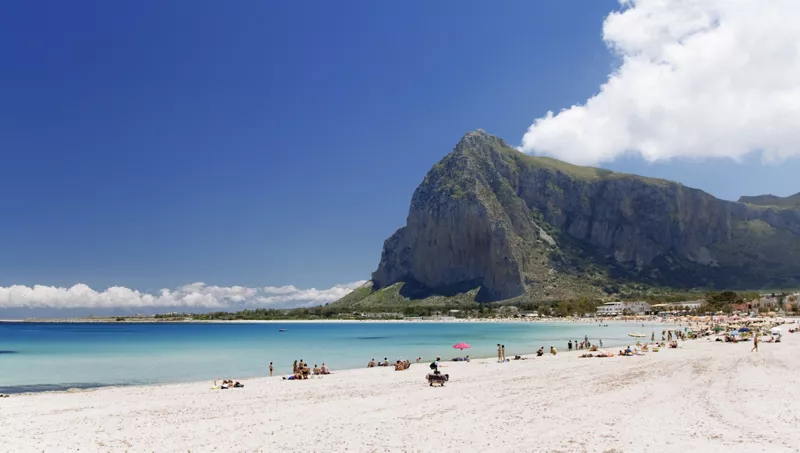 A stretch of white sand that gently slopes to the sea, turquoise waters, current-free, a convenient location easy to reach: the beach of San Vito Lo Capo, in the province of Trapani, sprawls for three kilometers between the Zingaro Reserve and the Monte Monaco promontory. Since many years a "Green Flag Beach" (a child-friendly beach certified by pediatricians), you can use the beach for free but also rent beach umbrellas and sunbeds, and have a break for lunch or buy an ice-cream in one of the many bars and restaurants on the waterfront.
Roseto degli Abruzzi, Abruzzo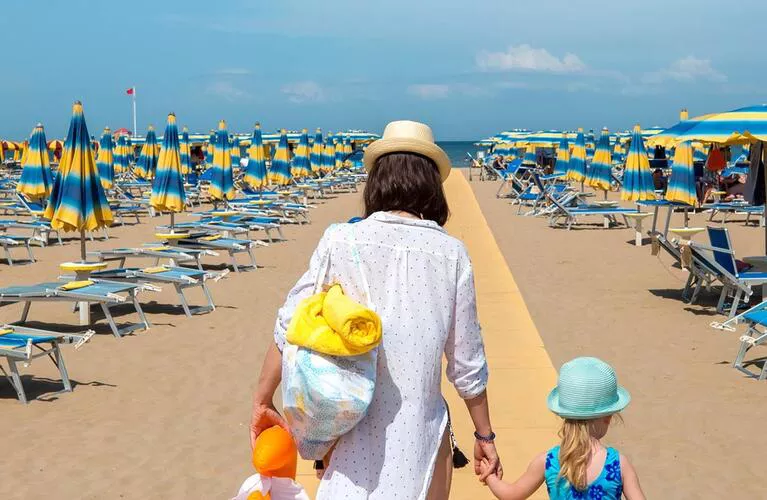 Sandy beaches and sections of pristine nature, with shallow, clear waters and many activities for kids: the beach of Roseto degli Abruzzi is one of the most recommended in Italy for a holiday with your children. An award-winning Blue Flag and Green Flag beach, Roseto degli Abruzzi has beaches with complete facilities watched by lifeguards, a waterfront full of gelaterie and restaurants and is enclosed by a thick shaded pine forest with playgrounds and entertainment for children, where you can hire bicycles or rickshaws.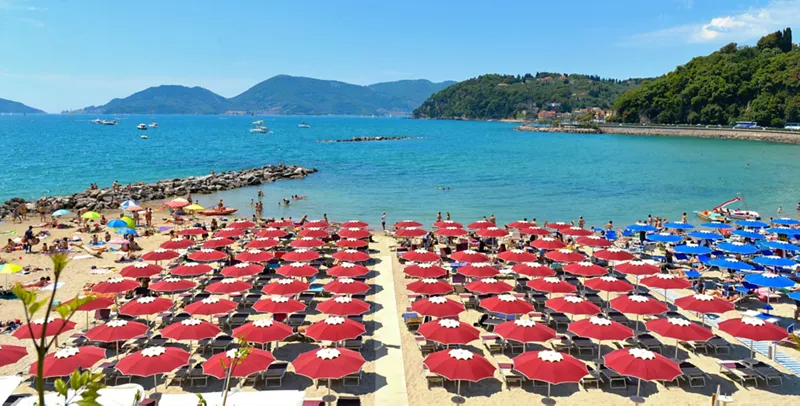 Golden shores that gently descend to the sea, ample coves, a mild, fresh microclimate, the Mediterranean scrub behind and an amazing blue sea: Lerici is one of the most acclaimed destinations in the Liguria region for a child-friendly holiday. Along the coastline are free beaches immersed in the pristine greenery, ideal for nature-lovers, alternating with beach resorts with restaurants, bars and swimming pools, particularly fit for children, where to rent beach umbrellas and sunbeds, paddleboats or canoes.
Cala Brandinchi, Sardinia
A white dazzling beach, a shallow seabed with blue waters, fine gardens and a large pine forest: one of the most popular in Sardinia, Cala Brandinchi is the perfect beach for the little ones, who can play safely and in peace in its quiet waters. Located close to San Teodoro, in the Gallura area, protected by small dunes, the beach is like a real pool, not by chance called "Little Tahiti". On the beach, there is a bar and you can rent beach umbrellas and sunbeds but also rafts, kayaks and paddleboats.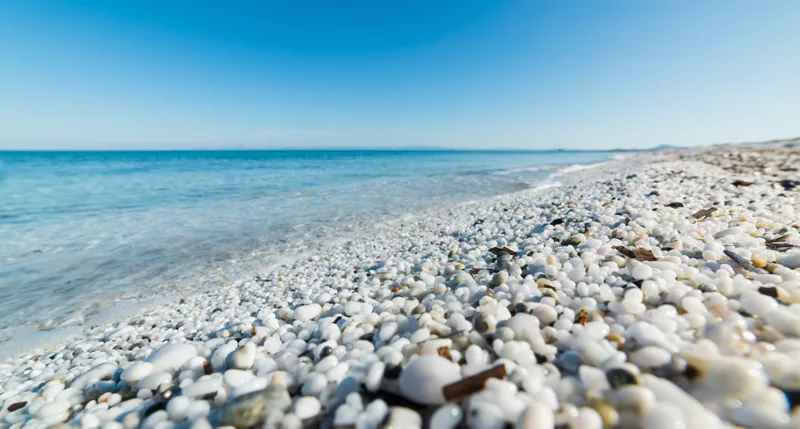 A strip of very fine sand that juts out towards a transparent sea, dunes and a pine grove that protects the beachfront: Le Saline Beach, on the Island of Sant'Antioco, in the southern-west tip of Sardinia, is one of the greatest attractions in the Sulcis archipelago. The seaboard is a 5-kilometer long stretch of white sand that thanks to its shallow seabed is just perfect for family travelling with children. It comprises of equipped areas and free beaches, and offers a kiosk, rentals for water sports, hotels and camping sites.
Lido di Comacchio, Emilia Romagna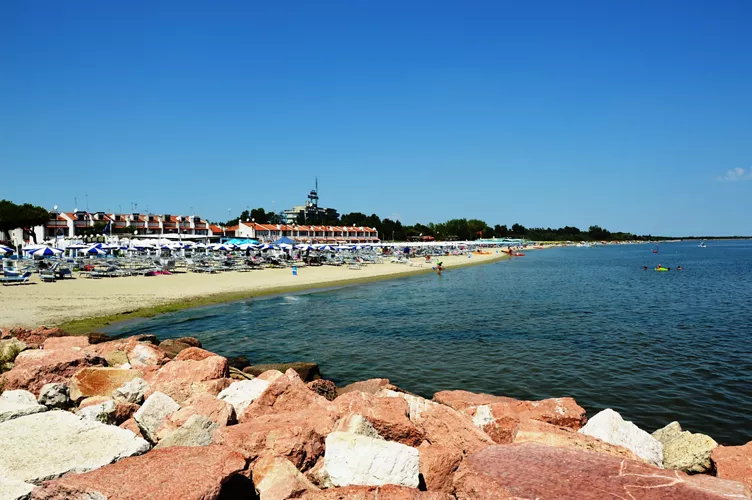 Huge sandy beaches, shallow, quiet waters, slides and pools, tours and sports activities: the Lidi di Comacchio, on the Ferrara coast, extend for 25 kilometers and comprise of seven different localities in the Po Delta Regional Park. Different one to another, they include trendy, vibrant beaches, like Lido degli Estensi and Lido delle Nazioni, especially fit for young people, and peaceful beaches, like Lido di Spina, Lido degli Scacchi and Lido di Pomposa, that thanks to their quietness well cater to the needs of families with kids.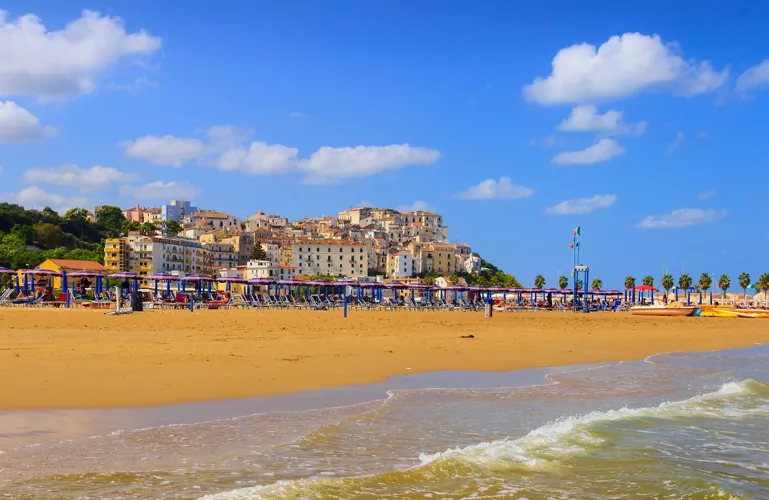 Long sandy shores and very crystal waters, among sandy dunes and a sea breeze that smells of oranges: the beaches of Rodi Garganico, in the Gargano promontory, awarded with the Blue Flag, are much appreciated by families with kids. Along a 12-kilometer stretch of coast, the coastline is divided in the Levante area, windy and much attended by surfers, and the Ponente area, where gather most hotels and restaurants.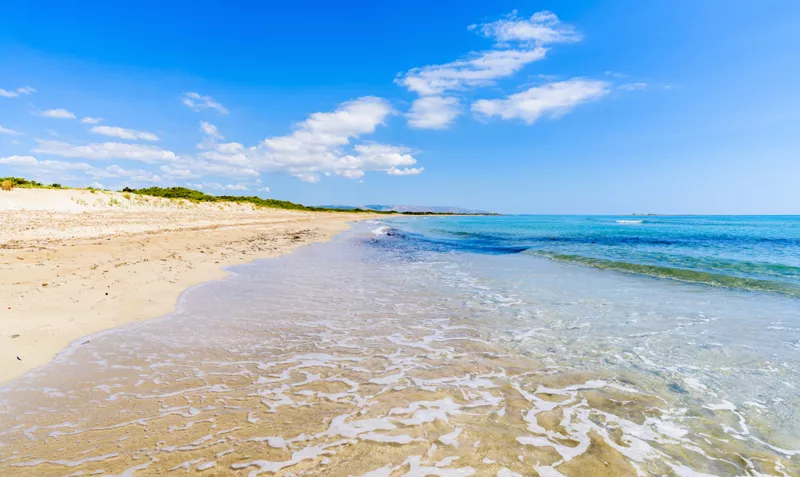 Golden sand and a blue sea that gently slopes, an impressive coast that intertwines sand and rock ridges, a Blue Flag award-winning beach: San Lorenzo, just out of the wonderful Vendicari Natural Reserve, is easily reachable, has complete facilities and beach clubs, bars and restaurants for a relaxing holiday for all your family. With its white sand and shallow seabed, this is the ideal place where kids can play undisturbed.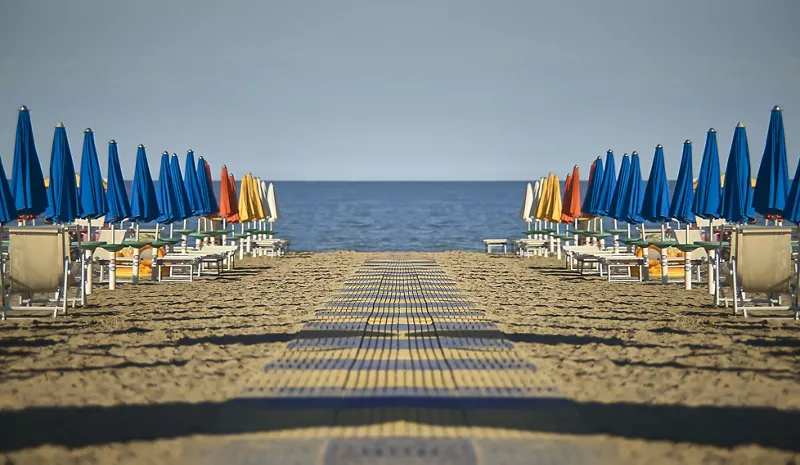 Wide beaches of fine sand, a clean sea, many beach resorts and many entertainment options: the beach of Sottomarina, in the province of Venice, stretches for ten kilometers and its long water edge is perfect for long walks and for the fun of kids. The area boasts Blue and Green Flag, offers pools, entertainment, playgrounds, dog beaches, a large parking and many risto-bars you can choose from.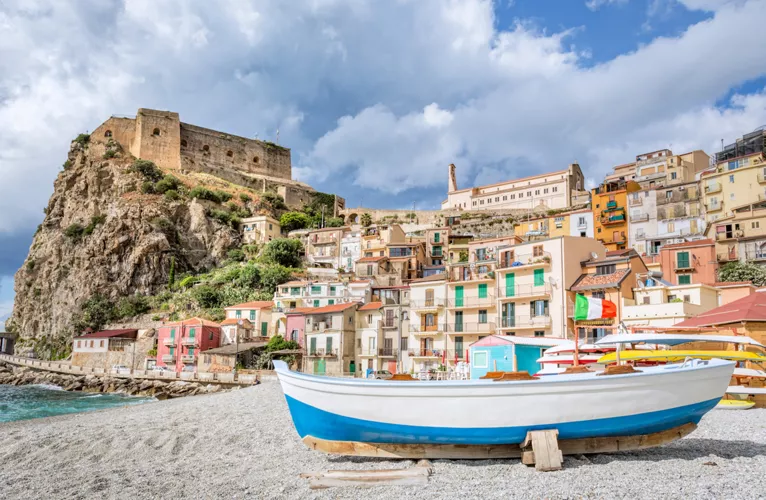 With its crystal clear waters and the amazing seashore, Scilla is an excellent seaside destination in Calabria: defined "the Pearl of the Violet Coast" because of the color of its waters, on top of the beach is the Ruffo Castle overlooking the Strait of Messina. The large free beach of Marina Grande – also known as "Siren Beach" – is flanked with beach resorts where you can rent beach umbrellas and sunbeds, and where kids can have fun with slides and carousels.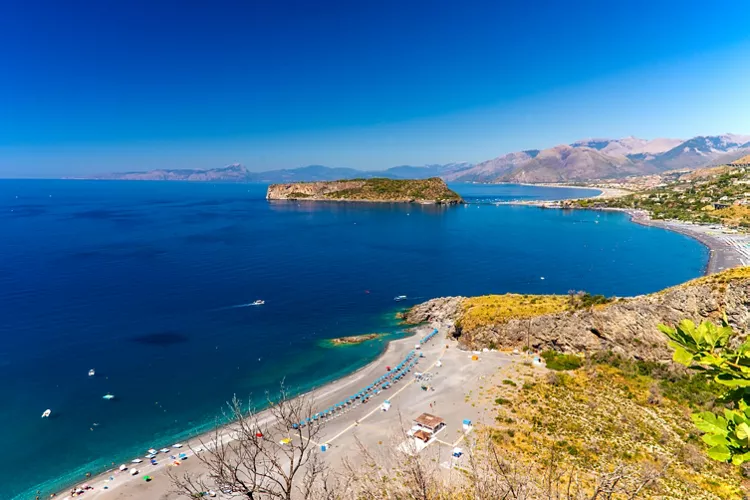 An intense blue sea, a sloping sea bottom and a coastline mixed with sand and fine gravel: the Praia a Mare Beach, on the Coast of the Cedars, in Calabria, on the border with the Basilicata region, is a destination much appreciated by families, awarded with the Green Flag. With complete facilities, the beach has many bars and restaurants, hotels, apartments and you can enjoy water sports (this area is recommended for snorkeling).
Grado, Friuli-Venezia Giulia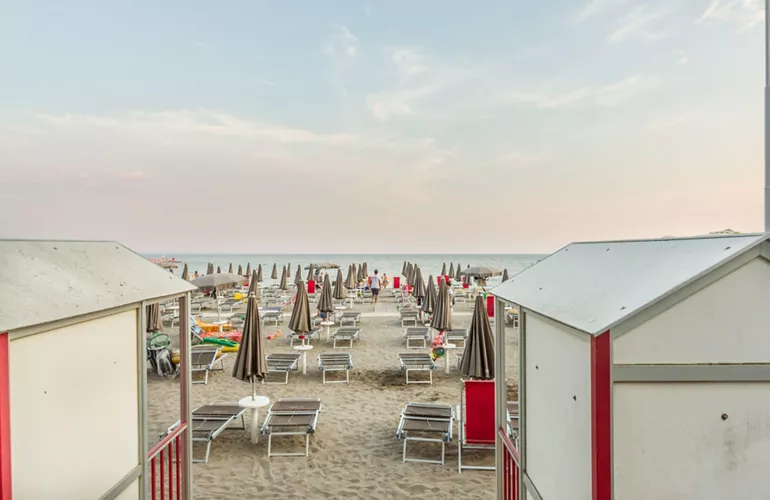 Never ending golden beaches, a clean, shallow sea and much entertainment for kids: Grado, the "Island of the sun" is a very suitable destination for family holidays. Particularly recommended is the GIT Beach, almost 3 kilometer long, facing south and kissed by the sun all day, full of green areas and playgrounds, bars and restaurants, and the Pineta Beach, a free beach flanked with a fresh maritime pine forest and connected by a cycle lane. 
Cavoli Beach (Elba Island), Tuscany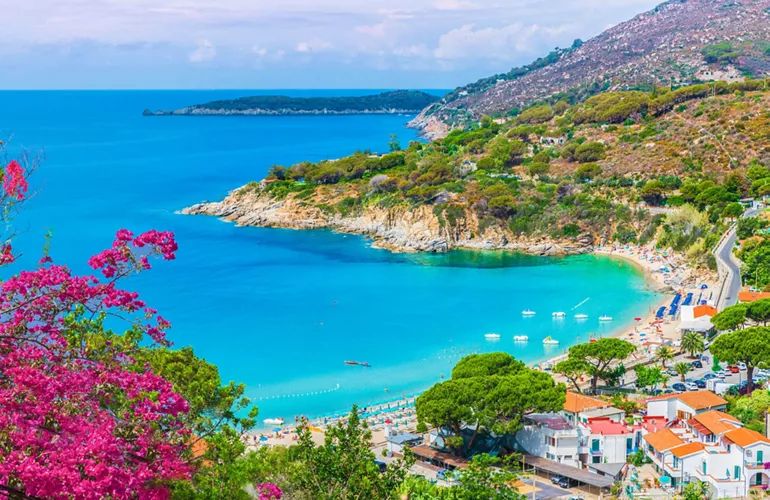 With its clear waters, the perfect climate and the amazing cove is one of the most beautiful and popular beaches on the Elba island: the Cavoli Beach is sheltered and protected from the winds, has a very pleasant sand that does not stick to the skin, perfect for the kids to play with. It is divided in two parts by a small cliff: to the east there are most beach resorts, all with full facilities, while to the west the beach is free and fit for those looking for quietness.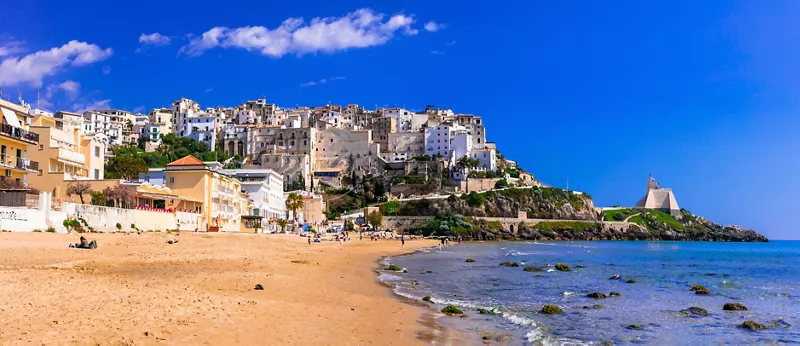 Fine sand and transparent waters, with free areas and beach resorts, the beaches of Sperlonga, halfway between the Gulf of Circeo and the Gulf of Gaeta, are among the most beautiful in Italy. Its clean sea has been awarded with the Blue Flag several times; the sandy coastline also includes pristine nature areas that can be visited with excursions or by boat. Of its beaches, Canzatora and Salette are the best ones for families, where you can enjoy any amenity.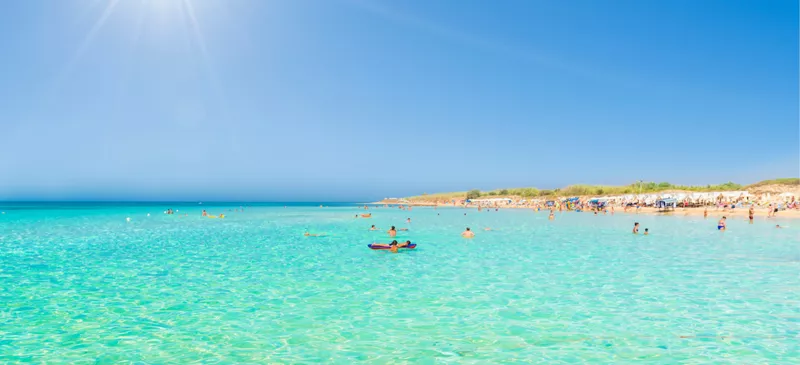 Five kilometers of white sand overlooking the Ionian Sea, a shallow seabed and sandy strips that emerge out its clear waters: the reason why the area was nicknamed "Maldives of Salento" is easily understood. Kids can play safely in its warm, quiet waters, watched by lifeguards and with any kind of service available: kiosks and restaurants by the beach, boat and raft rentals, gelaterie and hotels.