Walking into the void, the thrill of crossing a Tibetan bridge
Dramatically suspended between rocky walls overhanging streams and valleys, five thrilling Tibetan bridges add an adrenaline rush to an adventure holiday immersed in nature.
Piedmont: Cesana Claviere Bridge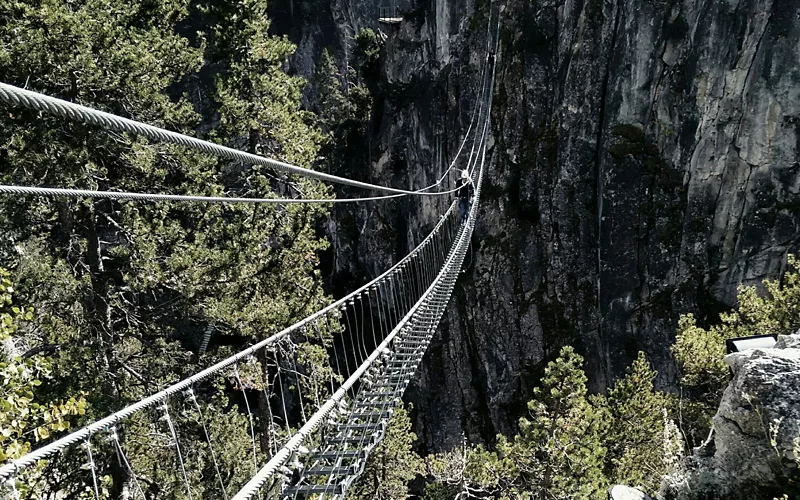 Measuring 468 metres in length and comprising three bridges in succession, this is the second longest Tibetan bridge in the world. It is suspended about 30 metres above ground and crosses the scenic Ravines of San Gervasio, in the area of Turin, extending between the rocky walls overhanging the River Dora. Made up of metal cables and stepping beams, the walkway can only be crossed using appropriate safety equipment, making it suitable for children aged 6 and over. The average crossing time is approximately one and a half hours.
Lombardy: Ponte nel Cielo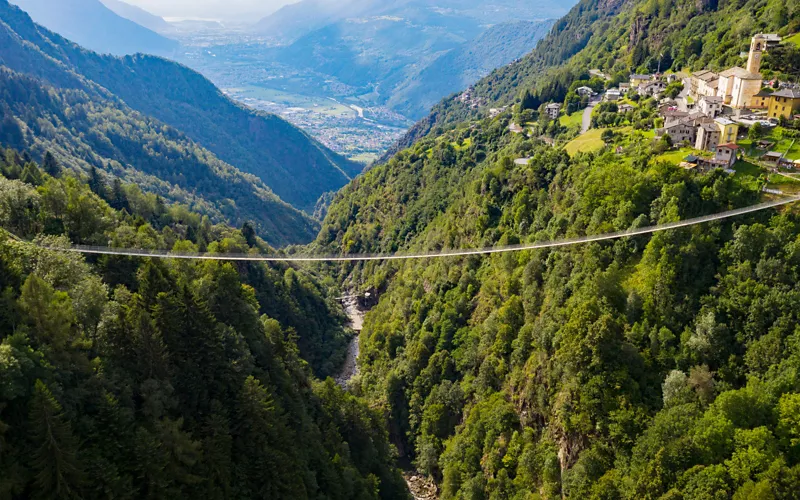 Suspended more than 140 metres above ground, this is the highest Tibetan bridge in Europe. Spanning 234 metres, it connects Campo Tartano, in the Valtellina valley of the same name, with the verdant pastures of Frasnino, offering sweeping views of the Tartano pass and valley, the peaks and glaciers of the Rhaetian Alps, the Colombera dam, the Valtellina valley floor, and as far as Lake Como. Comprising 700 boards made from local larch, the bridge is suitable for all ages, including children.
Veneto: Tibetan bridge on the Dibona Via Ferrata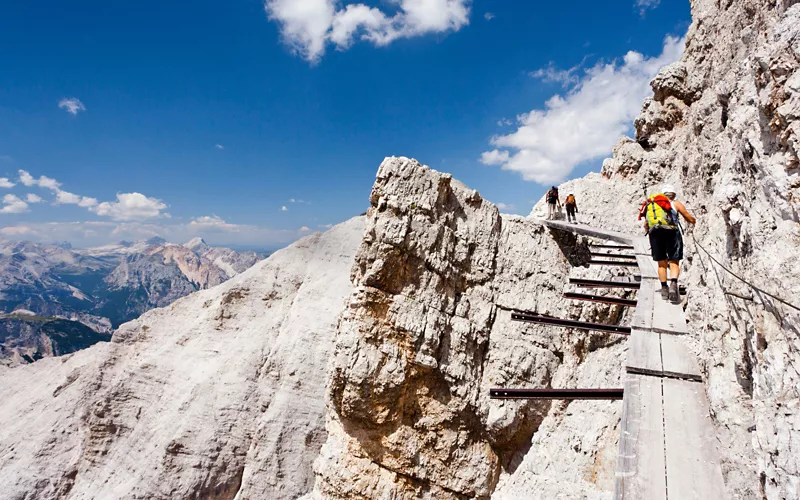 Suspended in the heart of the Dolomites, close to Cortina d'Ampezzo, this bridge is especially fascinating because it is particularly hard to reach: you have to climb a metal staircase, cross a wooden walkway and a former war tunnel, and then climb a rock wall before you can start crossing it. Measuring just 27 metres in length and suspended 30 metres above ground, this wooden walkway extends from the Lorenzi lodge, on Monte Cristallo, to Ospitale, and offers spectacular views as far as the eye can see.
Crossing the Laviano Bridge reveals the evocative Campania landscapes of Vallone delle Conche, near Salerno, in all their glory. Made entirely from steel, the 80 metres high suspended walkway spans almost 100 metres overlooking the underlying stream. It leads to a dense network of forest trails, and is situated near the Norman castle situated on the Olivella cliff, overlooking the Sele Valley and the mountains bordering between Campania and Basilicata.
Basilicata: Ponte alla Luna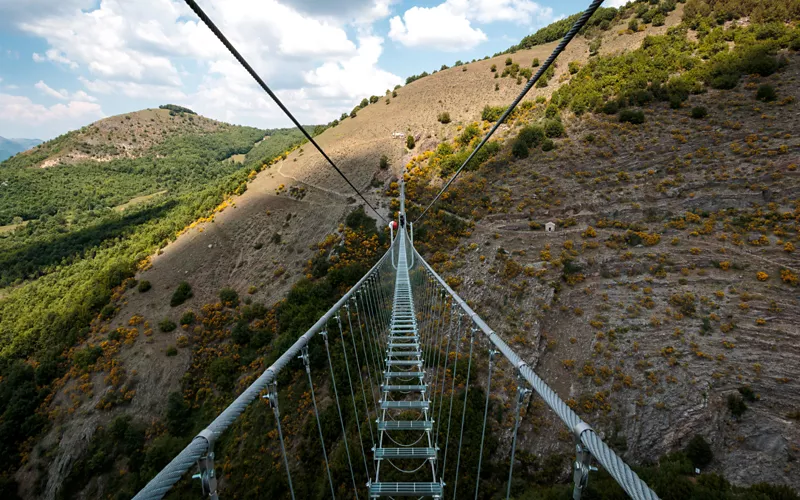 Preceded by the more modest Petracca Bridge, the adrenalin-pumping Ponte alla Luna winds along the banks of the Fosso Arenazzo stream, at the foot of Sasso di Castalda, near Potenza. Spanning 300 metres, it overlooks the underlying stream from a height of more than 100 metres, and leads in about thirty minutes to the ruins of the medieval fortress that dominates the village. The footbridge is made up of steel cables and 770 stepping beams, to be tackled using appropriate safety equipment. Together, the two bridges form the Sasso di Castalda Tibetan bridge trail, not suitable for children under the age of 14.