campania
Naples-Caserta, travel like a king
A historic train connects Naples to the monumental building commissioned by the Bourbons in Caserta, in a slow, emotionally charged journey.
Reggia Express, from Naples to the Royal Palace of Caserta and back
The short journey from Naples to the Reggia di Caserta takes place on board historic carriages of the Italian railway industry. Travel at a leisurely pace for just under thirty kilometers going back in time to the mid-eighteenth century - and without the modern comforts we take for granted today. The feeling of travelling through time starts as you board the train, made up of Centoporte or Corbellini model wagons, complete with characteristic wooden benches and headrests. These wagons are examples of Italian engineering from the 1930s and 1950s. Enjoy the view over Naples and across the Caserta countryside as you travel along the same route the Bourbons took at the time of their reign.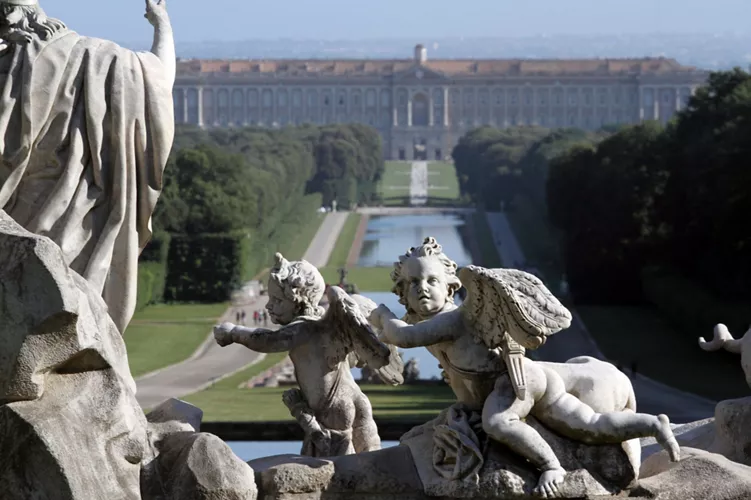 This immense, luxurious and awe-inspiring complex is also known as "the Italian Versailles" with good reason. The Reggia di Caserta is today a Unesco World Heritage Site and was much beloved by Charles of Bourbon, who began its construction in the mid-eighteenth century, calling on the great architect Luigi Vanvitelli to design it. Following the instructions provided and combining its baroque theatrical flavor with neoclassicism, Vanvitelli managed to create a palace to rival any of the major European palaces.
The sumptuous stretches of water that wind their way along some 3 km of waterfalls and fountains greet visitors. They lead you to paths that crisscross the park and to the telescope-shaped central portico. Vanvitelli's genius is reflected in how he has deftly played with geometry giving harmony and unity to the entire structure. The ticket for the Reggia Express historic train gives you a reduced entrance fee to the Royal Palace, which includes a visit to the historic apartments, the Park and the English Garden.