Abruzzo
Abruzzo, a treasure chest of flavours and knowledge from mountain to sea
Come and discover the multifaceted soul of the region of high summits and great sea.
Small villages, great products in the Gran Sasso and Monti della Laga Park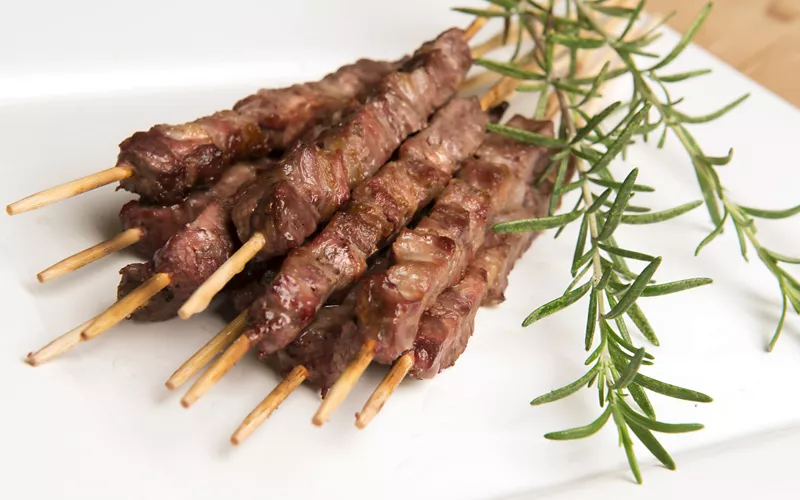 On the Aquilean side of the Gran Sasso and Monti della Laga National Park, you can taste regional delicacies, born out of the millennial experience of the agro-pastoral tradition.
About one hour from the regional capital, is the kingdom of the Santo Stefano di Sessanio lentil, a tiny and extremely tasty creature that grows at an altitude of over one thousand metres only on the mountain slopes of the Gran Sasso. Consider that it is a very ancient variety of cultivation, referred to in monastic documents dating back to 998. These delicious beans are harvested in August, but are consumed dried, so you can find them all year round. And remember that they do not need soaking before cooking. 
In fifteen minutes you are in Castel del Monte with its Pecorino Canestrato, the cheese of the transhumance, whose intense flavour gives way to scents of hay and pastures. You can identify it by the crust that bears the marks of the basket (hence the name 'canestrato'), traditionally used for moulding. 
Also in this area, you can taste caciocavalli, black pork salami, artisanal yoghurt and, for the more sophisticated palates in search of powerful experiences, "cacio marcetto", a creamy spreadable cheese, white or darker, depending on the sheep's milk from which it is made, and with a strong, penetrating smell.
Another typical product can be found in Castelvecchio Calvisio: it is called cicerchia and is a very tasty legume halfway between the chickpea and the lentil that is suitable for cooking in various ways. Get to work immediately.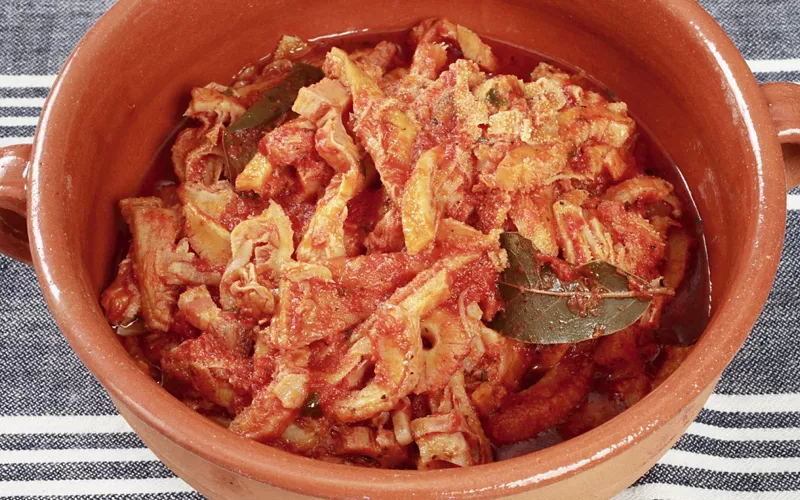 Timballo alla Teramana
A must on special occasions, Timballo alla Teramana is the king of Abruzzo's dishes. It is prepared with very fine layers of scrippelle (very thin discs of water, flour, and eggs) and is filled with meat "pallottine" (small balls), eggs, diced cheese or mozzarella, and artichokes. A mountain of tastiness.
Pennese-style tripe 

A typical dish of the municipality of Penne and the Vestino area (Pe), tripe alla pennese is a single dish flavoured with parsley, bay leaves, mint, marjoram and chilli pepper, to be served warm with pecorino or grated Parmesan cheese.