Veneto
Lido di Jesolo
Sea, enjoyment, relaxation and culture just 40 km from Venice.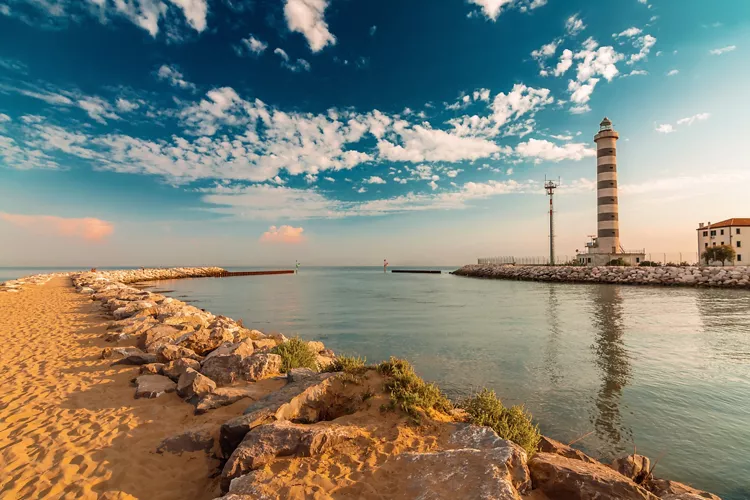 Already existent in the 6th Century C.E., when certain populations were forced to flee the Barbarian Invasions in the north, and to hide on the Isle of Equilio. At that time, the first inhabited location was in the marshy zone, eventually named Cavazzucherina in the 15th Century. It was only in the 1920s, however, that the Grande Bonifica or Great Reclamation allowed for the possibility of seaside tourism for the first time ever. The first beach establishments, along with hotels and restaurants, rose up, and in 1927 the Lido di Treviso came into being at the littoral middle. Nel 1930 Cavazuccherina became Jesolo – and the Lido di Treviso Lido di Jesolo – in 1930. The city grew intensely in the Post-War period, particularly as a result of the increased tourism activity, and it eventually transformed into one of the most important hubs for tourism on the Adriatic.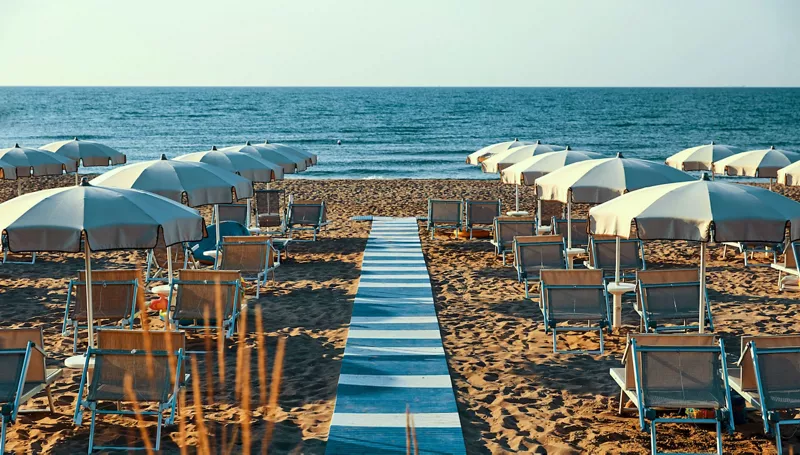 Other than its abundant natural beauty, Jesolo is also a source of ancient culture. In the environs of its Pineta or Pine Forest lie its Ancient Walls, containing a vast archaeological (paleochristian) area over 387,500 sq ft. Today many of the finds from the site can be viewed in the Sala Tiepolo of Jesolo's APT point. The city's Civic Museum of Natural History is not lacking for vestiges from long ago itself, with its displays of around 15,000 remnants. Jesolo promises a relaxing and fun vacation to all who sojourn here the city seems tailor-made to satisfy every whim and fancy of even its most demanding of guests. Visitors can expect kilometers of well-outfitted beaches, some featuring entertainment beachside parties until late into the night as well as shops, restaurants, bars and other locales. Those itching for outdoor activity can choose from a range of sports, including tennis, swimming, soccer and volleyball, golf on some of Italy's finest greens in the Region of Veneto and, for those wanting something a bit more laid-back, water parks. Nature enthusiasts may want to enjoy the verdant and pinetree-filled scenery on foot or astride a horse or bike.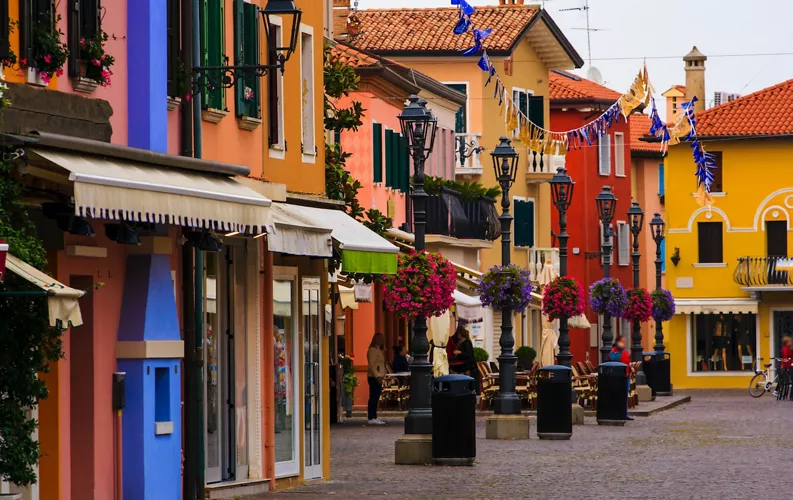 Jesolo is ideal as a homebase during travel in the Lagoon City or in other nearby localities, for instance, Eraclea and Carole.
Eraclea, a very old community, refers to its 1.86-mile-long beach as the "Green Pearl of the Adriatic," plunged as it is amidst a pristine landscape of dunes and pines. Also rather characteristic is the so-called Laguna del Mort, a stretch of sea separated from the rest of the Adriatic by a slight strip of land.
Caorle, then, hosts the Santa Margherita touristic port, while its historic center is but a tiny borgo criss-crossed by calli (minuscule streets) that are in turn linked by campielli (piazzas), usually lined by gracious, pastel homes. Just think: Caorle was one of a handful of Italian towns that both hosted and inspired American writer Ernest Hemingway.