Changing your life in Sardinia
Endless reasons to move to Sardinia: tax benefits for living in a village
The villages of Sardinia are the perfect destination to move to Italy and experience retirement with no worries.
Living out your retirement years in Calasetta, a magic little island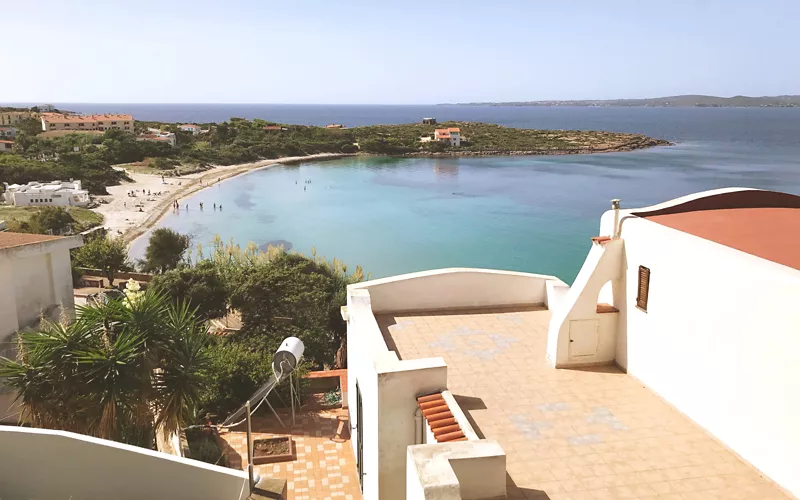 Imagine yourself at a table in a small restaurant by the transparent sea, enjoying a plate of spaghetti with bottarga. Or lazing on a chaise longue, with a good book in hand and a superb glass of wine, on the patio of your home silhouetted against the blue sky. This vision can become a reality if you decide to move to Calasetta: small municipality on the island of Sant'Antioco, in the Sulcis archipelago in the extreme south-west of Sardinia. An island paradise, connected since Roman times to the mother island by a bridge.
The small village with its ancient history is perched on a small hill that slopes down to the port. Phoenicians, Punics, Romans, fishing colonies: numerous peoples and cultures have passed through here - all leaving their traces. Now it is your turn, you can be the new settlers of this magic little island. The Mediterranean climate and mild all year round will ensure that every day is special, whether you enjoy sports activities, hiking in nature or cycling. If you love the sea, you can admire it or take a dip, as early as spring, in the beautiful La Salina beach, with white sand.
Before long, you will know the days and times of street markets, where you can buy fruit, vegetables and fish with a unique flavour. The locals will tell you about typical recipes, which you can recreate at home or enjoy in one of the many restaurants. You will discover the Cascà, or the cous cous that the Ligurian settlers brought here, and the Pilau, a pilaf with seafood sauce that you won't find anywhere else in Italy. These are two dishes reserved for the big feasts, but everyday food will not disappoint either: lamb in various dishes, pasta with sea urchins, and red tuna, which is a speciality here.
Calasetta is a corner of paradise on a territory dotted with enchanting beaches, overlooking a dreamlike sea and embraced by the Mediterranean maquis. It is the ideal place to switch off, be away from the world and live surrounded by nature.
How to get to Calasetta
Cagliari airport is the closest (67 km), then you can continue the journey by bus to your destination. It may be more convenient, but economically more expensive, to take a taxi, arriving at the destination in about an hour and a half.
Moving between sea and mountains in Villagrande Strisaili, the village of longevity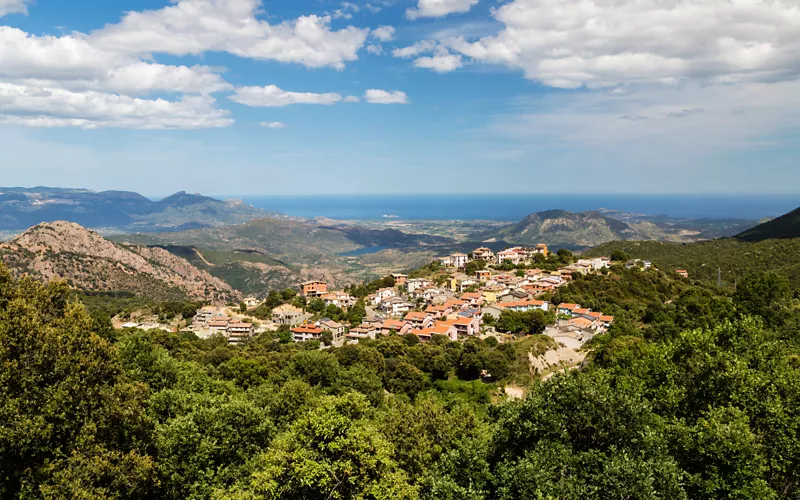 Once the working years are over, the age of true pleasure begins: and may it last as long as possible! There is a place in Sardinia famous throughout the world for its extraordinary density of centenarians, and you too could be among them. This is Villagrande Strisaili, known as the village of longevity, in the central-eastern area ofOgliastra, 750 meters above sea level. It offers a privileged location where you can breathe in the sea air and the refreshing mountain breeze at the same time. You will be living in a densely forested area, between valleys and plateaus, and breathing pure air every day. If you come from a European city, you will touch down in another world, placid and blessed with unspoilt nature. Sixty years and older will be your golden age. The walks in the surrounding natural parks will define your daily routine, and if you love archaeology, walking easily among holm oaks and ancient oaks you will come across prehistoric buildings: the Tombs of the Giants and the nuragic villages. In the evening, an apéritif awaits you with Gathulis, the typical fried doughnuts made of potatoes, semolina and cheese: a simple local delicacy that will become an unmissable ritual.
How to get to Villagrande Strisaili
From the city of Nuoro, it only takes an hour to get there by taking advantage of the convenient Sardinian railway network or the regular buses that connect Nuoro to the village. On arrival in the area, you can move around on foot, choosing a house close to all the basic services, but you can also use the city and suburban bus lines to travel around the area.