Umbria
The Festival of Saint Fortunato, a plunge into the Middle Ages in Todi. In mid-October, discover the "Town of Archers".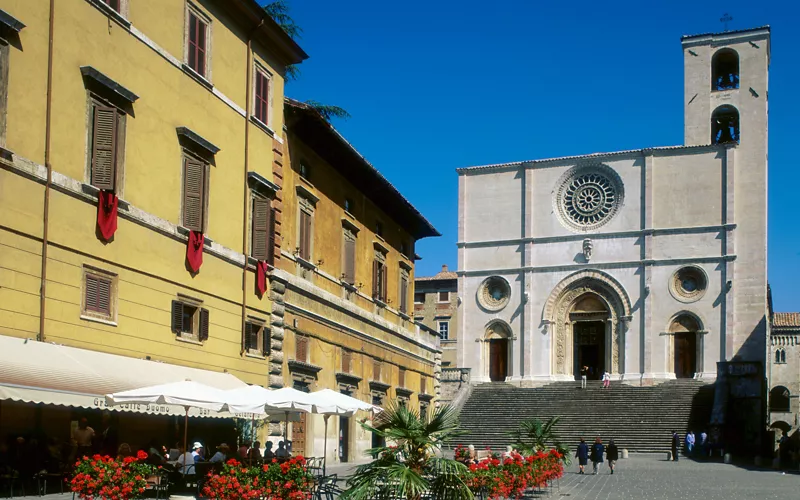 The six town quarters of Todi (the contrade Colle, Nidola, Valle, Santa Maria, Santa Prassede and San Silvestro) participate in the historic archery competition in Piazza del Popolo and the winner will have the honour of receiving the coveted "Palio dell'Aquila".

Not only the town's archers, but archers from all over Italy (they were 200 in 2021) arrive in Todi to compete with different kinds of targets and in several locations to win the title of "Knight of Saint Fortunato".
The final event is undoubtedly the historical procession, which involves all the districts and the entire community in a long and impressive costume parade: nobles and peasants, friars and merchants, march through the main streets of the city, eventually arriving in front of the church of San Fortunato. Here they align on the grand staircase for the concluding ceremony, which will see musicians, drummers and flag throwers in action.
Throughout the festival, there will be many opportunities to taste mediaeval and traditional menus: umbricelli pasta and game meats, among others, will be the protagonists of the tables set throughout the town.
Among related events, "Tipico Todi," the market exhibition of handicrafts and local products, and mediaeval arts workshops for children of all ages, should certainly be mentioned. In short, the festival is a plunge into the past in a beautiful setting and a terrific event that involves the whole community.
And what about Saint Fortunato?
He was bishop of Todi during the 6th century and, in the words of Pope Gregory the Great, "shone with immense virtue in assisting the sick". He doesn't seem to have had much to do with bows and arrows and tournaments... His remains are preserved, along with those of other saints, in a large sarcophagus in the crypt of the beautiful church dedicated to him, where solemn celebrations and masses dedicated to him will be held, with the final lighting of the votive lamp in front of his tomb, in the presence of both religious and laic authorities.
Credit to: Sebastià Giralt