Typical Christmas sweet treats of Southern Italy: delights to indulge in one after another
Christmas is the best time to discover Italian traditions that can't be enjoyed at other times of the year. Let's discover the Christmas treats of southern Italy.
Sicilian Christmas sweet delicacies have rich flavors and wholesome ingredients
The typical Sicilian Christmas sweet delicacies show the genuine ingredients of the area, such as citrus fruits, honey and almonds. The king of festivities is the Sicilian Buccellato, a shortcrust pastry donut decorated with candied fruit, covered in honey and stuffed with figs, almonds, walnuts, pine nuts, orange peel and spices. With a variation of the recipe, buccellatini are made, filled with almonds, dried figs and citrus peel. Honey and almonds are also the basis of Sicilian nougat (torrone), its origin an influence of Arab culture.
At Christmas you can end your meal indulging in some Nucatoli, biscuits filled with almonds, bitter cocoa and cinnamon and decorated with white icing.
Calabrian Christmas sweet treats: simple ingredients, unique flavors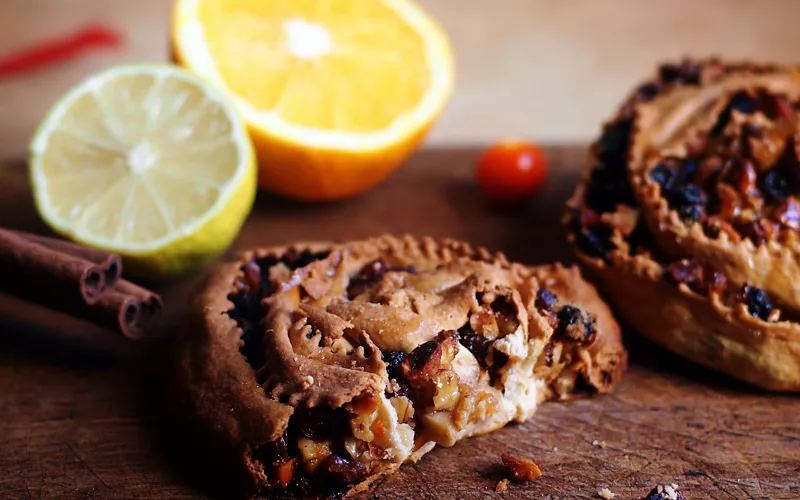 Celebrating Christmas in Calabria means feasting on typical Calabrian Christmas treats that are based on a few simple ingredients: raisins, dried fruit, citrus fruits, figs, vincotto (cooked wine paste) and honey.
Typical delights served would include the Calabrian mostaccioli biscuits, similar in all respects to the version from Campania and Puglia.
To taste something truly unique, choose the pitta 'mpigliata, originally from San Giovanni in Fiore and widespread throughout the province of Cosenza, it is a puff pastry filled with dried fruit and honey. In the Catanzaro area you will find the pitta 'nchiusa variant, and in Reggio Calabria the pitta di San Martino.
Christmas treats in Puglia are mostly made with almonds (but not only)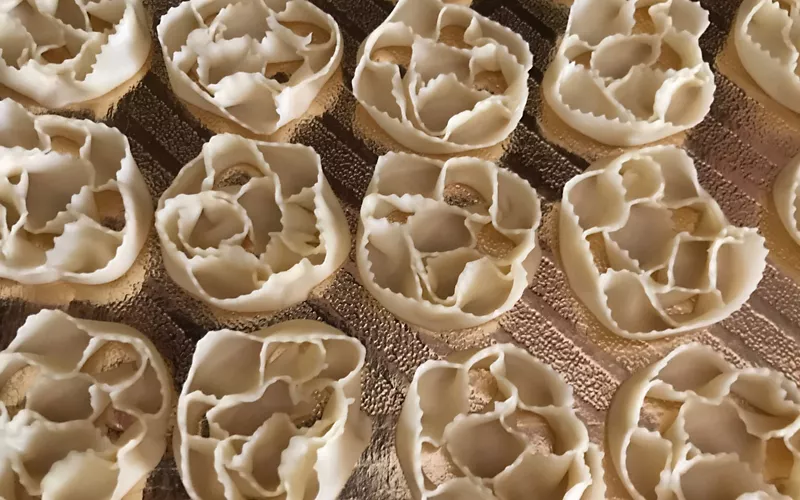 If you want to discover the sweet side of Puglia during the Christmas period, we suggest you start with two delicacies that come from the same ingredients: fried dough, aniseed, honey and sugar.
Porcedduzzi are small dumplings not unlike Neapolitan struffoli. The Apulian carteddate are presented in the shape of a rose covered with colored sugar sprinkles.
It would be nearly impossible not to fall in love with sweet Apulian almond paste treats, from the Christmas log to the typical Lecce tradition fish shapes. And if you love almonds, remember to also taste the castagnedde, rich in cocoa and cinnamon.
Neapolitan and Campania Christmas treats: fried or not, they are all delicious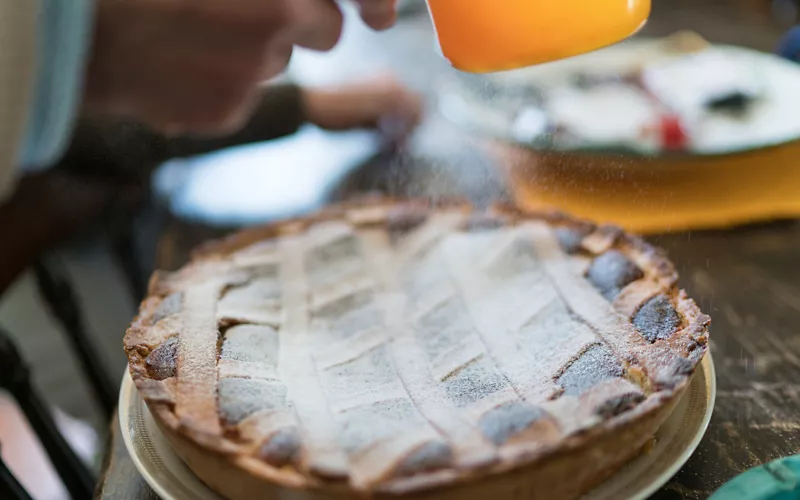 Ready to feast on traditional Neapolitan and Campania Christmas sweet delicacies? Start with Neapolitan struffoli, small balls of dough fried in oil and covered with honey and candied fruit, a delicacy that is hard to resist. As are mustaccioli, biscuits made with grape must and honey covered with chocolate icing .
The queen of desserts, however, is undoubtedly the Neapolitan pastiera, whose origins merge with the legend of the birth of Naples itself: flour, ricotta, eggs, soft wheat, orange blossom water and spices make it a complex dessert to make but an inevitable delicacy served in all of Campania during the holidays.
And what about roccocò? Hard biscuits created thanks to the nuns of the Real Convento della Maddalena, even better when dipped in a liqueur wine.
Lucan Christmas treats: fried and so delicious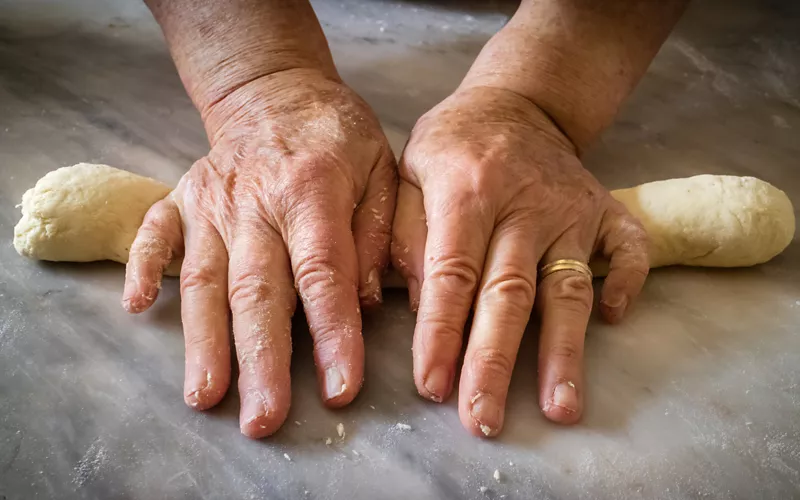 Crespelle di Natale lucane are a dessert as simple as they are tasty, worthy representatives of the Christmas tradition of Basilicata. You only need flour, eggs and sugar to make them and they need to be covered in honey or icing sugar after frying.
Lucanian chestnut panzerotti, stuffed with chestnut cream, are also fried, and the same goes for Christmas calzoncelli. Lighter, but equally delicious, are Ostia di Agnone, a typical dessert of the Agnone tradition: two wafers holding a creamy mixture of almonds, walnuts, honey and chocolate.
Sardinian Christmas treats are rustic and genuine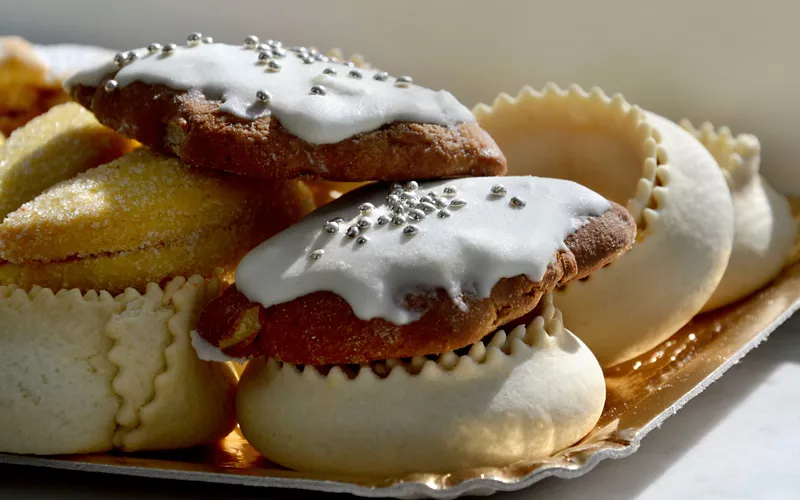 Almonds, cinnamon and grape syrup are the basis of the typical Sardinian Christmas desserts, starting with pane di sapa, appearing on Sardinian dinner tables from the month of November. This delicacy that gives off the aroma of grape syrup and cinnamon is prepared everywhere, but from area to area you may find different variations.
If you don't like grape syrup, get ready to stock up on Sardinian papassini, rustic and crunchy raisin-based biscuits: one leads to another, I promise.
Molise Christmas desserts: pure delight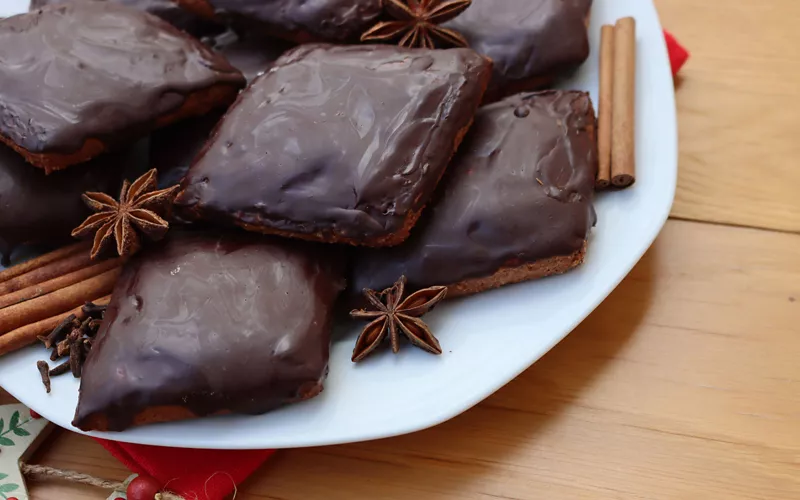 Traditional Molise Christmas treats are not far off those from Campania and Puglia.
In Molise it's not difficult to find mostaccioli biscuits laden on every table set during the Christmas period, just as cicerchiata honey dough balls Molise are always present, very similar to the Neapolitan struffoli. We suggest you also try caragnoli pastries, strips of dough criss-crossed and fried before being covered in icing sugar or honey. Utterly delicious.