Puglia
Puglia: along the Via Francigena between castles and basilicas
Castles and basilicas, pure white villages and historical monuments immersed in an exceptional seascape: 5 unmissable places along the Via Francigena in Puglia.
The characteristic village in the Gargano area overlooking the Tavoliere and the Gulf of Manfredonia is famous for the Lombard Sanctuary of San Michele, a UNESCO World Heritage site, and the Sacred Grotto where the Archangel Michael appeared, reached along a staircase carved into the rock. Other places well worth visiting are the Norman castle of Frederick II, the Rotari Tomb and the San Francesco complex, before moving into the Umbra Forest, whose ancient beech trees are also a UNESCO World Heritage site.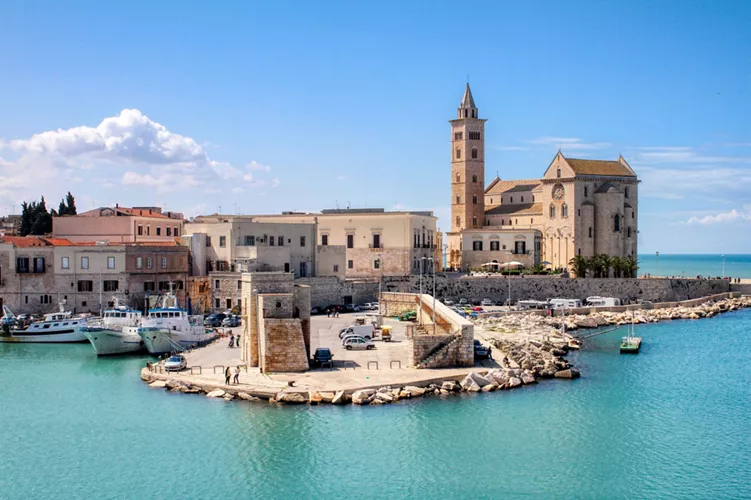 The historic centre of Trani is home - close by the majestic Swabian Castle of Frederick II - to the Cathedral of San Nicola Pellegrino overlooking the sea in such a scenic position that it seems to be suspended over the water. A superb example of the Romanesque period in Puglia, it boasts a decorated rose window on the façade, the bronze portal and the bell tower; the crypt inside holds the remains of the Saint, while the hypogeum of San Leucio was even excavated below sea level.
Bari's Norman-Swabian Castle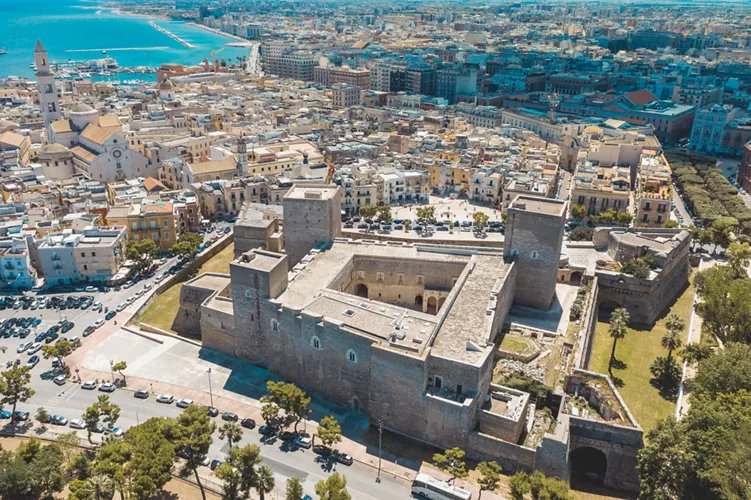 The castle stands just outside the historic centre, only a short stroll from the Cathedral and the port, and was originally built by the Normans and later restored by Frederick II of Swabia with a nucleus comprising a central courtyard and three high corner towers. Renovated several times for different purposes over the centuries, its imposing structure is now a museum and home to exhibitions and reviews, not to mention the collection of plaster casts of ancient decorative structures.
The historic centre of Polignano a Mare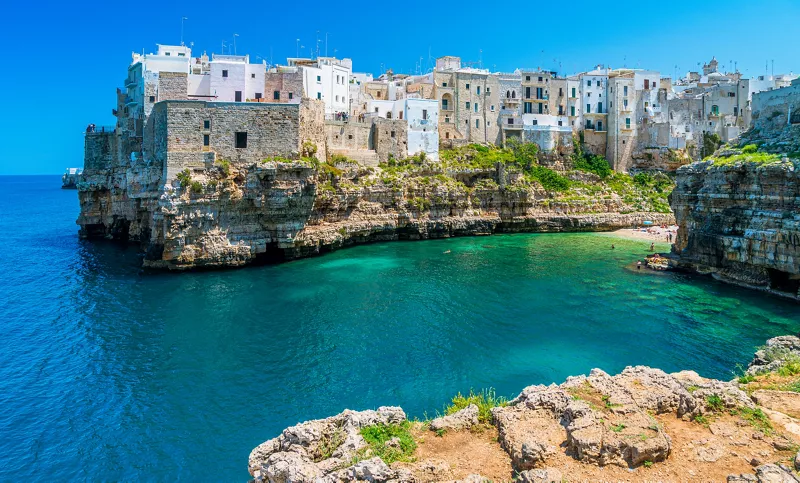 This enchanting Mediaeval village is perched high above the jagged coast and its uncontaminated sea beds and grottos hidden in small, sandy coves. The historic centre is a maze of alleys and pure white houses overlooking the seafront crowned with the statue of the most famous local figure - Domenico Modugno - and its wealth of Arab, Byzantine, Spanish and Norman testimony. The XIII century Chiesa Madre, the Pino Pascali Museum Foundation and the remains of the four defensive towers of the old city are all well worth a visit.
The Basilica of Santa Maria de Finibus Terrae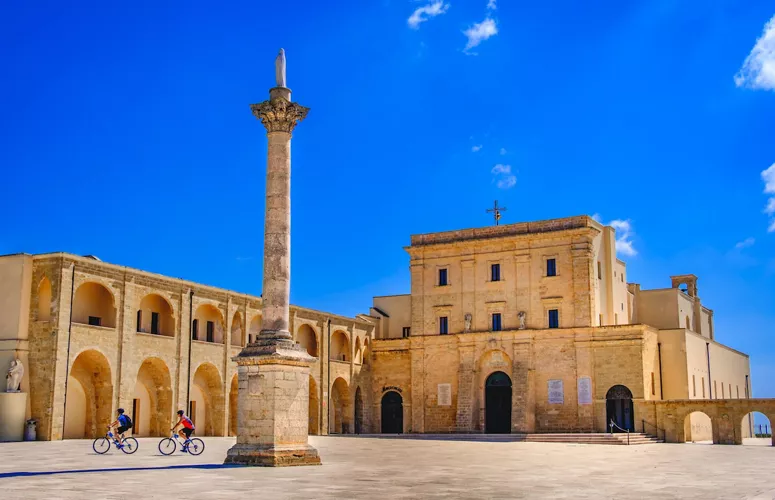 The Basilica stands on the Capo di Leuca promontory, below the lighthouse dominating the bay near the village of Santa Maria di Leuca - the heel of Italy where the Adriatic and Ionian seas meet at the southernmost tip of the Salento area. Built on the remains of an ancient pagan temple, this imposing structure illuminated by splendid windows is embellished by side chapels and highly-prized paintings. It overlooks the jagged coast of limestone rocks and natural caves that can all be reached from the sea.