Lazio
Tuscia Viterbese
Six places to discover in and around Viterbo.
Viterbo: the City of the Popes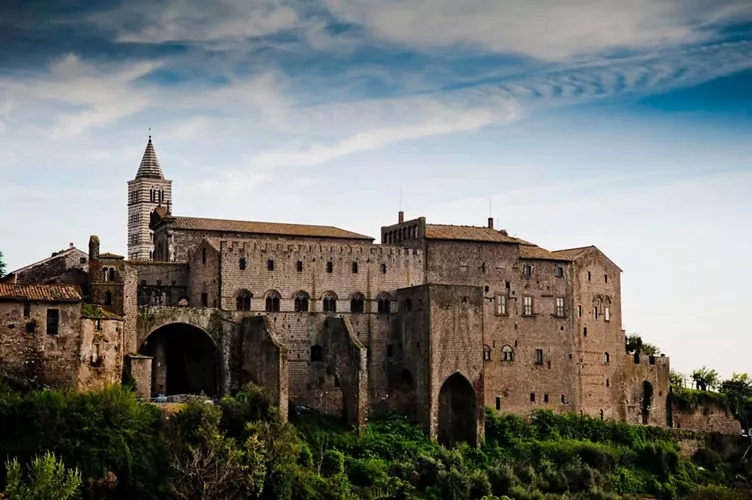 A magical weekend combining culture and well-being
The City of the Popes where traces of the Etruscan civilization merge with Mediaeval architecture and beneficial spa waters. Viterbo has so many and varied faces that a single visit only scratches the surface of such deep-rooted history and culture. From the aristocratic palaces in Piazza del Plebiscito to the authentic Mediaeval atmosphere of the San Pellegrino district and the Papal and Priori Palaces, the Romanesque Cathedral of San Lorenzo, the Governor's Palace and the Palace of the Podestà. Viterbo is unrivalled even as regards traditions. Don't miss - on 3 September every year - the procession carrying the 'Macchina di Santa Rosa' dedicated to the patron saint of the city. This colossal votive tower is included in the UNESCO Representative List of the Intangible Cultural Heritage of Humanity. It is 30 metres high, weighs over 5000 kg and is carried in a procession by one hundred "Porters" for one kilometre through the heart of the city. The only absolute 'must' for people visiting Viterbo are comfortable shoes and a desire to be amazed. And after a whole day of discoveries, there's nothing better than a dip in the warm spa waters of the monumental Terme dei Papi. Viterbo is easy to reach from Rome by train in about two hours.
A fairy-tale village set in the tufa stone.
When Civita di Bagnoregio appears on the horizon, it almost looks like a mirage. A small and charming village perched on a tufa hill that can only be reached over a long pedestrian bridge. There is the sensation that time has stopped after passing through the main gate. A maze of alleys spreads out from the central square, all leading to balconies and terraces in turn opening onto the splendid panorama of the Valle dei Calanchi, a constantly changing landscape, where the limestone and sandy clay terrain is shaped by atmospheric agents. Officially recognised as one of the most beautiful villages in Italy, Civita di Bagnoregio is a not-to-be-missed destination for people looking for a cosy atmosphere and a dash of poetry.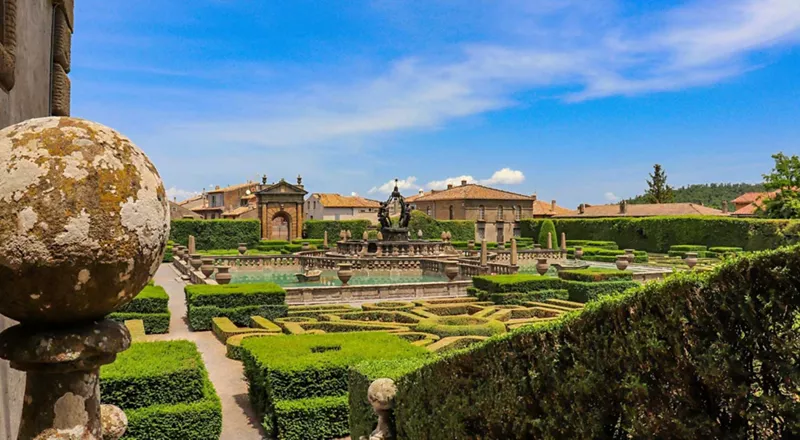 For everyone looking for relaxing walks in the open air
Villa Lante, in the Mediaeval village of Bagnaia, near Viterbo, is a perfect combination between nature and architecture and an ideal a place for people who love safe and utterly relaxing walks in the open air. This historic place is a typical and magnificent example of Italian gardens, made up of terraces, ancient fountains, expertly cared for hedges and statues dating from the 1500s. Once inside Villa Lante, it is a delight to lose your way and discover all its glimpses. It is ideal for a romantic stroll in spring and offers short itineraries and wonderful paths accessible to everyone.
The Sacred Wood of Bomarzo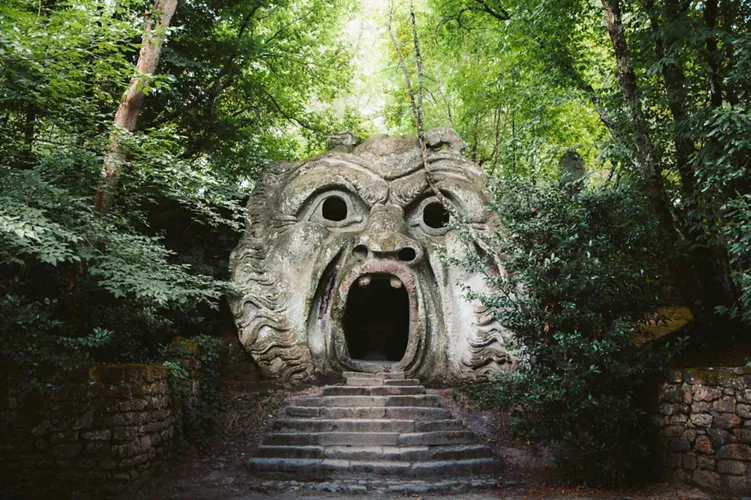 A fantastic journey through spells, mysteries and illusions.
Also known as Parco dei Mostri (Park of Monsters) after the grotesque sculptures set in a surreal atmosphere, the Sacred Wood is an experience that inspires fantasy and imagination. Populated by dreamlike and bizarre creatures carved in the rock, we set off here on a fantastic journey through spells, mysteries and illusions. A mystical path with shades of Dante and a sequence of sphinxes, statues in combat, a leaning house, a frightening ogre, Cerberus the three-headed dog and a Tempietto, where the journey ends. It is perfect for a day trip full of games and enjoyment and also an excellent destination for families. The Park has a restaurant (reservation only), a snack bar, a bookshop and a children's area.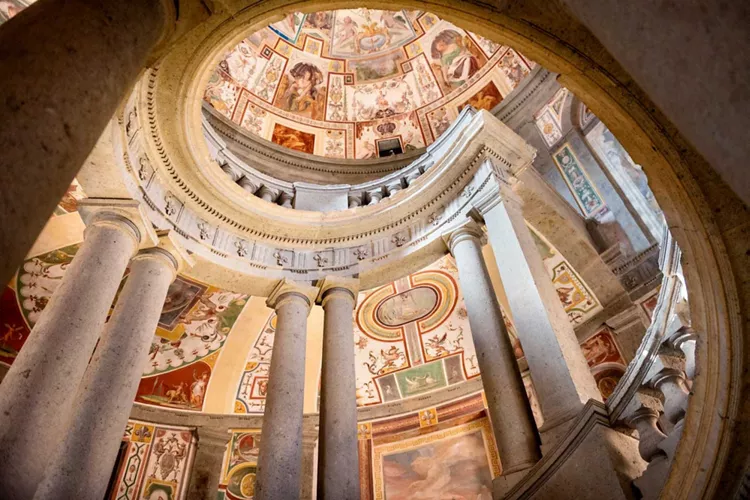 Masterpieces of art and architecture set among gardens, fountains and ornamental water features
The splendour of Palazzo Farnese is framed by green gardens, tree-lined avenues, ancient fountains and magnificent ornamental water features. Located in Caprarola - 20 km from Viterbo - this late Renaissance site is home inside to 5 floors frescoed by various artists and splendid architectural solutions such as the Scala Regia, a magnificent helical staircase supported by 30 Doric columns. Characterized by precious finishes and marble materials, this majestic palace offers a unique spectacle for lovers of art and architecture. A trip here is recommended for people who love art and nature.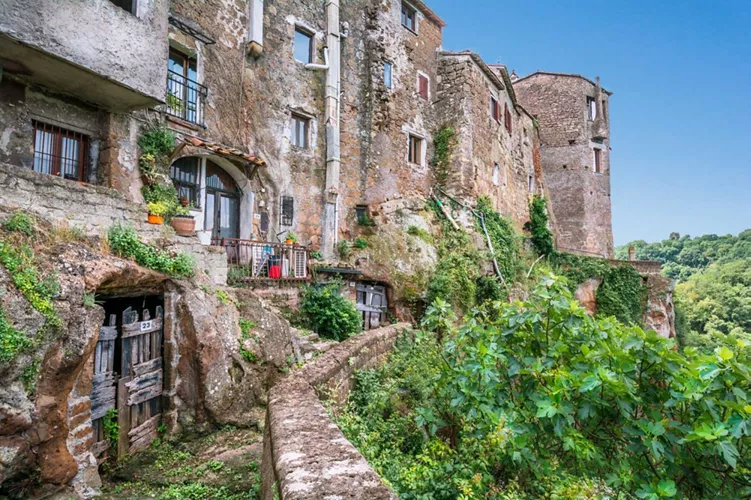 The artists' village
Halfway between Viterbo and Rome, Calcata is perched on a high and immense volcanic outcrop in the Treja valley. This Mediaeval village rich in history offers such characteristic and evocative views that time seems to have come to a standstill. It is home to numerous artists and artisans who have taken refuge here over time to leave behind them the hectic life of large cities and create a lifestyle on a more human scale. Calcata is so unique because of the small, ancient homes carved into the tufa alternating with creative workshops where you can buy arts and crafts items. For everyone who loves paths set in the midst of nature, a stop-off to visit the Monte Gelato waterfalls is a must - a green oasis in the Treja Park where you can regenerate by listening to the sounds of the natural pools created by the river.