Lazio
The 5 favourite destinations for Romans to ski near Rome
Where do Romans go skiing? For a weekend on the slopes between Lazio and Abruzzo, there are many ski resorts favoured by Romans. Here are the 5 perfect locations for skiing near Rome.
Monte Livata - Distance from Rome: 1 hour and 30 minutes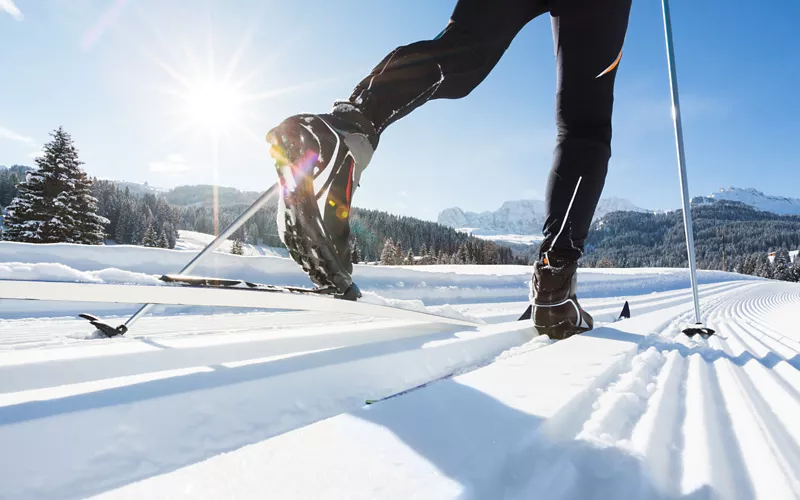 The Mountain of the Capital hosts the only ski resort in the province of Rome, ideal for a weekend on the slopes, but also for a day trip.
If you want to ski on Monte Livata, you can choose from five different slopes served by four ski lifts. There is also a Family Park at Campo dell'Osso and four groomed trails for cross-country skiing.
And if you love walking in the snow, the snowshoe trails on Mount Livata will take you up to 1550 metres in altitude both during the day and at sunset, for an even more magical experience.
Campo Felice - Distance from Rome: 1 hour 40 minutes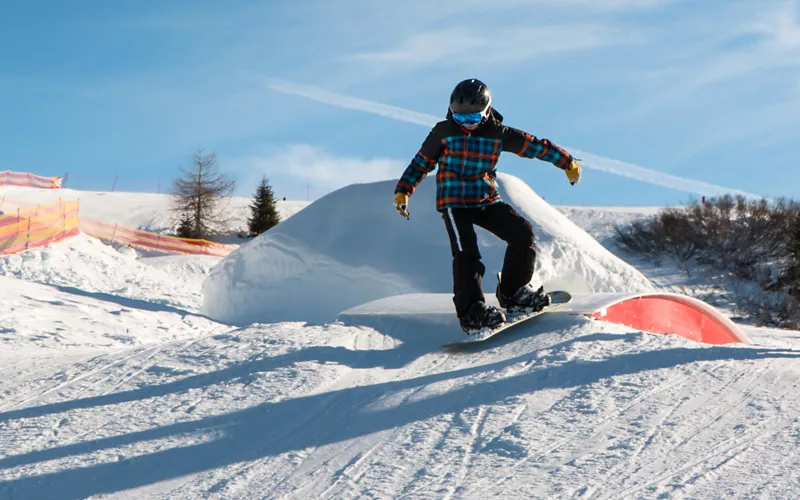 The Rome-L'Aquila motorway has made the beautiful resort of Campo Felice in Abruzzo easily accessible to Romans seeking snow adventure.
But credit is also due to Campo Felice's state-of-the-art facilities: 9 chairlifts, 2 ski lifts, 1 conveyor system and 3 tapis roulants serve 23 slopes for a total of more than 30 kilometres, 15 of which are for intermediate skiers and no less than 10 for experts, such as the Delle Aquile that descends from Monte Rotondo with a drop of more than 600 metres.
Children can enjoy school camps and a snowtubing slope served by a 90-metre-long conveyor belt. And if you want to indulge in snowboarding, you will find a well-equipped snowpark.
The ski pass for Campo Felice has a daily fee, which varies depending on the time of year, but those who are planning a one-off visit can also choose the time-based ski pass from 1 to 4 hours.
Terminillo - Distance from Rome: 1 hour and 50 minutes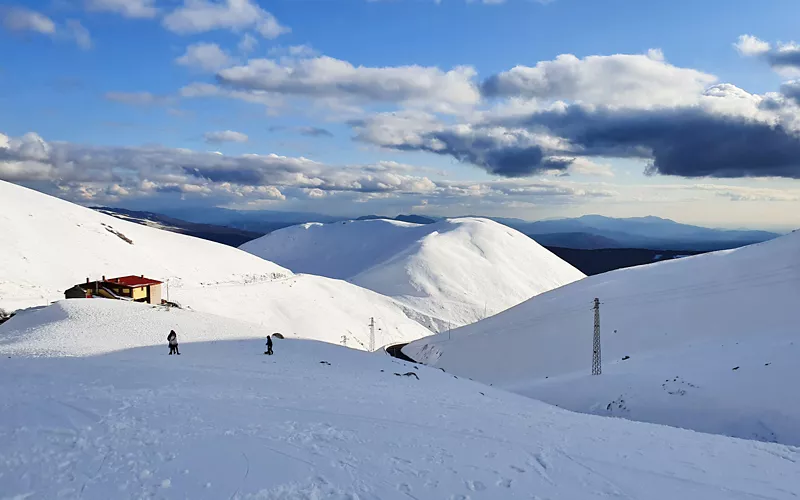 Among the Romans' favourite destinations for skiing holidays is Terminillo, a historic ski resort in the province of Rieti, reachable in less than two hours from Rome.
The Terminillo facilities are located between Terminilluccio and Terminilletto at a maximum altitude of 2100 metres: 30 kilometres of slopes, 10 of which are reserved for alpine skiing with 6 red, 3 blue and 1 black slope.
If more experienced skiers prefer locations with more challenging slopes, for a snowshoeing trip to Terminillo the options are numerous and with different levels of difficulty, from the Terminillo circuit suitable for everyone to the route that leads to the summit starting from Campoforogna with an altitude difference of 625 metres.
Ovindoli - Distance from Rome: 1 hour and 50 minutes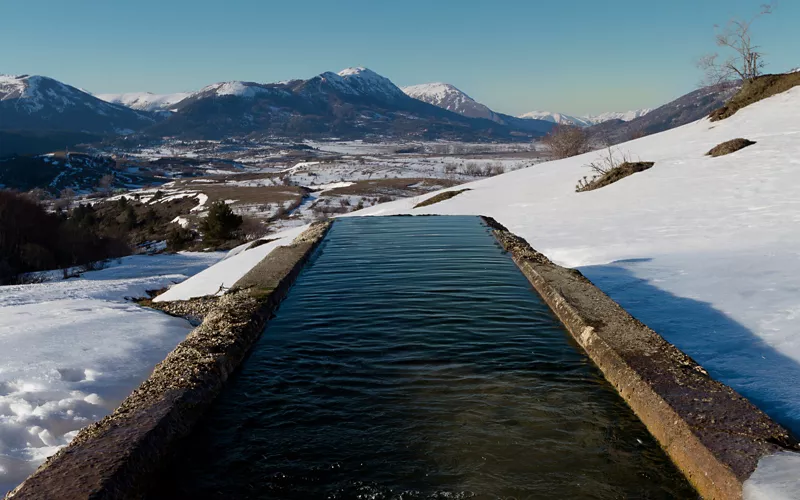 Less than two hours from Rome is the Ovindoli ski resort, in the province of L'Aquila, much appreciated by even the most expert skiers for its 7 black slopes covering a total of 8 kilometres. The most famous is the Pistone, which from Monte Freddo at an altitude of 1990 metres takes you down to the start of the gondola lift with a drop of 540 metres. And at almost 2000 metres, there is also one of Ovindoli's two snow parks, the Magnola Upper-Park.
The slopes of Ovindoli are served by 11 lifts and if you cannot do without the magic of night skiing, the Dolce Vita and Topolino slopes are illuminated until 7.30 p.m. on some days of the week. 
Pescasseroli - Distance from Rome: 2 hours and 10 minutes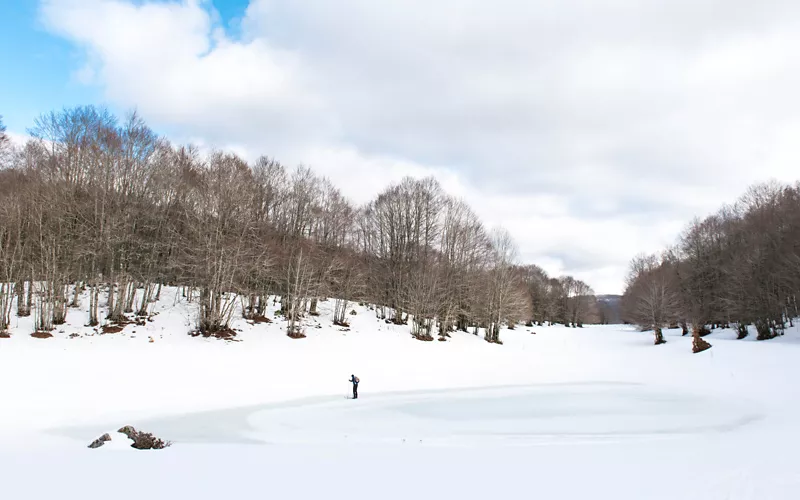 In just over 2 hours from Rome, you reach the heart of the Abruzzo Lazio e Molise National Park. When the snow falls, Pescasseroli becomes a reference point for snowshoeing enthusiasts thanks to the countless trails that cross centuries-old forests and offer breathtaking views of the Abruzzo mountains.
Almost all of Pescasseroli's ski slopes are also suitable for beginners, but if you are looking for a descent that will put you to the test, you must try the Direttissima, which descends from Monte Vitelle with an altitude difference of 563 metres and a 42% gradient. And for cross-country skiing, there are groomed trails of 5, 10, 20 and 30 kilometres on the Macchiarvana plateau.
Bonus track: Rome Cortina by train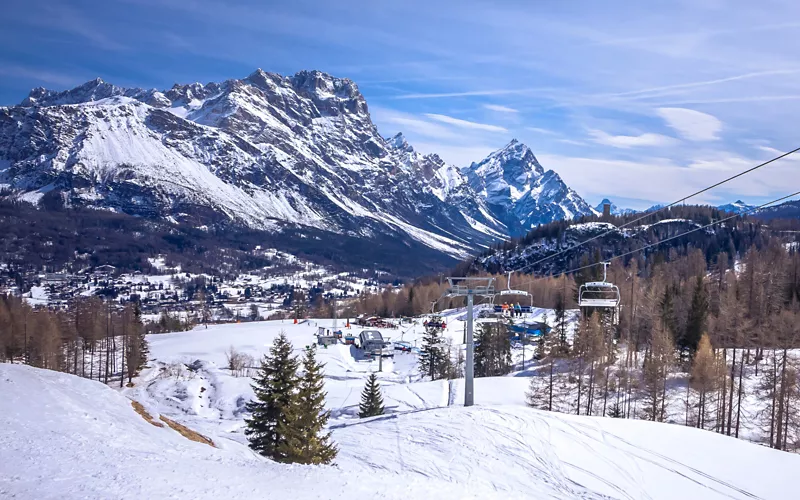 It is impossible not to think of Romans in the snow without mentioning Cortina d'Ampezzo, which has always been a favourite winter sports destination for the capital's inhabitants. And not only.
The Pearl of the Dolomites is in fact one of the most attractive mountain resorts in the world.
An unparalleled mix of dream slopes - which will host the Olympics in 2026 - ultra-personalised services and luxury hotels. In Cortina, tourism is made up of the very loyal, returning regulars in search of privacy and exclusivity.
For Romans, then, it is not as inconvenient a destination as it seems. You can reach Cortina from Rome by high-speed train in just over six hours.