The beating heart of Salento, Lecce enchants visitors with its stunning Baroque historic centre and the splendid sea right on its doorstep

Lecce has an unmistakable style, with monuments dating back to Roman times and, most notably, its extraordinary 17th-century buildings that proudly bare the characteristic blonde colour of the local stone. The atmosphere is vibrant and bustling. During the day, you can while away the hours sunbathing on its beaches, only a few kilometres from the city. In the evening, the city centre will entice you with its elegant, timeless alleyways and delicious local delicacies. 
City
The beautiful sun-kissed city among the white stones
The historic centre of Lecce is a true open-air museum, starting with the spectacular Piazza Duomo. Then there is the picture-perfect blue sea, with its delightful sand and pebble beaches. A two-day break will offer you a taste, but a longer trip will allow you to truly savour the atmosphere and explore the area. It offers a stable, mild climate all year round and its monuments boast a magnificence, inventiveness and refined style that is sure to take your breath away. 
Learn more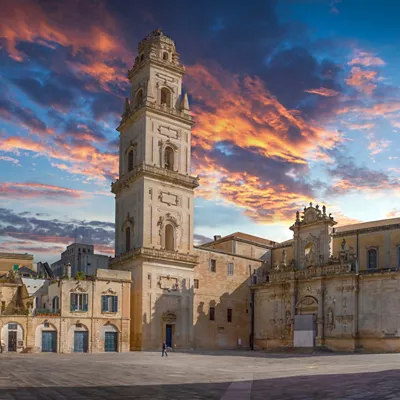 Useful info
All you need to know