Lombardy
What to see in Brescia in a day: unmissable attractions and typical dishes
Do you only have 24 hours to visit Brescia and don't know what to do? Here are some ideas for exploring this Lombard gem, with its monuments and much more.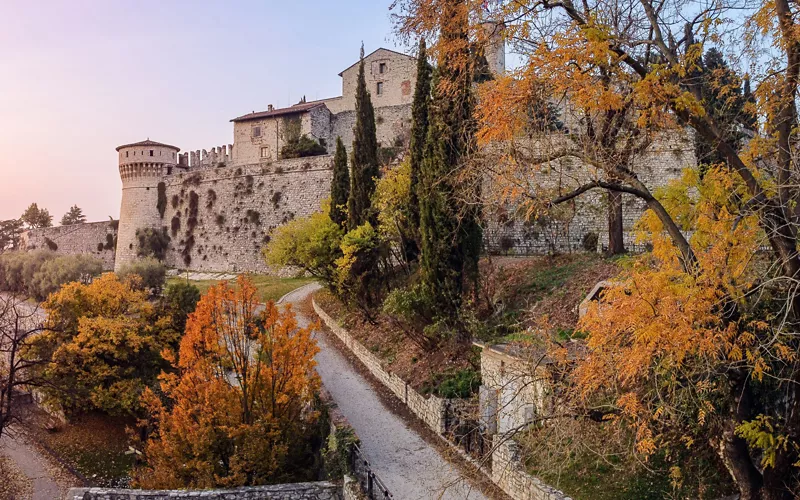 The tour starts at the Brescia Castle, a mediaeval fortress and symbol of the city. The building rises majestically on the Colle Cidneo, close to the historic centre. It is accessed through a 16th-century portal, flanked by the bastions of San Faustino and San Marco, which leads to a square with a magnificent view of the city. The old steam locomotive is very impressive.
Brixia, the Archaeological Park of Roman Brescia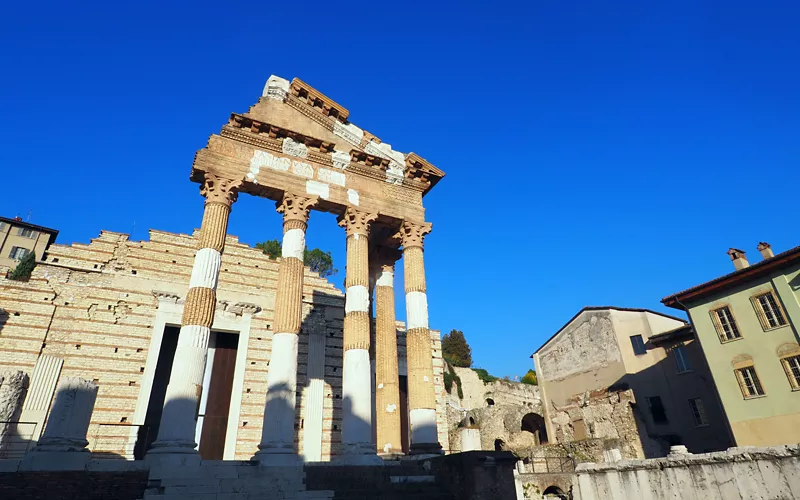 Among the best-preserved sites in Italy is the Archaeological Park of Roman Brescia, a UNESCO World Heritage Site. It welcomes you with the imposing Capitolium, a Capitoline Temple dating back to AD 73, which was dedicated to the worship of the 'Capitoline Triad', Jupiter, Juno and Minerva. Beneath it, the structures of a Sanctuary, which can be traced back to the first decades of the 1st century BC, have been partially preserved. Next to the Capitolium stands the Roman theatre, which can be dated to between the 1st and 3rd century A.D. and whose cavea offers the thrill of ancient performances.
Opening hours: Monday closed / holidays and weekdays 10:00 - 18:00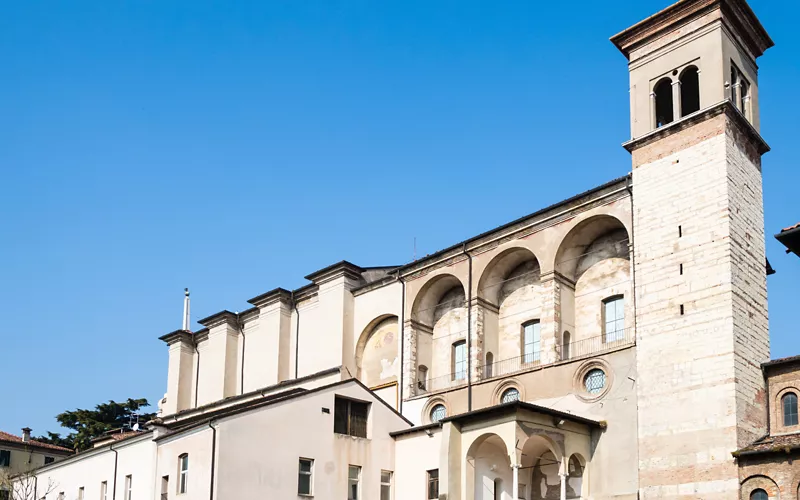 The perfect place to take a journey through Brescia's history, art and spirituality is the Santa Giulia Museum, housed in a monastic complex of Longobard origin.
It is a UNESCO World Heritage Site and exhibits thousands of works covering some 14,000 square metres, arranged chronologically and thematically, from the 4th millennium B.C. to the 18th century.
Opening hours: Thursday and Friday 18:00 – 22:00 / Saturdays, Sundays and public holidays 10:00 - 21.30 (access preferably by appointment)
The Old and New Cathedrals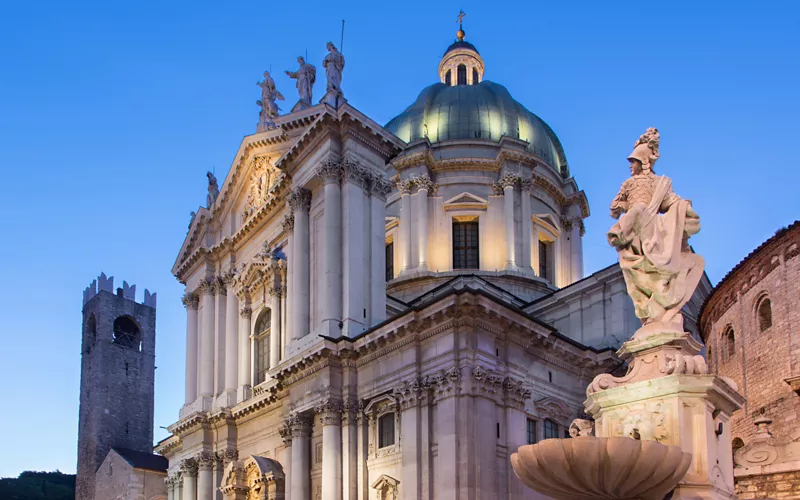 We continue to Piazza Paolo VI, also known as Piazza dei due Duomi (Square of the Two Cathedrals), as it houses the Summer Cathedral of Santa Maria Assunta (the Duomo Nuovo), with its Baroque façade and majestic dome, and the Winter Cathedral of Santa Maria Assunta (the Duomo Vecchio), with its cylindrical structure dating back to Romanesque times.
Duomo Vecchio opening times: Mondays and Tuesdays closed; Wednesdays - Saturdays 9:00 - 12:00 / 15:00 - 18:00; Sundays 9:00 - 10:45 / 15:00 - 18:00
Duomo Nuovo opening hours: holidays 8:00 - 12:00 / 15:00 - 19:00; weekdays 7:30 - 12:00 / 15:00 - 19:00
Piazza della Loggia, Piazza Vittoria and Piazza Mercato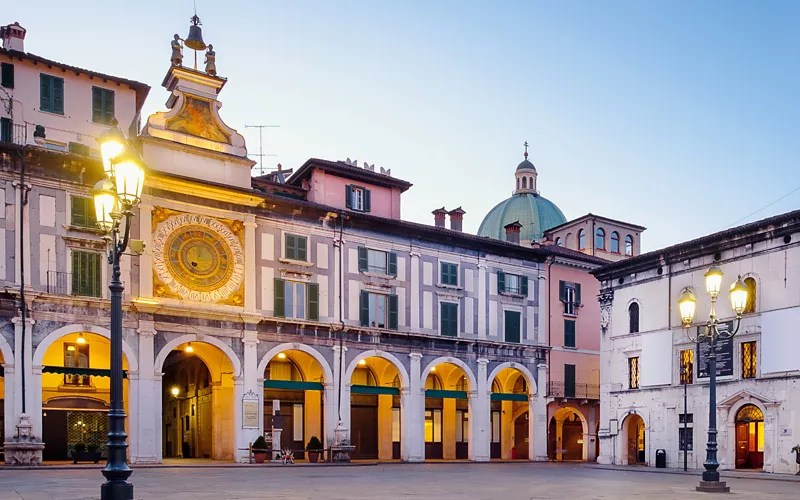 Just a few steps away from the two cathedrals, three squares open up: Piazza della Loggia, with its Venetian influence, dominated by the palace of the same name; Piazza Vittoria, with its incredible suspended rhinoceros installation; and Piazza Mercato, with monuments belonging to different eras, from the 15th to the 20th century.
Typical Brescia dishes and sweets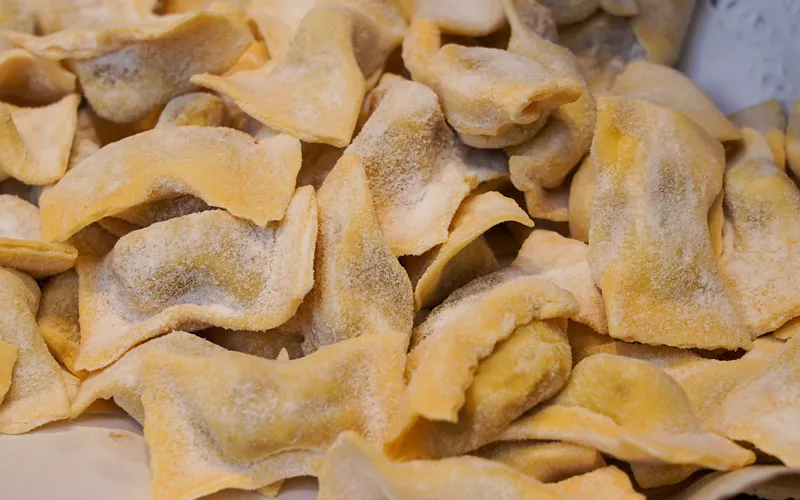 The cuisine of Brescia also deserves recognition. An honourable mention first and foremost goes to Iginio Massari's very traditional Pasticceria Veneto, a workshop full of masterpieces to be admired and savoured.
Typical dishes include casoncelli, a variant of the classic raviolo, filled with meat or vegetables; the Brescian skewer, consisting of a base of birds and pork roulades, enriched with chicken, rabbit and potatoes; beef in Rovato oil, prepared with a cut of the priest's hat (shoulder); and rabbit alla bresciana, typical of Christmas and rich in spices. Another Christmas delicacy is bossolà, a doughnut as high and soft as a cloud. Finally, there is persicata, a solid jam typical of Brescian confectionery.
Pasticceria Veneto opening hours: holidays 7:45 - 13:30 / 15:00 - 19:30; weekdays 7:45 - 13:30 / 14:30 - 19:45
Where to park and how to get to Brescia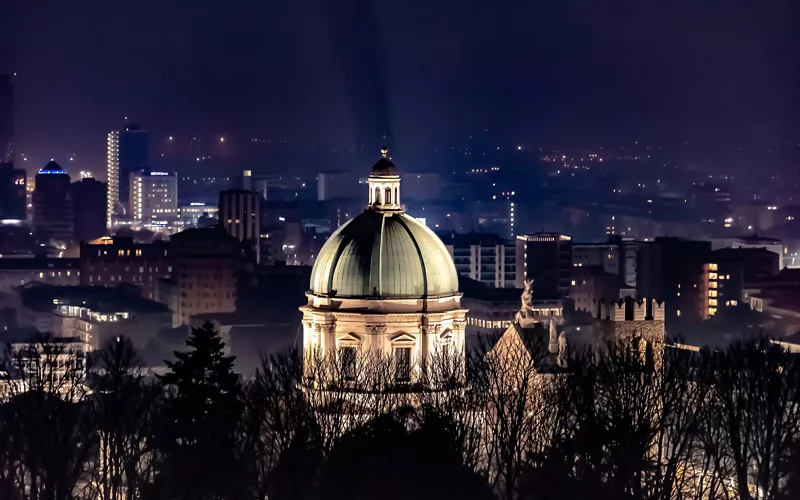 To visit the city, you can opt for a local Milan-Brescia train, which leaves every hour, or for the Freccia, which leaves every 30 minutes. You can also take the high-speed Rome-Brescia train, which takes about 3½ hours from Termini.
The distance from Milan to Brescia by car via the A35 is 90 kilometres (with free parking in the Castello area).