Adventure parks: acrobatics among the branches
Leaping among the trees without touching the ground to test your balance and strong nerves: 5 adventure parks perfect for family fun.
Friuli Venezia Giulia: Trieste Adventure Park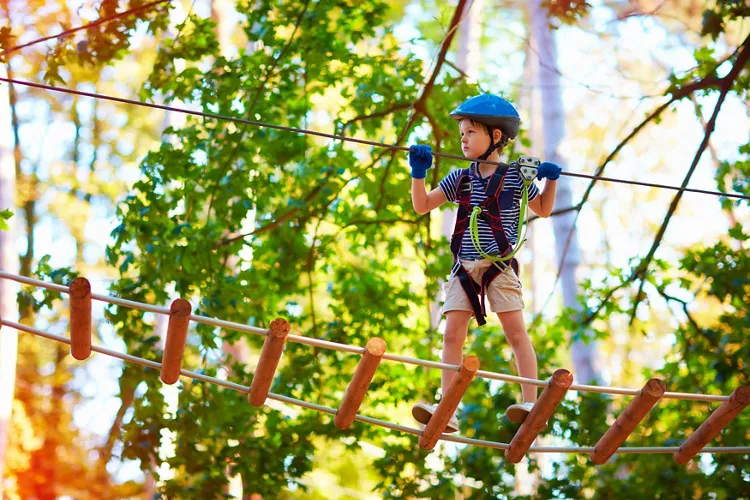 A day literally enjoyed in the trees, swinging from one to another on a vine like Tarzan, clambering among the branches several metres above ground and climbing to the top like squirrels. The rocky high plateau of the Trieste Karst lands, characterized by caves and cliffs overlooking the Adriatic, is home to a truly green experience in the heart of nature, with routes and settings of varying difficulty ideal for adults and children. There are 8 sites in all, for a total length of 750 metres with 63 platforms at a maximum height of 8 metres, 72 games and 8 cableways. 
Find out more: triesteadventurepark.it
Liguria: Genova Righi Adventure Park
This adventure park on the hills above Genoa, just a few minutes from the city centre served by a comfortable cable car, unfolds over 10 paths and 70 platforms suspended between 300 trees, fast descents with pulleys to leap from one to another, Tibetan bridges, balancing tests with safety nets, steel cables, ropes and ladders. The Cip&Ciop path is specifically for kids aged 3 to 6 years, with made-to-measure harnesses and helmets. The site can also be enjoyed at night in the summer, perhaps after a barbecue in the properly equipped woods, thanks to special helmets fitted with a powerful front spotlight provided by the park, flying with the fireflies.
Find out more: parcoavventuragenova.it
Marche: Frasassi Avventura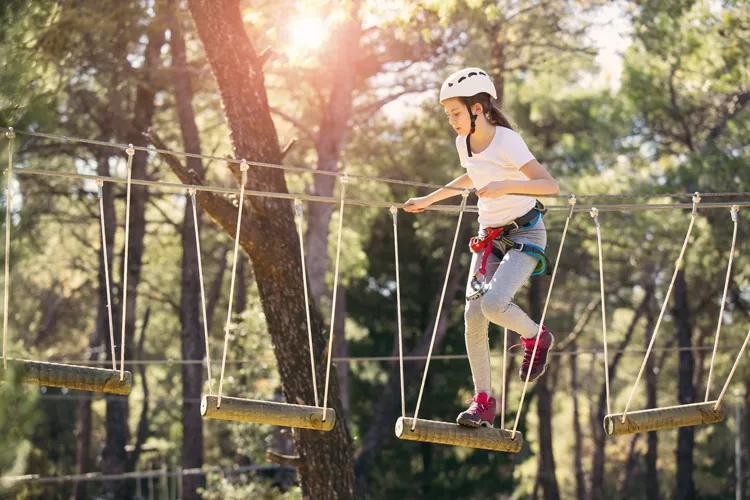 The intensely green scenery of the Gola della Rossa and Frasassi Regional Natural Park, near Ancona, is home to exciting adventures along cables suspended over the water, steep pulley descents, rickety Tibetan bridges and tightrope walks along steel cables to test your agility and balance. The theme park develops along the banks of the River Sentino, not far from the spectacular Frasassi Caves, underground karst cavities well worth a visit to set off an experience in close contact with nature.
Find out more: frasassiavventura.it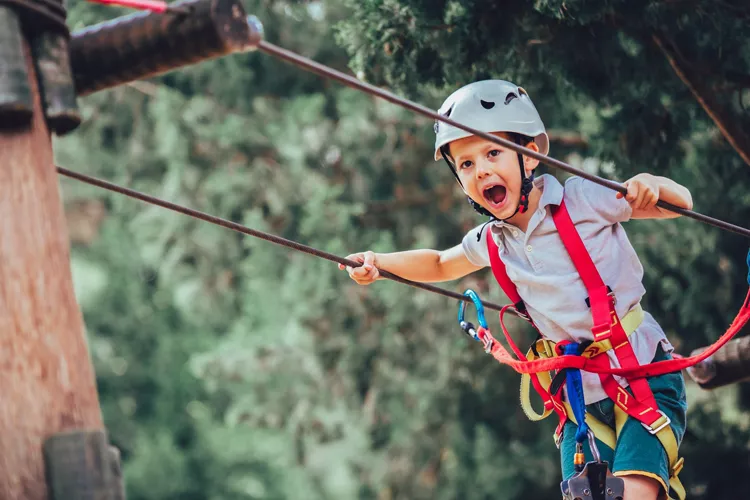 Set deep in the nature of the Sila National Park on the shores of Lake Arvo near Lorica, this eco-park ensures a complete forest experience while also enjoying cableways, Tibetan bridges, suspended barrels, oscillating swings, climbing walls and acrobatic routes suspended between the typical larch pines of the area. Children get plenty of attention with special environmental education activities and wooden tree huts for exciting nights with their parents in sleeping bags or on camping mats. It is open all year round and admission is free: you only pay for the activities you chose to enjoy.
Find out more: silavventura.it
Sardinia: Pula Adventure Park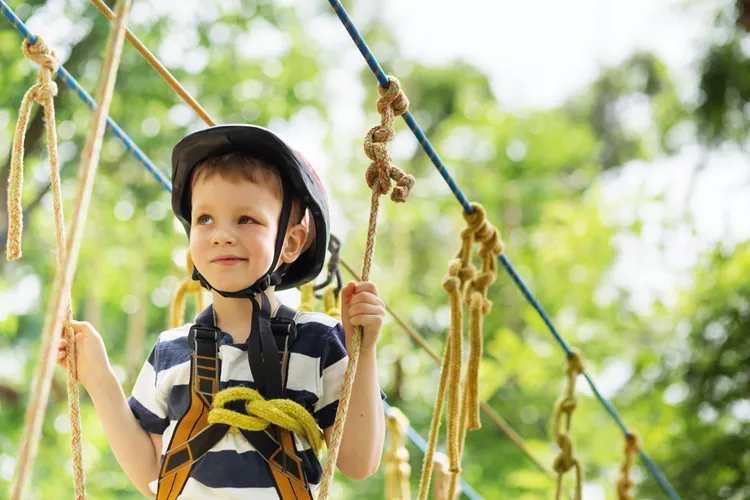 This park near the state-owned Pixinamanna forest, not far from Cagliari, offers a series of exciting overhead routes made of liana vines, ropes, cables, safety nets, gangways and Tibetan bridges for easy acrobatics among the trees like forest animals in the cool shade of maritime and stone pines. The splendid beach of fine white sand and the crystal clear sea of Pula are just 100 metres away for a dip to end a day in Sardinia's spectacular nature. Irresistible!
Find out more: pulavventura.it