Montescaglioso, city of monasteries
The starting point of the itinerary is just over the border with neighbouring Apulia, in Ginosa, a town overlooking a ravine carved by an ancient watercourse. The first 7 kilometres are mostly downhill, so relax and enjoy the ride. The entrance to Basilicata coincides with the first climb, which after about 5 kilometres will take you to Montescaglioso, one of the region's spiritual centres: here there are four monastic complexes, earning the town the name 'city of monasteries'. Don't miss the Abbey of San Michele Arcangelo, one of the most beautiful in Italy, with Renaissance frescoes and cloisters.
The Park of the Rock Churches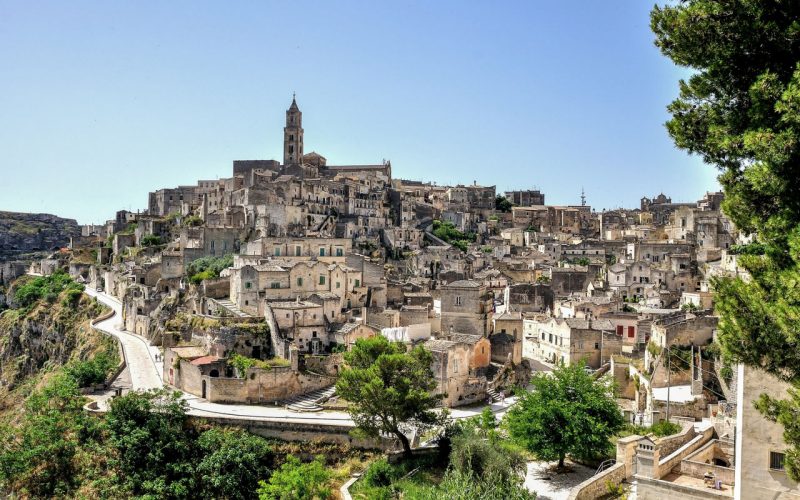 After leaving Montescaglioso, you will find yourself immersed in the wild landscape of the Murgia along the Parco delle Chiese Rupestri, also known as the Parco della Murgia Materana. It is a limestone plateau covered with Mediterranean scrub that bears witness to a very ancient relationship between nature and man. Over the centuries, nature has shaped the landscape by carving valleys, cliffs and caves used by man who has lived there since prehistoric times. You will see caves from the Palaeolithic period, ancient Neolithic villages and dozens of cave churches carved into the rock during the Middle Ages but also used over time as animal shelters.
Matera, the City of Sassi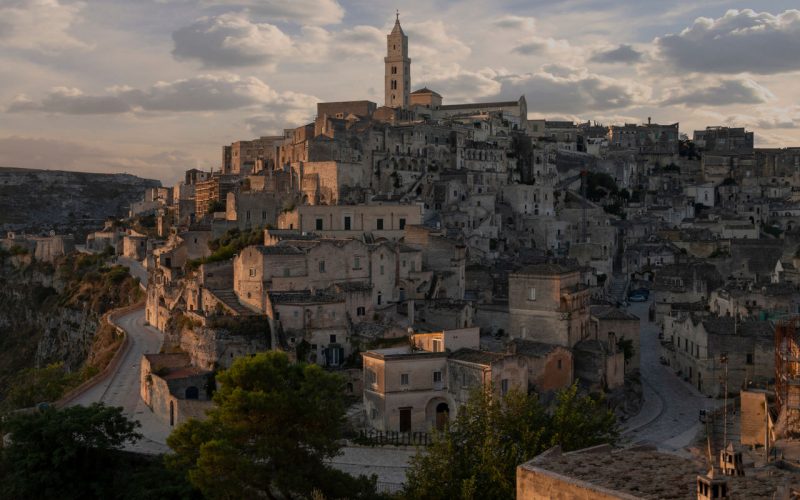 Matera is reached by climbing 6 kilometres of gentle slopes to the heart of the Sassi, a UNESCO heritage site. The ancient quarters of Sasso Caveoso and Sasso Barisano developed around natural caves carved into the rock and shaped over time into increasingly complex structures, creating a unique and unrepeatable architecture demonstrating man's ability to adapt to the natural environment.

The landscape of Matera is so extraordinary that it has often attracted the attention of the cinema. Pasolini's The Gospel According to Matthew, Mel Gibson's The Passion of the Christ, Patty Jenkins' Wonder Woman and No Time to Die from the 007 saga were filmed here.
Enjoy the end of the journey by sampling the local specialities such as Crapiata, a peasant soup made of pulses and cereals, or Pignata, sheep meat cooked for a long time in an earthenware pot with tomatoes, onions, potatoes and soppressata. If you are brave enough, try Gnimmeredd, lamb or kid offal rolls with parsley and spices. And of course accompany it all with the famous bread from Matera PGI prepared with sourdough and ancient grains with its characteristic cornetto shape.