Quinto di Treviso-Valle Agredo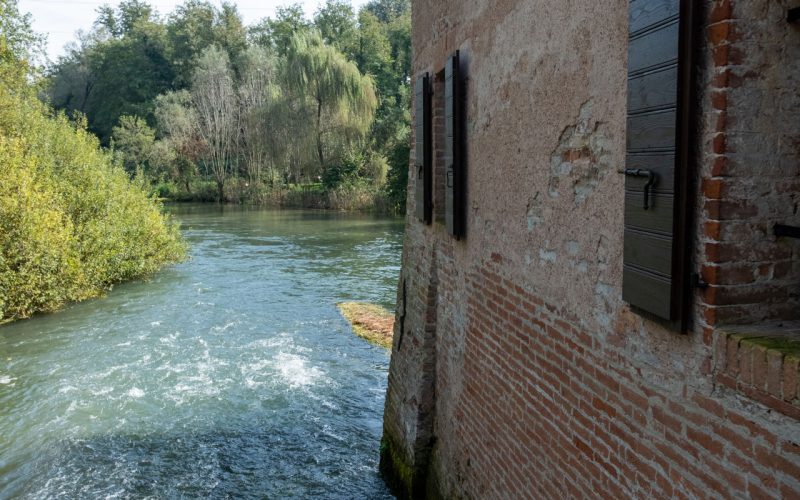 We set off from Quinto di Treviso along the banks of the Sile, and shortly afterwards we come to the first stop, which is practically obligatory: the ancient Cervara mill. Back in the saddle again to take the stretch of road that leads to Badoere di Morgano. From here, follow a small detour to a square that will enchant you with the number of shops and artisan houses that line it. You start pedalling again along a path shaded by locust, maple and oak trees, interrupted only by stretches of railway line: you may be distracted by this idyllic landscape, but pay attention as you cross the Trebaseleghe and Piombino Dese to enter the heart of the Valle Agredo, among fields and clear streams. Here, at last, is Camposampiero: you will recognise it by its two mediaeval towers, its Venetian porticoed palaces and its precious Antonian sanctuaries.
Camposampiero-Piazzola sul Brenta-Vicenza
If you take the Treviso-Ostiglia road again, you will find yourself interrupting the route over and over again: don't worry, that's the beauty of this cycle path, it offers the possibility of visiting landscapes that seem stolen from an impressionist painting. Try the one towards S. Giustina in Colle and S. Giorgio delle Pertiche, following the winding course of the Tergola river. After a ritual photo and a relaxing break, it is already time to continue towards Terre del Brenta. At Pieve di Curtarolo the route changes: from the countryside we return to the new cycle bridge to cross the River Brenta, in the direction of Vicenza. After Campodoro, there is Grisignano di Zocco, famous for its ancient late summer fair. Leaving the Euganean Hills behind, we pedal towards the Berici Hills, a picturesque group of hills known for their lack of peaks. Before reaching Vicenza, we cross Longare, where the cycle path was built on the track of another former railway. There: see the bell tower of the Sanctuary of Monte Berico, Palladio's villa La Rotonda and the Arco delle Scalette? You have arrived in Vicenza, the last stop.