Marche
The Carnival of Ascoli Piceno: with the people as protagonists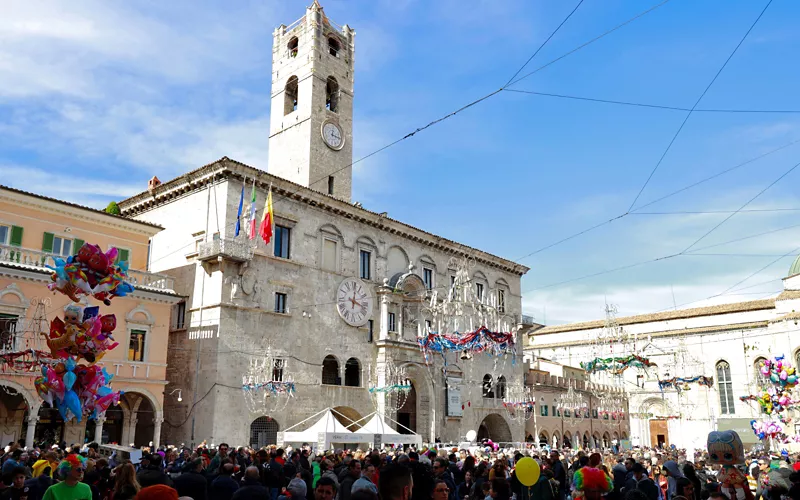 Imagine the Carnival of Ascoli as a gigantic and colourful open-air stage, set in an ideal position under the scenic lights of the central Piazza del Popolo, known as "Italy's living room" in the setting of a somewhat anarchic festival, where you can dress up and show off, even perform, sporting the colours of jollity and satire, the language of the vernacular and jokes.

One of the winning formulas of this Carnival is the town competition for masked groups. First established in 1958, it accepts candidates divided into categories based on number, selected on the evening of Shrove Tuesday by a jury that awards prizes for the most original idea, the best costumes and the most entertaining theme. The prize-giving is a very heartfelt ceremony in Ascoli, capable of boosting the good mood dramatically.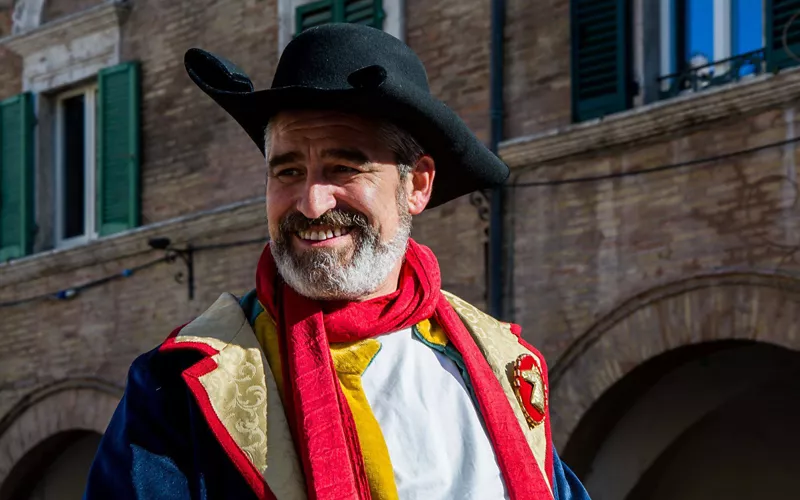 Alongside the groups, whose festive jaunts enliven the city at all hours of the day, wandering around the streets of Ascoli you will also encounter the so-called macchiette, individual masks that are self-organised with their own costumes and sets and perform, often in the local dialect. They portray typical characters of the Ascoli festival, such as lu Sfrigne, the city's official mask; or they improvise, mocking recurring human characters or well-known public figures: a sort of radio-carnival that spreads the city's stories and unrepeatable secrets.

The handing over of the keys to the Carnival king
The official opening of the Carnival of Ascoli, whose history dates back to the late 1950s, falls every year on 17 January, the feast day of Saint Anthony Abbot. In the period that separates its debut from the official feast days, a series of ritual events are held, such as Friends' Sunday and Family Sunday. The celebrations officially begin on Fat Thursday, with the handing over of the keys by the mayor to the king of Carnival, the mask of Buonumor Favorito. It is also the time when grandparents accompany their grandchildren to the Festa della Fantasia.

Then, on Thursday, Sunday and Shrove Tuesday evenings, Piazza del Popolo, decorated for the occasion with huge fin de siècle chandeliers, becomes a gigantic ballroom, prepared to welcome dancing and wild revellers until dawn. Colourful illuminations are set up all over the old town, where there are many places hosting masked parties and themed balls.
Tastings of sweet and savoury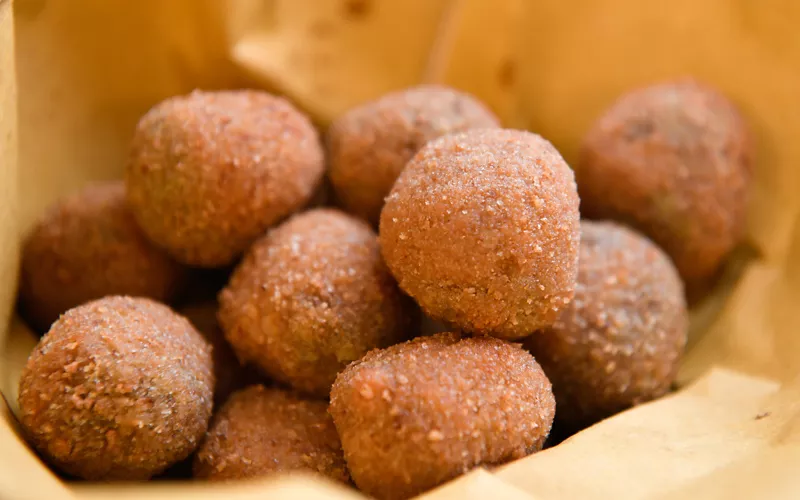 During these long festivities, where it is permitted to overindulge a little, take the opportunity to sample the carnival specialities of the local cuisine. Those who love savoury dishes can opt for the ravioli di gallina incaciati, common throughout the Piceno region, made with hen meat, pecorino and parmesan cheese, or the more classic olive all'ascolana; alternatively, you can choose between sweet ravioli filled with chestnuts and the more popular frappe, zeppole or castagnole, all fried of course.