Sicily
Sicily, the whole world in one bite
Let yourself be overwhelmed by the aromas of the island's food, which will capture you in a grip of happiness.
Powered by: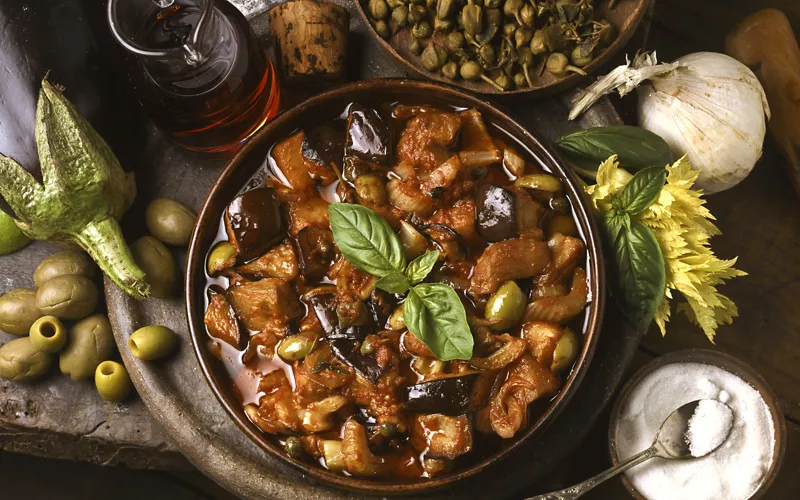 Do you love good wine? Discover the Etna Wine Road, where Etna doc is born: a three-quality wine, white, red and rosé, made from the grapes of Carricante, Catarratto, Nerello Mascalese and Nerello Mantellato.

On the way, you pass through villages of great charm, each one with many specialities to tell.
In Castiglione di Sicilia, for example, you will find nettle-filled tagghiani, wild rabbit, "sciauni" (fresh ricotta fritters) and "cuccureddi" (rice zeppole).
In Piedimonte Etneo, discover the "pera coscia dell'Etna" (Etna thigh pear) and biscuits filled with pistachio, apricot and orange preserves.
In Zafferana Etnea, in addition to the "Sicilian pizza" - fried calzone stuffed with "tuma" (soft cheese), anchovies, and pepper - savour numerous varieties of honey, such as zagara, orange, eucalyptus and prickly pear honey. And don't forget to bite into the "Sciatore", a milk biscuit covered in dark chocolate, invented in the village in the 1940s for the energy needs of skiers on the slopes of Etna.
In Randazzo, you should taste macaroni with Nebrodi black pork sauce, mushrooms, wild asparagus, pecorino cheese, nougats with almonds or pistachios; "nuvolette" and "tirrimulliri" whose main ingredient is wine cooked with walnuts, hazelnuts and a pinch of cinnamon.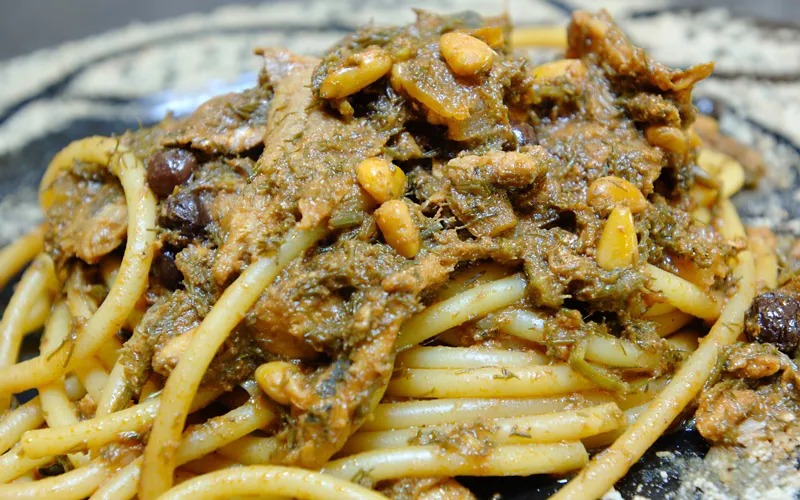 Pasta with sardines

You simply can't leave the island without having tasted this dish, a mixture of flavours, from the saltiness of the sardines to the sweetness of the sultanas, that will leave you open-mouthed, in the truest sense of the word.
Caponata
This bittersweet, rich and flavoursome side dish made with fried aubergines will have you in love from the first bite. An ever-present on Sicilian tables, especially in summer, its name derives from "capone", the word used in some parts of Sicily to refer to the lampuga, a prized white fish that would be dressed in a sweet-and-sour sauce. The people, unable to afford the expensive fish, switched to the cheaper aubergine and over time the use of fish disappeared, giving way to the vegetable version.